Jayne's Favorite Books of 2015
I tried to be more organized this year about my reading so I have a lot of 2015 books I managed to finish and a windfall that made my best of list. Here's the cream of the crop in no particular order. Why yes, yes it is more than ten in total.
What a Bachelor Needs by Kelly Hunter
This novella is part of a series but I think it stands on its own just fine. I went into it with a few reservations about possible stereotypes which were quickly turned on their heads and tossed out completely. The heroine is strong, the hero is a decent guy, they actually talk and listen to each other and I was so happy reading this. These seem like real people with real concerns, families and friends. It may be a shorter length novella but it fits a wonderful story in this small package. B+
AmazonBNKoboAREGoogle Play Store
---
Last Chance Cowboys – The Drifter by Anna Schmidt
Western romances are finally making a comeback and this is a great addition. The plot isn't new but the characters drew me in and kept me reading. The hero is the quintessential honorable cowboy while the heroine is tough as nails but not stupidly feisty. He works for the brand while she fights to hold onto what is hers in the face of not just the villains but also the prejudice of the day. I was kept guessing about some things but satisfied with how the conflicts were resolved. B+
AmazonBNKoboAREGoogle Play Store
---
Something About a Cowboy by Sarah M Anderson
This is an older couple finding romance again. She was burned by her ex husband while he's a widower who's only had one sexual partner his whole life. They have self esteem issues and trust issues and time is taken to lay these to rest. The sex is smoking but it doesn't lead to insta-love. One thing I really liked is that in spite of the number her husband did on her, she is fine with asking for what she wants, sexually. It's emotional in a good way – the hero's relationship with his sons is great – and had me crying – yes, this really is a recommendation. A
AmazonBNKoboAREGoogle Play Store
---
Lady of the Imperial City by Laura Kitchell
Are you tired of the same old regency, same old? Are you Duke'd out and spied out and wishing for a cover that doesn't have the heroine's anachronistic dress falling off? Step right up for 11th century Japan and a happy chance read that steeped me in history and details unknown to me until now. This is a very character driven story but since I enjoyed them so much, even the secondary ones, it worked wonderfully for me. And it's funny too! B+
AmazonBNKoboAREGoogle Play Store
---
Hot Toy by Jennifer Crusie
It's another novella and a short one with a high price tag but wow is this one good. I laughed my way through the whole thing and didn't care that it's totally over the top. Secret agents, coded messages, sister relationships, a polite young nephew plus one toy that every parent is on the hunt for like radar guided missiles equals a hilarious read that I'm glad I didn't miss. A
AmazonBNKoboAREGoogle Play Store
---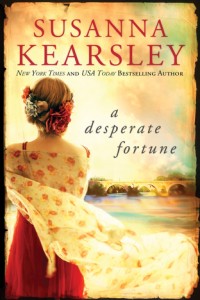 A Desperate Fortune by Susanna Kearsley
There are two romances here as well as two eras – Jacobite and contemporary – but even with all that ground to cover this one was as mesmerizing and enveloping as I've come to expect from a Kearsley novel. The details ring authentically and the stories sweep me along to satisfying conclusions though the historical story was my favorite. Both heroines are strong though period and both find heroes to match and complete them. A-
AmazonBNKoboAREGoogle Play Store
---
Jessica's Christmas Kiss by Alison May
Though this is the third annual novella in a series, again this is a story which can stand on its own. Our hero and heroine have the proverbial meeting from years ago which – for actual good reasons – sticks in their minds despite relationships and disappointments which follow. When they meet again though, it's not instant love by any means. No, there are still things in their lives which need to be, and are given time to, be resolved. I see the character growth and am totally ready to believe that these two have finally found each other at just the right time for it to work. B+
AmazonBNKoboAREGoogle Play Store
---
Mistress Firebrand by Donna Thorland
I love Georgian era stories and bemoan the lack of Colonial American set ones. So far, I've read two of Thorland's books – and mean to eventually go back and catch the second one – and have enjoyed the twists on the usual. Spies abound but also actresses and interracial characters. Neither side – British or Colonial – is all right or all wrong. There are nuances and shades, good and bad, noble and ignoble. This book put me through the wringer but in a good way. A-
AmazonBNKoboAREGoogle Play Store
---
Let It Shine by Alyssa Cole and A Sweet Way to Freedom by Piper Huguley
This anthology has two fantastic stories which Janine and I both enjoyed and had similar thoughts about. Both entries feature strong heroines with heroes who are worthy of them. The settings are also unusual – 1910s rural Georgia and 1960s Virginia. I learned a lot as well by reading them but neither felt like a history lesson. The stories felt realistic with well rounded characters I came to care about. B+/A
AmazonBNKoboAREGoogle Play Store
---
Sleeping with Her Enemy by Jenny Holiday
Reading this category novel all started with the cover but then I've already covered – bad pun intended – my shamelessness about that. The left-at-the-altar bride is a romance staple character as is the playboy hero. Ditto two main characters who already know and dislike each other. So what got me past these tropes? A heroine who decides to reclaim her sexuality and enjoy what she's missed in life and a hero who is as honest as he knows how to be about his relationship goals in life. But watching them stretch and grow as people clinched the deal. That and his family relationships. A-
AmazonBNKoboAREGoogle Play Store
Suddenly One Summer by Julie James
This story slots neatly into the Chicago world you've created yet stands on its own. These people are real to me with real jobs, real family issues, and real reasons why they're not looking for HEA. But by the end of the book, they believe in the forever they've found with each other and I do too. Major kudos for not having love conquer all their issues though. I mentioned the epilogue in my review and my thoughts on that still stand. A- and I'm still waiting for a story for Agent Wilkins.
AmazonBNKoboAREGoogle Play Store
---
Taming the Legend by Kat Latham
At this point, I'll pretty much read anything Kat Latham writes and this book is a major example of why. This book avoids so many pitfalls and stereotypes it's not even funny. Athlete hero? Yes, but he's not full of himself or an ass – oops, I guess that should be arse since he's English. Young love? It was wonderful but then life believably happened and when these two meet again there are a lot of unresolved issues which get resolved before the end. Naughty rugby songs? Hilarious and definitely NSFW. A-