Reading List by Jayne for Spring/Summer 2013
This book was submitted to DA for possible review. The description intrigued me making me immediately think of the old movie "Death Takes a Holiday." Death appears in an "alternate Renaissance" world and demands his bride. Until she is brought to him, no one, no matter how gravely injured or sick, will die – and this includes animals as shown in one horrific scene. Various characters driven by personal reasons set off in a quest for the Bride. Will she be found, Death appeased and those who need to die allowed to do so?
The first few chapters of this book enthralled me. The descriptions of those near death are chillingly detailed making me just as anxious as their loved ones for them to find peace. The alternate world is close enough to reality that I felt at home in it yet also just different enough that I knew I was in an "other" world. Yet it soon became obvious to me that the pace of the book was going to be slow – or I, unused to fantasy series, found it slow once the initial burst of world building and character introduction was over.
At some future time I might be tempted back to discover what happens but after feeling bogged down at the 1/3 mark, I decided to move on.
---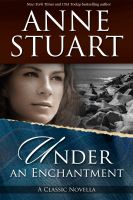 Under an Enchantment by Anne Stuart
I found this novella for sale at Smashwords and decided to give it a go. The tag mentioned selkies, Scotland, romance and, just to make sure I realized it I guess, Scottish folklore.
"Ailie MacBride has convinced everyone on the tiny island of St. Columba that she's daft — it's the only defense she has against her wicked relatives. When a mysterious, beautiful man emerges from the cold ocean she finds herself caught in his wicked gaze and his dreamlike smile, until all thoughts of her ordinary life vanish, and she is his."
What I didn't realize until I started it is that is also features two tropes I don't care for – the virgin widow and a revenge plot. It's also set in the mid 19th century and for some reason I have a hard time imagining whimsy and fantasy dressed in Victorian attire. Steampunk, sure. Selkies, not so much.
The heroine alternated between being fey-ish and silly while the hero was initially hell bent on – a deserved – revenge for wrongs done to his mother. But after he determined that he was going to exact his revenge on the innocent heroine, knowingly leaving her in nearly as bad a condition as his mother had been, I lost interest in him. Of course he changes his mind but the moment it all becomes clear to him and he decides to continue, I thought, "what a dick." Skimming to the end of a novella isn't a good sign but that's what I did here.
---
The Cowboy Who Caught Her Eye by Lauri Robinson
It's 1880s Dakota territory and Molly Thorson is a woman in trouble. Five months pregnant, she knows she can't hide her condition from her two sisters and the townsfolk for much longer. When a smooth talking, good looking cowboy arrives and finagles a job at her general store Molly's stress level soars even higher. Pinkerton agent Carter Buchanan isn't sure what Molly's hiding but he bets it's related to the stolen money he's in town to investigate. Since the first bill found was at Molly's store, that's where he needs to be. As he becomes more deeply involved with the Thorson sisters, especially prickly Molly, could he have finally found a place to call home?
I'm shallow where a good cover is concerned and this one caught my eye. The set up of a pregnant heroine in an age when unwed mothers were shameful seemed as if it might be interesting. How would the town react to Molly's condition? How would Carter? Who was the father and what happened to him? And, after I started the book and realized this aspect of the plot, who stole the money from the railroad and how did it keep showing up in Molly's store?
Well, I got tired of waiting for all these questions to be answered. From the moment Molly and Carter met, they started sniping and fighting. More than once Carter muses that Molly was acting like a child having a temper tantrum and I couldn't have agreed more. Molly's emotions are in turmoil, her hormones are raging – I get this – but her unrelenting sulks, ultimatums and waspishness made me lose interest in her. Carter also spends more time soothing Molly, fixing up the Thorson homestead and playing tea parties with her youngest sister than solving the crime. At the halfway point I gave up.
---
Jennie's reading lists has inspired me to include some non-romance books in my reading rotation. Sort of a palate cleansing kind of thing. When the movie "Argo" was released last year, I read up on and refreshed my memory about the six Americans who had been sheltered by the Canadian embassy staff and ultimately snuck out of revolutionary Iran. From the wealth of books now out on the subject, I chose this one due to the good reviews and the fact that it appeared it would focus on the time spend by the fugitives in Iran rather than more on the actual escape.
Mark Lijeck and his wife were among those who were in the embassy compound when it was taken over and who managed by luck, fate and some breaks along the way, to avoid being taken hostage. He details his road and that of his wife, who was working in the visa section of the embassy in Tehran, the day of the takeover, the initial days in hiding as they were shuttled from one hiding place to another and then the long haul while they remained in the care of the Canadians and waited for a way out of the country.
The narrative moves along quickly, rarely gets bogged down too much – though Lijeck has a strange penchant for describing the hairstyle of many of the people involved – and covers not only the stay in Tehran but also the reception of the six once they arrived in Germany and then the U.S. He continues through the release of the hostages and then gives some follow up details on the main participants. I'd eventually like to read something showing the POV of the others in this part of the overall story but this is a good starting point.
---
Here's a recap of my recent full reviews –
His Kind of Woman by Nona Raines – A "fling" length offering only available from Loose – Id's website this is a trans* woman finding love with a man she has reason to distrust due to the past actions of his brother. Trans* characters are few and far between in romance and I think this one is worth checking out even if you can't one-click it. Review
Carolina Girl by Virginia Kantra – The second in Kantra's series on a family living full time on a North Carolina barrier island. The family dynamics are wonderful and it avoids the typical small town meddlesome family and neighbors feel. Starting with "Carolina Home" will give a greater feel for all the characters but the backstory is handled well enough here so you won't be lost if you don't. Review
One More Valentine by Anne Stuart – A book that I would have liked better if I'd read it when it was released. As it is now, the whingeing virgin heroine and the uber-noble hero canceled out the inventive paranormal angle of a 1920s gangster hero returning to life for 2 days each year. Review
Secrets and Saris by Shoma Narayanan – Does a wonderful job depicting modern day India and Indian characters but still needs a little work in sustaining the conflict. Nevertheless, I'm with Janine in wanting to support SE Asian authors and settings. Review
A Dance with Indecency by Linda Skye – I'm still looking for good 1920s setting books. The atmosphere is great and I liked the sexually confident heroine but the resolution of the conflict was way to fast and unsatisfying to convince me of a future for the hero and heroine. Review
Alena by Merline Lovelace – I've read this book at least three times now over the years and it still holds up as a realistic portrayal of life in Roman Britain. The heroine is strong and allowed to be so while the hero eventually comes to admire and love her for the woman she is. Review
The Sword Dancer by Jeannie Lin – Another offering in the multicultural department of Tang Dynasty China featuring two intelligent characters who slowly overcome their mistrust of the essential personality elements of the other. She doesn't trust anyone in authority while he makes his livelihood working on the edge of the justice system. Review
Thinking of You by Jill Mansell – This is more a chick-lit style women's fiction set in contemporary England. A little more romance would have been the icing on my cake but I love the older heroine and hero finding love. Watch for the hero's cat hogging a seduction scene. Me loves the kittehs. Review