Reading List by Jennie for January, February and March
Also read and reviewed: The Passions of Emma, The Bride, Wolf Hall and The Moonlight Palace.
The Boss by Abigail Barnette
Reviewed by Kati here (along The Girlfriend) – I gave this a B, but had the same reservations about it that I wrote about in my review of The Bride. I also noted in my log that there were too many sex scenes (yes, I've become the sort of middle-aged lady who complains about all the sex scenes in romance!).
AmazonBNKoboAREGoogle Play Store
---
The Girlfriend by Abigail Barnette
I also gave this one a B, and though in some ways it's hard to separate the first three books in this series, as they are very much one continuing story (I still haven't read the fourth book), the strengths and weaknesses of The Girlfriend are probably a little different than those of The Boss. The story this time deals a lot with Neil's illness and that was absorbing and kind of a respite from all of the somewhat repetitive BDSM sex and relationship drama. On the other hand, The Girlfriend lacked the freshness of the new relationship and the twists and turns of The Boss. It's hard to say which I liked better.
AmazonBNKoboAREGoogle Play Store
---
Under the Banner of Heaven by Jon Krakauer
I have a mild fascination with fundamentalist Mormons, having watched all of Big Love (not to mention Sister Wives!) and read several books by women who were in (and got out of) Mormon polygamist sects. Under the Banner of Heaven examines a double murder that occurred in Utah in 1984 and goes back to trace the history of Mormonism and particularly its relationship to violence and religious fervor. (To be fair, it's a relationship that's not that different from that found in any major religion; I think it's just that as Americans we have a front-row seating viewing the founding of Mormonism.) This book is a pretty absorbing and at times infuriating look at the birth of a religion and the cults that have sprung up as offshoots of that religion. My grade was a B+.
AmazonBNKoboAREGoogle Play Store
---
Helen of Sparta by Amalia Carosella
This was a DNF for me – it's very rare for me to start a book and not finish it, but I just could not get into this one. Helen is the daughter of Leda and Zeus (in the form of a swan, supposedly), and lives with her mother, stepfather (I guess, technically?) the king, sister and brothers (who are Castor and Pollux; I'm rusty on my mythology but I remember them, kind of). Helen's an adolescent at the beginning of the book, being urged to marry Menalaus by her (frankly shrewish) mother. But Helen, has been having dreams, terrible dreams which she fears foretell the future (and they do indeed detail Helen's abduction by Paris and the disastrous consequences of the Trojan War). I think my inability to get into this book was due mostly to writing style, which felt lifeless and heavy-handed to me, and the fact that I was never clear on whether I was supposed to believe in the gods. I think I was (I just didn't get far enough to be sure), and I would've vastly preferred it if the book were a straight historical without a mystical fantasy element.
AmazonBNKoboAREGoogle Play Store
---
Station Eleven by Emily St. John Mandel
Reviewed here. I really liked this story; I gave it a B+, but in retrospect I think it may be an A-. It grabbed me right away and the author's prose was lovely. I was a little disappointed in the ending; somehow I was expecting the threads that united the various characters to be tied together more neatly at the end. Such an ending would have been improbable but I kind of wanted it anyway. I know dystopian fiction has been done to death at this point, but I still like it (perhaps because I'm pretty choosy about which dystopian fiction I read, so I haven't burned out on it).
AmazonBNKoboAREGoogle Play Store
---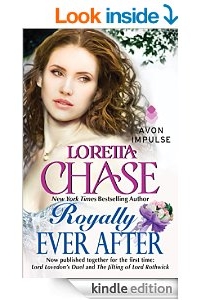 Royally Ever After by Loretta Chase
These two novellas (short stories? I'm not sure how long they were) suffered from being very, very brief. The second story in particular, The Jilting of Lord Rothwick, felt more like the outline for a story than a story itself. I feel like I can't even talk about it much without spoiling it; it's that short. Suffice to say that it deals with a marquess coming to see the woman who has ended their engagement without giving a reason. The first story, Lord Lovedon's Duel, felt a bit substantial by comparison. The heroine and hero clash at her sister's wedding and she ends up drunkenly challenging him to a duel. I ended up giving the whole thing a B, which may seem like a high grade but is mostly based on the fact that I found the whole thing very readable and less tedious than the full length historicals I've read lately (maybe because the whole book took 30 minutes to read?). Royally Ever After also contains an excerpt from Chase's next novel Dukes Prefer Blondes, which comes out January 2016.
AmazonBNKoboAREGoogle Play Store
---