REVIEW: Consider Me by Becka Mack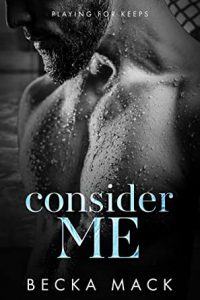 Dear Becka Mack,

This book was recommended to me by @AGrandRomance on Twitter so first up – thank you Kate for the rec. I bought Consider Me and dived in almost straight away.
Carter Beckett is the captain of the Vancouver Vipers hockey team. He's hot, talented and has the world at his fingertips. He's not interested in a relationship. He has hook ups – in fact the book begins just as one such hook up comes to an end. Women throw themselves at him and he doesn't mind saying yes but he makes it clear he doesn't do sleepovers and he never gives out his number. Some might slip him their digits but he'll never call.  Carter's about to meet the woman who's going to change all that. OMG the anticipation was just delicious.
Olivia Parker is a high school physical education teacher and best friends with Cara who is living with Carter's teammate and bestie, Emmett. Emmett and Cara have been dating for a year and living together for most of it. (It was kind of love at first sight for them. They're the kind of couple you expect to find there's already been a book about. As far as I can tell, there isn't.) They've assiduously kept Olivia away from Carter for all that time. Emmett and Cara both have warned Carter there would be dire consequences if he messed with Olivia. He therefore has no intention of going there. Olivia, for her part, is definitely not interested.
"I'm not a mission, nor am I looking to be the next girl pictured in the news getting down and dirty with Captain Syphilis over there."
But at Cara's birthday bash, Carter sees a (very) short curvy brunette and he's is a complete goner. And then she shuts him down. More than once.  (Ha!)
Carter Beckett is the definition of sexy. He's arrogance dressed in expensive clothing, smooth, corded muscles, and a charming smile, and quite possibly the face of chlamydia; I can't be certain. I'm sure he takes precautions, but the man gets around like a globe-trotter.
There's definite chemistry but Olivia is not the usual type of girl Carter is pictured with. She doesn't have legs for miles. She's not blonde. She's not a cheerleader or a model. It's not so much that she has self-esteem issues – but the kind of media spotlight she'd been if she were with Carter would feature endless unflattering comparisons and her ego is not up for it. Also, she's the kind of girl who only has sex with someone she cares about. If there's no feeling there she won't bother. Catching feelings for Carter seems like a bad idea. He's never had a girlfriend. He's never had more than a one night stand. He's a smooth talker but what in his past would cause her to believe he's after more than just one thing from her?
Carter is persistent in fun but not stalkery ways. He doesn't cross the line but he makes it clear that he hasn't given up. He can and does take no for an answer. He doesn't recognise it at first (how could he?) but from the moment he saw her he was hers. The first part of the book is him chasing her, her rebuffing him, them being thrown together by friends who, for reasons, suddenly think it's a great idea they get together and him realising just who she is to him. And once he's in, he's all in. Be still my heart.
"Do me a favor," Emmett says as we head into the bar in the lobby. It's rammed and rowdy and I kinda don't want to be here. "Remember how it looks to be surrounded by girls who throw themselves at you. Doing nothing isn't enough. You have to actively do anything but nothing."

"What the hell does that mean?"

"It means it's easy for someone to snap a picture of you standing next to a girl who's touching your arm and headline it 'Carter Beckett: Cheating Already.' Be aware, that's all. You have someone else to think about now. A picture like that would embarrass Olivia."

"Right." I honestly couldn't feel more dense right now. How is it that I need to have this explained to me at twenty-seven? Either way, I'm thankful for his warning, because the second we sit, a girl throws herself in my lap.

I'm not sure my reaction is the best. I throw my hands in the air and scream, accidentally shoving her off my lap and to the ground when I rocket to my feet and yell out, "I have a girlfriend!"
There are plenty more laughs in the book, mostly at Carter's expense (or about Olivia's lack of height) and the sex is off the charts hot. Hot.
There's more to Carter than just being a womaniser. He is devoted to those he's close to. Once someone is in his circle they're there forever. He has a close relationship with an elderly blind man, Hank, who he met the night of his father's funeral seven years earlier. (They have a pseudo-father/son relationship in some ways but a lot of it is straight up friendship.) He adores his mother and sister. He's still grieving his father. He loves dogs. And when he meets Olivia he very quickly loves her.
Everyone knows by now that I'm a hero-centric reader so of course I'm going to focus on Carter. He's the larger than life character here anyway. But Olivia is not merely a cipher or a foil for him. She's got her own things going on and she's kickass. While some of the things her senior boys say to her seemed wildly inappropriate, when she puts them in their place she does it with style and hard as concrete. To paraphrase Shakespeare, she's short but she's mighty. She is fierce and I enjoyed how she held her own against Carter and with Carter as the book progressed.
If I were to describe this book in one word it would be "indulgent".  I probably need to unpack that a bit though because it might not sound like the compliment it is.  Sometimes I just want to eat a whole packet of Maltesers (for those of you who don't know what they are, insert your favourite snack food/chocolate here). They're morish and yummy and impossible to eat just one of (I dare you). Indulgent – if not terribly nutritious.  Consider Me was like that. I wanted to keep reading, finding excuses to do it and staying up too late – "just a few more pages" before closing my reader. It hit most all of my feel good buttons and inspired me to go and buy your other book Love You Wild which will hopefully give me the same vibe. And I started stalking visiting your website eager for news of what's next and the lure of bonus material (alas I haven't seen any yet. Sadness. First offering just arrived. Yay!)
To those who enjoyed books like The Deal  by Elle Kennedy and The Hook Up by Kristen Callihan (both of which I loved and have re-read many times) – this book might just be right up your alley.  There's also something of that excitement experienced by those who fell down the Kristen Ashley rabbit hole back when Motorcycle Man first came out – more the feel of the read rather than anything in the style or characters really – I wouldn't draw a direct line between Ashley and yourself in terms of style. Yours is distinctly your own.
I gather that you got your start in fan fiction and/or on Wattpad and there's a sense here of that feels-based episodic story common to those platforms.
Consider Me is not perfect. There are a few typos (also, is "I dunno" really spelled "I donno" in Canada?). It's probably too long. Indulgent in another way I guess. There were portions of the ending that didn't quite gel and felt to me they were there for plot purposes rather than being representative of, by then, well-established characters. Olivia is about 5'1″ and Carter is 6'4″ so there is a lot (too much) about their height difference and how "tiny" she is. There's a section of the book where a teammate gets married and there's a little too much in there about not-Olivia and Carter. Emmett and Cara's change of heart about supporting the relationship came out of the blue for reasons which weren't clear. I suspect it was more about moving the plot forward than anything else. (I didn't mind. I've certainly gone with worse before.)
Carter's love of Oreos and junk food and all the pizza he and his teammates eat didn't fit super well for me with professional athletes. Isn't there a team nutritionist tearing their hair out about this??  I actually looked up the highest paid player in the NHL and was surprised to learn that the money they make is way less than NFL or NBA stars. I thought hockey was bigger than that? Then again, everything I know about (ice) hockey I learned from romance novels. My virtual shelves have more hockey romances than any other sport combined, with NFL second, so in my head hockey is bigger than it apparently really is. Huh.
It did fall down at the end somewhat. I'll hide this under a spoiler tag as it discusses – albeit vaguely – things very late in the book so it might be mildly spoilerish.
It just didn't fit with the characters I'd come to know.
It's also a book which is all about the feels. Id reading at its height.For some that's a plus for others, maybe not so much.
Perhaps Carter won't be a hero everyone will love. He has touches of Mal from Kylie Scott's Play (my favourite character of the series) and I know Mal is too much, too overwhelming for some. For me, he was a delight (and so is Carter). I love a hero in pursuit. I love a hero who is gone for all money right from the start and has to prove himself to his chosen partner and do some chasing – especially if that's a new thing for him. Ding ding ding.
There's also plenty of friend banter – things that were and still are highlights for me in the Off Campus, Game On and Stage Dive series' – Carter's teammates are well drawn and often hilarious, as is Hank.  There's a scene with Carter and his mother which cracked me up – like, literally, I was hooting with laughter. Olivia's friendship with Cara is solid, ride-or-die and also funny, and I loved Olivia's interactions with her brother and his wife and children too. There's a big cast who feel well-realised without overtaking the book (except for that wedding). Like it was designed specifically to please me, there's mostly lots and lots and lots of Carter and Olivia.  I wallowed unashamedly.
Grade: B+
Regards,
Kaetrin
(Consider Me is currently only available at Amazon)