I love end-of-year reading lists so I hope our readers share their own favorite books of 2018 in the comments. Here are the 2018 releases I enjoyed most:
Spinning Silver by Naomi Novik
Naomi Novik's fantasy novel is the story of three young women's quest for empowerment — a Jewish moneylender's struggle to free herself from her marriage to the dangerous ruler of an elven-like winter kingdom, another reluctant queen's machinations to save her human kingdom and herself, and a farmgirl's quest to protect herself and her brothers. Its themes include debt and repayment, thefts and gifts, coldness and warmth, and the nature of commitments and generosity.
I loved the Eastern Europe-based fairy tale world, where icy wind breathes down one's neck and magic can be found in unexpected places. Novik's prose is lyrical and surprising. So much is reframed here, and anti-Semitic stereotypes are unraveled. I enjoyed the romantic element and loved the (initially) hard-hearted main characters and their journey toward agency and alliances.
AmazonBNKoboAREGoogle Play Store
---
Foundryside by Robert Jackson Bennett
The first fantasy in Robert Jackson Bennett's Founders trilogy introduces readers to the fascinating world of Tevanne, a Venice-like city, and to five wonderful characters: Sancia Grado, a thief with a useful but isolating ability whose elimination she is trying to finance, Gregor Dandolo, a dedicated leader of the watch tasked with preventing thefts, Orso Ignacio, a man who imbues objects with magical properties, Berenice, Orso's assistant, and Clef, a magical key.
When Sancia steals Clef from a shipment Orso ordered which is stored in the wharf that Gregor's watch patrols, the five characters are put on a collision course, but eventually team up to defeat a greater enemy. The magic system in Foundryside is original, interesting and funny, while the characters are engaging, especially Sancia. There is also a sweet F/F romance, and a happy ending, at least for now.
AmazonBNKoboAREGoogle Play Store
---

The Kiss Quotient by Helen Hoang
Helen Hoang's debut contemporary romance, The Kiss Quotient, has Stella Lane, a wealthy econometrician with Asperger's, hiring escort Michael Phan to teach her bedroom skills. Stella and Michael quickly eschew the bedroom for fake dating which turns into real dating. Michael, who had to abandon a promising career in fashion design to struggle with his mom's medical bills, and Stella, who blames herself for her disastrous past attempts at sex, offer one another what they most need: acceptance and support.
This was a reverse-gender Cinderella story, something rarely seen in the genre. I especially loved the scenes in which Stella meets Michael's family, and I'm glad we'll see more of the Phans in the sequels. Here, too, we get to see the characters at their jobs—Stella in her office, Michael helping at his family's dry cleaning business. The characters are endearing and memorable, too.
AmazonBNKoboAREGoogle Play Store
---

The Proposal by Jasmine Guillory
I enjoyed both of Guillory's 2018 contemporary romances but this was my favorite of the two. Doctor Carlos Ibarra and journalist Nikole "Nik" Paterson meet at Dodger Stadium. Nik's hipster boyfriend proposes via the JumboTron and after Nik turns him down, Carlos and his sister Angela rescue her. Carlos and Nik give each other the space each thinks the other wants, but eventually they embark on a strictly-friends-with-benefits relationship, since neither of them feels ready for more.
The Proposal is a fun, low-angst story with a lot going for it. Not only are Nik and Carlos lovable and their romance greatly enjoyable, but several of the supporting characters, including Nik's two good friends, Carlos's sister and cousin, and Natalie, the owner of a gym that aims to empower women, pop off the page. The book also has a terrific sense of place, with little shout outs to Los Angeles businesses, and we get to see the characters actually work. There's diversity, an engaging subplot, and an honesty to Guillory's voice that I really like.
AmazonBNKoboAREGoogle Play Store
---
Lies Sleeping by Ben Aaronovitch
The seventh book in Aaronovitch's Peter Grant (Rivers of London) series of urban fantasy novels, Lies Sleeping, is a big book in almost every possible way. The magical arm of London's police force known as The Folly has been expanded; Leslie May, Peter's one-time partner who switched sides, comes to the fore once again; Beverley and Peter's romantic relationship intensifies.
The strengths of the series remain the same, from the diverse cast of funny, likeable characters, to the magical river deities, to the sometimes-struggling, often-dedicated, and always-loveable Peter. The narration manages to be witty, snarky, and edifying, peppered as it is with amusing asides on London's architecture and interesting anecdotes about its history.
AmazonBNKoboAREGoogle Play Store
---
Trail of Lightning by Rebecca Roanhorse
Roanhorse's debut is a fantasy in a post-apocalyptic setting. The US has been flooded, but using their clan magic, Navajo (Dinetah) elders have sealed off their lands, which are now desert-dry. After an encounter with a monster created by a powerful witch who has killed a small town, Maggie Hoskie, a monster hunter, teams up with Kai Arviso to hunt the killer. In the process, Maggie and Kai discover one another's powers and vulnerabilities. The shadow of the god Neizhgani, who abandoned Maggie despite her love for him, looms large in the story and other deities also make their presence known.
Maggie is intense and Kai easygoing, but both face a dark journey ahead. Roanhorse is Dinetah herself and the book feels authentic. The plot is really clever, the characters distinct and engaging. Moreover, the worldbuilding is terrific here, with a strong sense of place. And one gets the feeling that we will be learning a lot more about Maggie's Mad Max-like world in the sequels. The novel has a powerful ending, the events of which will surely reverberate in future books.
AmazonBNKoboAREGoogle Play Store
---

Empire of Sand by Tasha Suri
Set in a world based on Mughal India, Suri's debut is the dark tale of Mehr, the illegitimate daughter of the governor of a desert province, whose life is upended when her magical powers are revealed and a mystical leader decides to make use of her. Forced into marriage to Amun, a man who is magically bound to the mystic, Mehr must fight for agency—and to save her new husband.
The obstacles Mehr faces are huge, and at times her journey looks bleak, but there is light at the end of it. Mehr is a memorable character, a privileged girl who loses her status and freedom but discovers a core of determination. Amun is a sweet and gentle man who has suffered much and is willing to endure more for Mehr. The world of Ambha is well-rendered, from the magical creatures known as the daiva to the shifting desert sands. At the time I reviewed it, I gave Empire of Sand a B, but it has stuck with me, so I'm raising my grade a bit.
AmazonBNKoboAREGoogle Play Store
---

Ocean Light by Nalini Singh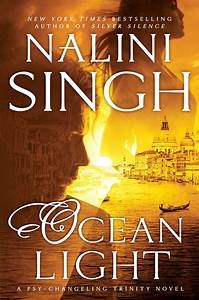 The eighteenth (!) book in Singh's Psy / Changeling series has a refreshingly different setting—an underwater station. Bowen "Bo" Knight, leader of the Human Alliance, has a long backstory which I won't go into; suffice to he is recovering from a gunshot injury when he meets Kaia Luna. It's (almost) love at first sight for them, but their romance is beset by obstacles, including the disappearance of a childhood friend of Kaia's whom Bo suspects of being a traitor but Kaia trusts, Kaia's terror of being above water, and a brain implant which will kill Bo unless a cure is found.
One of the things I most appreciated about the book was the ocean setting. The sense of mystery and deep quiet, the strangeness of ocean life, gave what might otherwise have been a book that trod familiar ground much-needed freshness. I also loved Kaia for her playfulness, determination, and the way she grappled with her fear of giving Bo her heart when he could soon be dead. I liked Bo, too—and although I saw it coming, I loved the scene with which the book ended.
AmazonBNKoboAREGoogle Play Store
---
A Delicate Affair by Lindsay Evans
Historical romance has traditionally been my favorite genre but in recent years it has taken a direction that has made my interest recede some. That's why I was glad to come across A Delicate Affair. Set in Washington DC around about 1902, it is an enjoyable historical romance novella. Leonie, the heroine, comes from one of Washington's well-heeled black families, while the hero, Golden, is a juke-joint musician who works two jobs while seeking his big break.
The two share a powerful attraction but face serious cross-class obstacles. Leonie begins the book as a spoiled rich girl and has to grow up to find love with Golden. Golden feels driven not just to advance his career, but to prove to the "diamond girl" that he hasn't just fallen off of the peach truck. I recommend the book to anyone who likes class-difference conflicts, heroines in pursuit, coming-of-age stories, and historical romances that don't fit into a familiar mold.
AmazonBNKoboAREGoogle Play Store
---
Burn Bright by Patricia Briggs
The sixth book (if you count the introductory novella) in Patricia Briggs's Alpha and Omega urban fantasy series, Burn Bright begins with an attack on one of the wildlings, dangerous werewolves that live outside the Aspen Creek pack, but close enough to fall under Bran's protection. Bran is on a trip away, so Charles is called instead. He and Anna risk their lives to attempt a rescue, then return to Aspen Creek determined to uncover the truth of who betrayed the wildlings and the pack.
As per usual, Briggs delivers an exciting and even romantic book. The reader can almost feel the chill in the air, the danger and the eeriness of the world the author evokes. Before the traitor is discovered, the reader is introduced to new and interesting characters and surprised by some of the recurring ones. There is a slower section in the middle but the climactic scenes are breathtaking.