REVIEW: System Collapse by Martha Wells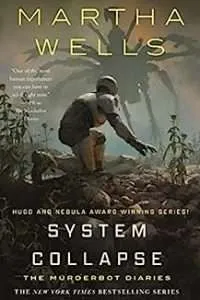 Am I making it worse? I think I'm making it worse.

Everyone's favorite lethal SecUnit is back.

Following the events in Network Effect, the Barish-Estranza corporation has sent rescue ships to a newly-colonized planet in peril, as well as additional SecUnits. But if there's an ethical corporation out there, Murderbot has yet to find it, and if Barish-Estranza can't have the planet, they're sure as hell not leaving without something. If that something just happens to be an entire colony of humans, well, a free workforce is a decent runner-up prize.

But there's something wrong with Murderbot; it isn't running within normal operational parameters. ART's crew and the humans from Preservation are doing everything they can to protect the colonists, but with Barish-Estranza's SecUnit-heavy persuasion teams, they're going to have to hope Murderbot figures out what's wrong with itself, and fast!

Yeah, this plan is… not going to work.
Dear Ms. Wells, 
Boy am I glad that Murderbot is back. Same Murderbot, same snark but this time with added ART snark as we have ART prime and ART-drone. ART can run a lot of stuff and still have time for watching media. And speaking of media, I love how this is handled in the story. 
The action doesn't exactly kick off with a bang. Instead the book starts with lots of plot and character balls being juggled. As in all the Murderbot books, it's first-person POV so we're all up in Murderbot's head and thoughts. Murderbot does take out a deranged (actually I guess it's alien contamination?) ag-bot (using as a weapon something that even Sanctuary Moon wouldn't try to pull off as believable) before the book settles down for a little bit of Murderbot provided exposition to set up the rest of the plot.  
At this point I was immediately reminded of the initial issues I had with "Network Effect" in that there is a lot of telling – mainly lots of details regarding a colony that had been started on a planet. There are details about the situation, details about the actual colony site, details about the colonists – yeah, lots of details. Murderbot along with ART-drone, Iris, Ratthi, and Tarik have to explore an unknown settlement without a lot of drones and things … kind of slow to a crawl for a while. I will not lie. I had to actively engage my attention. A lot. I figured that eventually this stuff would mean something. I hoped so as otherwise this would be a waste of time. Eventually it did but wow, it took a while for that to happen.
Will Corporations ever be for good and not evil? And watch for when they try to intimidate ART and how ART shuts. Them. Down. I share Murderbot's feelings about them and as they were the main Evil in the book I took notice when they appeared in the story. Evil Corporations are sneaky though and when faced with being outflanked by their evil designs, Murderbot comes up with a brilliant defense strategy that uses … okay I won't give the trick away but I LOVED it. ART-drone loved it. Iris, Ratthi, and Tarik love it and with a group effort, the Truth is revealed. Unfortunately this only makes the Evil Corporation more evil and that, fellow Murderbot fans, is where this book kicks the tires and lights the fires. 
Roughly the last 45% of the story puts you in a suspense packed, edge of your seat fight for survival. Will our plucky heroes make it out alive? Will AdaCol2 not be a shit and help Murderbot? Murderbot does speak politely to it and having the local bot system on your side is a good thing. What about the SecUnits – both Three, the (other) one that hacked its governor module, and the Evil Corporation ones being directed to kill? There's a lot for Murderbot to juggle and it's still afraid of redacted. 
Let's dig a teensy bit into redacted which ART ruffles Murderbot's feathers by pointing out that the humans figured out what this is because they're human and know and understand redacted which scares the shit out of Murderbot because it's acting more like a human? And moments. Murderbot has more moments and we know how much it likes (insert snarky tone) those. When humans tell it "Be careful," it's still trying to figure out how to respond as its job has always been to get hurt. It's also aware that it still needs trauma therapy (don't ask it how little it wants this) and that Dr. Bharadwaj wants it to help with a therapy protocol for other hacked SecUnits. Yeah, not wanting to do that either. It still watches human faces via its drones (and is unnerved that the humans now watch the drones when speaking to Murderbot) but it has a better grasp on human emotions than does ART. Has watching all those hours of Sanctuary Moon rewired its organic neural tissue? Oh, dear. 
Wither Murderbot? It knows what ship it wants to be on and I think both it and ART are looking forward to delving into all the new-to-them media that Murderbot downloaded from AdaCol2 although … Cruel Romance Personage? Maybe they'll alternate with their favorite episodes of Sanctuary Moon and World Hoppers. Just get ART away from the ship that is as much of an asshole as ART is. B 
~Jayne
I know, I said. And I did know, and now I was having an emotion. Like a big overwhelming emotion. It felt bad but good, a weird combination of happy and sad and relieved, like something had been stuck and it wasn't stuck anymore. Cathartic, okay. This fits the definition of cathartic.