REVIEW: System Collapse by Martha Wells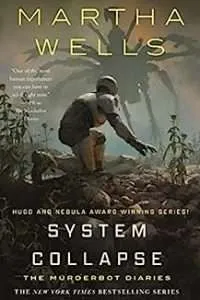 Dear Martha Wells,
Murderbot is back!! Yay!!
System Collapse takes place immediately after the events of Network Effect (the previous book in the series, Fugitive Telemetry, covers events before Network Effect). Here's a hint: a recap of Network Effect is very helpful when going into System Collapse if you're anything like me and can't remember much of what happened (there have been so many books filling my brain since then). In a pinch, this Wikipedia synopsis will help. I admit I was a bit lost at first (see previous). But, once I read that Wiki entry and a couple of Goodreads reviews of the earlier book, I felt oriented and that made this book much easier to follow.
Murderbot and ART and various of its humans have returned to the planet with the alien contamination from Network Effect and are trying to convince the colonists to leave and not sign up for indentured servitude with the Barish-Estranza Corporation. Murderbot is struggling because of redacted. Yes, that's what it says in the text. For a good portion of the book, the SecUnit is not letting on what redacted is. We only know it has something to do with what happened before and it has made its humans (and ART) concerned about it and whatever happened has made has made Murderbot feel unreliable and a liability to the team.
SecUnit and a subset of it's crew, together with ART-drone (it's all ART but ART can split off into various different iterations) go to a remote area of the planet where there may be separatists who are unaware of what has been going on and who will be vulnerable to Barish-Estranza. While there, Murderbot is challenged to begin to face the trauma of its experience in Network Effect and what that means for it going forward. Plus, things get dicey with Barish-Estranza and Murderbot is called upon to use its knowledge of human behaviour (learned from all of its media-watching experience, particularly his beloved Sanctuary Moon) to protect an ever-increasing number of humans under its care. We also catch up with Three and other characters readers have come to know and like over the course of the series.
I adore the SecUnit and its reluctant but complete devotion to its humans and ART. I love the sarcasm and the way Murderbot refers to "I had an emotion" or "I made an expression" which both reminds me its not a human but also that its something very close to human. I love the way Murderbot shies away from emotions but feels them anyway, especially for people like Dr Mensah and Iris but also for its buddy, ART. I also love that those beloved human characters appreciate SecUnit for who it is, value its input and skill and treat it with respect. Murderbot's dry humour is the best and it had me smiling and/or laughing out loud throughout the story.
I had an actual gun, one of ART's projectile weapons, but we knew from experience how many shots it took to down an enraged ag-bot, and getting up right on its processor for a point-blank impact was not something anybody wanted me to try to attempt, especially me.
I feel a bit like Iris and Dr Mensah about SecUnit myself actually.
Murderbot ends the story in a good place – physically and mentally and ready for more adventures.
The best thing I can say about System Collapse is that it made me want to re-read (or re-listen) to the entire series again from start to finish and I'm planning to do just that soon – maybe over the Christmas break.
Definitely recommended (but remember what I said about the Network Effect recap). Grade: A
Regards,
Kaetrin