REVIEW: Cassandra by Chance by Betty Neels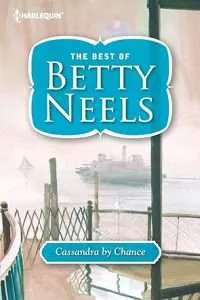 He needed her as a nurse, not a woman

Benedict van Manfeld was one of the surliest, most unfriendly men Cassandra had ever met. But when she learned he was a brilliant Dutch surgeon who had severely damaged his sight in an accident, her attitude changed. Benedict asked Cassandra to go to Holland with him as his nurse. She agreed and soon began to feel something deeper than sympathy for him. But with his close friend Paula nearby, why should he even notice Cassandra?
CW – There is a Polish concentration camp survivor character who briefly discusses his past. It is understood that in one crash scene, a child has died.  
Review
After a few rough personal weeks and having finished a string of anticipated books that hadn't worked for me as well as I had hoped they would, I realized I needed something certain, a sure bet. Yep, time to pull out a Betty Neels book. I knew exactly what I was going to get but darn it, sometimes you need that. 
Cassandra is just finishing her training at a London hospital when her sister calls and tentatively asks if Cassandra might be able to look after her (totally adorable) niece and nephew while Rachel and husband Tom jet off to Greece for six weeks. Tom's just finished a book (Roman Empire and he never wants to do another one. Too much research). Afraid she'll get in a rut if she takes the offer to work in men's medical, Cassandra jumps at the chance. She's thinking she'd like to take a midwifery course but she has time. 
During a walk through the Scottish countryside (in tweeds, woolens, and wellies), Andrew points out Ogre's Relish – the name he and Penny have coined for the house where a recluse is staying. Thinking the recluse might enjoy a cake or pie (or both, she's a good baker), Cassandra heads up one day while the children are in school. The reception is chilly, to say the least. From his dark glasses she can tell the Ogre obviously has trouble with his sight. Today a person's response to him might be "Rude!" Cassandra politely tells him that he is, drops her cake offering, and then walks out. Rude Ogre – through his man Jan – sends letters which Cassandra rips up. Undaunted, Mejnheer shows up at her door. And thus starts their courtship only Cassandra doesn't know it. 
After a while she's reading him medical journals (he's a ENT surgeon and Jan has trouble with the medical terms), still baking (until she discovers that he gets hampers from Fortnum and Mason so he's not hard up for money and needing her to feed him), putting up with his tempers, and learning to be wary when his tone turns silky. That's when she knows he's amused at something and about to skillfully have his way. His latest "way" is to get Cassandra to accompany them back to Holland where it's time for Benedict to have his eyes checked to see if his optic nerve has healed and he might be able to resume his career. 
Of course he has a lovely home and devoted housekeeper (Miep), there's vague mention of a cat (but no name), a friendly coworker, and scads of lovely young Dutch women who come calling – conveniently after Benedict gets the medical all clear. Tante Beatrix and Jan have opinions about them. Benedict does too and often uses Cassandra as a screen. Also conveniently the eye doctor needs a nurse for about ten days and guess who's now free? But will Benedict ever come clean about his feelings or will Cassandra's willful misunderstanding of his personal situation keep them apart? Thank goodness Benedict did a tricky surgery a year ago on an employee at Schiphol. 
So we start on Oban, shift to the Netherlands, deal with snowy winter weather, and Benedict's tempers. Cassandra snaps back at him though so I didn't mind them if she didn't. The All Hands tragedy is a boat collision that calls for Cassandra and Benedict (him cheerful, her slightly nauseous) to be tendered out and then Cassandra hauled around from boat to boat after Benedict. Crisp and professional Cassandra manages to lend a hand at the ophthalmologist's office despite not speaking Dutch while Benedict tries to sound her out and make sure she's not a gold digger. Oh, the misunderstandings. Oh, the frustration. Oh, the friends who try and help Benedict's courtship. Of course all's well that ends well and it was just what I needed to reset my mood. Thanks, Betty. B               
~Jayne