Review: Brendan and the Beast by Fox Beckman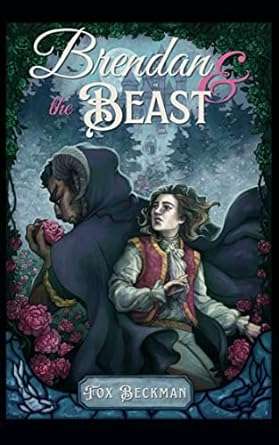 Brendan just wants to save his sister.

Their fool of a father promised her to some "fearsome beast" in a magic castle, but since there's no such thing as magic or talking beasts, Brendan sets off to see this strange man for himself. Surely he'll be reasonable.

Beast has been trapped for so long that he's nearly given up all hope of ever undoing his curse. So when an unwelcome guest turns his life upside down, Beast can't get rid of him soon enough. Too bad the castle has other ideas.

A spellbinding tale of magic, wit, and slow-burn passion, Brendan & the Beast is an M/M fairy tale that celebrates the redeeming power of love—and more importantly, self-acceptance.
Review:
Dear Fox Beckman,
I love "Beauty and the Beast". I think it is my favorite fairy tale ever and I have read many retellings of it – both of m/m and not m/m variety. I think I first learned the story from the retelling by Russian writer Sergey Aksakov (at the time I have read it I thought that was actually an original tale, but I eventually learned otherwise) and later I got acquainted with what I thought was an actual story and with the Disney movie and with the Broadway show. I can go on and on about how much I love this story and when a book buddy recommended this one and stressed that it was also very well written, of course I bought it right away.
Unfortunately I got distracted by something else and only read it now, but better late than never. I agree with my book buddy, I also think that the story was very well written. I said it previously that every time when I get to see the story in front of my eyes, my appreciation for the writing grows even more, because I am not a very visual reader usually.
And here I saw the castle so well and the two main characters and two very annoying fishes (yes, there is a talking fish, don't ask, just read !). I just wanted to stop and taste some sentences on my tongue, doesn't happen too often to me, really.  Also as usual, I am very hesitant to oversell the writing, because I start to panic that native English speakers will point out to me that I missed this mistake and another mistake, but I really did quite enjoyed the language in this story.
The m/m twist notwithstanding (and I thought the writer made the change from Beauty to Brendan in a believable enough way), the story sticks quite close to the original one, and in places where the narrative changes a little bit, we see some clever call backs to what I think the original story was. However, and I think this is also a testament to this author's talent, I think she went much deeper into the Beast and Brendan's personalities than the original tale ever did. I think she made them more real and less fairy tale archetypes, if that makes sense. It makes sense in my head at least.
You ask, why the grade is almost perfect instead of perfect one?  I am going to put it in the spoiler since it is about the ending and there was something there I did not enjoy that caused me to drop half a point from my grade.
Otherwise it was great.
Grade: B+