REVIEW: The Past is Myself by Christabel Bielenberg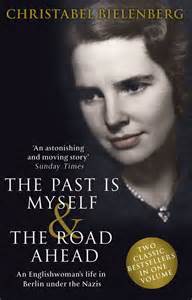 Dear Readers,
I first heard of Christabel Bielenberg's story via a 1980s made-for-TV movie staring Elizabeth Hurley and Stephen Dillane in the title roles of Bielenberg and her German husband, Peter, as they melodramatically attempted to survive Hitler's wartime Germany. For some reason I didn't see the whole thing, thought about it only occasionally over the years before I was hooked into the Internet and thus never pursued it any further.
Years later I was watching the excellent "World at War" series (which is still visceral and fantastic even 40 years later) and who is one of the many people interviewed but Bielenberg. Her contributions to the series were quietly told but wrenching nonetheless. I've really got to track down her autobiography, I thought and did so once I'd finished watching that particular disc from Netflix. Turns out she wrote two books, one about her early years in 1930s Germany and during the war and then another one covering the post war years. After waiting for a great Kobo coupon, I bought the set. When I knew I was going to be reading a romance book arc set during WWII, it seemed a perfect time to finally pull out the first book.
Bielenberg came from a privileged background – she was the niece of a British Lord and did the typical "debutant abroad in Europe" thing – but she's an engaging author who seems fairly honest, both positively and negatively, about her life and experiences. She doesn't spend much time in the book before her married life begins but bits and pieces of her background come to light over the course of her story. Life settles into easy harmony for Christabel and Peter and their family begins to grow as Peter pursues the qualifications needed to finish his law degree.
But at the same time, Hitler's shadow starts to grow and cover post-Weimar republic Germany. Chris and Peter have a wide circle of intellectual friends, many of who were at university with Peter, who are intensely political and vocal. Chris is somewhat naïve during the mid to late 1930s but living in Hamburg and not Berlin and being a young mother as well as the general lack of understanding that many people had about how ruthless Hitler would be makes this understandable. Her narrative is a mix of her personal life which she uses to delineate the growing issues of the world of the time.
Peter's friends and fellow law students gradually come face to face with the necessity of avoiding membership in the Nazi Party while still fulfilling the requirements needed to gain their credentials to practice law. As Jewish professors, personal doctors and others known to Chris and Peter are deprived of their livelihoods, then their personal goods and then are trying to escape while this is still possible, the magnitude of the horrible truth begins to dawn on Chris. Watching as the world inches towards war and unable to believe nothing is being done to stop it – one thing she mentions is that August is the opening of grouse shooting season and perhaps all the British diplomats were there and not London in 1939? – seems like watching a massive train wreck in slow motion.
Even after war is declared, they still hope that some peace initiative – and a friend of theirs is hard at work in the US to do just that – will bring the madness to a halt. What follows then is the "phony war" which has little actual effect on her day to day life beyond enduring visits from the local tin pot officials determined to check on their bomb shelter preparations, beginning to deal with ration cards and getting hens for their backyard.
The thing that struck me about all this is how similar it was to what I'd learned was taking place in Britain. Everyday average people having to deal with a war few, if any, of them wanted. However it doesn't take long before new social norms begin to enter their lives. Conversations around long time friends and colleagues can be open and uncensored but new acquaintances, even if vouched for, must be treated with circumspection. When Chris's eldest son tells her that he mentioned to a school friend how his mother also listens closely to the wireless too, Chris realizes she's been entered in a conspiracy of silence with another woman she's never even met. Will that woman hold her peace and remain quiet, or might she turn Chris in to the authorities?
Time passes and Peter has to work harder to avoid active military service. Their friends challenge the Gestapo to save those whom they can and Chris finally comes face to face with a terrible choice that will – as her testimony on the "World at War" series shows – haunt her for the rest of her life. The Bielenbergs also begin to see the losses among their friends and neighbors to Hitler's relentless drive to conquer Europe.
Due to the growing wartime shortages, she and Peter decide that she and their three sons will move to a small village in the country. I found this section almost surreal in its similarity to many TV shows I've watched over the years about rural life in England as viewed by the initial townie outsider. There are the quirky villagers who unite together in their mistrust of big city strangers but who gradually take the newbie under their wings as one of their own. There are the bizarre and humorous incidents – such as when an American airman appears in the village after bailing out of his crippled aircraft and the whole town swings into action to spiff up the cobwebbed town gaol and make him comfortable before he's taken into custody by the military. And there's Chris's dawning realization that she's picking up the local patois and rhythms of life.
The next section was the hardest for me to read. Along with several of their friends, Peter is arrested following the failed assassination attempt on Hitler in July 1944. Desperate to save her husband, Chris travels to Berlin and seeks permission to see him in Ravensbrück Prison which is finally granted. During a nerve wracking 20 minutes, they manage to communicate to each other vital information each needs during the next stage of events. Chris then steps into the lion's den of the headquarters of the Gestapo in Berlin where for nine hours she plays a life or death game of verbal chess with a blue eyed monster.
During her trip back to the country, another event occurs which she relates years later in which she encounters a man seeking death as a release from the memories of what he's done during the war. Peter's account of his time in prison is another searing indictment against the Nazis.
The last part of the book is the villagers' wait as the war gradually winds down to a close. For Chris and Peter it's another race against time as they maneuver over, around and past the efforts of the German military to suck Peter into its maw. With a wink and a nod, the people around them aid the subterfuge and in the end, almost all of them come through the war unscathed, physically if not mentally.
Christabel Bielenberg's story is fascinating to read as it takes you into the heart of a country and a people at war. She is a part of the struggle to survive the deprivations, the bombings, and the arrests yet at the same time also set apart from most of the people around her by her birth and her never quite abandoned belief in British superiority. Once I started the book, it was hard to put it down and I look forward to learning how the Bielenbergs navigate the postwar years. B+
~Jayne