REVIEW: Maiden Rose, episode one by Fusanosuke Inariya
Warning for non – con scene (maybe – see the first paragraph of my review for more explanation).
Two soldiers from warring countries are bound by a pledge as master and servant. Taki Reizen is a Commander of sublime beauty, shouldering the fate of his nation. Called "Mad Dog" because of his rough temperament, Klaus has sworn his loyalty to him as a knight. Despite this, those around them are cold and disapproving, full of various misgivings. For all their genuine feelings, what will come of love made cruel by the violence of war?
Review:
Dear Fusanosuke Inariya,
I saw that one of my favorite yaoi titles was available for kindle (apparently it had been for a while) and decided to bring it to DA. Disclaimer – my knowledge of yaoi (Boys' love) manga is fragmentary at best. Over the years I think the number of m/m books I have read are closing in on a couple of thousand in total, and Yaoi make up around thirty to thirty five titles. In comparison it is of course nothing, but I know what I like and "Maiden Rose" is one of my very favorites. Those of you who have tried Yaoi know what it is – the pictures tell the story as much or more than words do and the characters have a strict division of sexual roles (Seme and Uke, active and passive partners in bed). I have a friend whose knowledge of yaoi is much more extensive than mine and if once in a while I am in the mood, I ask her or couple of my other book buddies at the Amazon m/m discussion board for recommendations.
I love Yaoi art, so why, you would ask, do I not read more of it? As trivial as it sounds, my main reason is that reading in the shape of the letter S (that's the order of words you are supposed to read the page in Yaoi book) often tires me out. Also, I am not the biggest fan of the "non-con" theme, which is *very* frequent in Yaoi, even though there I often have an entirely different perception of such scenes than I would in an m/m book, and I am not sure why. It's probably because Yaoi stories overall have a much more fantastical feel to me, no matter what setting they explore. In any event, this brings me to a warning I want to give for this title.
The sex between Taki and Klaus is rough throughout the book and there is one scene which when I read the book years ago clearly read to me as rape. Upon rereading, I am not that sure, though, and I usually err very far on the side of "being non – con/ rape". In any event, if you are a yaoi reader you already know that this theme is very common, and if you are not, beware.
The settings of the story are strange, dreamlike to a degree in a sense that they invoke some major historical events, but are not quite those events.
"Year 1928 of the imperial era, the major power Eurote broke the hundred-year treaty and invaded Deden. The continent was packed with small countries, and the "balance" between them was so fragile. The war spread all the way here to our distant land".
Is this power Germany? Russia? None of the above? I have no idea, I think every reader will form their own opinions as to that and I am not sure if it matters that much. Is the "distant land" Japan? Probably, but once again it did not really matter to me. All it matters that it divided in several territories.
"Each territory forms its own strategically independent division. The Lord's the division commander and his subjects are the soldiers. Its like the Middle Ages".
Taki is the Lord and now military commander of his people. He and Klaus met in the military academy in Eurote and when Taki was deported due to war, Klaus left with him. He gave up his citizenship in his country and became Taki's knight. Other people think of him as Taki's servant, and partially they are right. Klaus serves under Taki's command, he seems to be an intelligent officer who does his best on the battlefield, and Klaus and Taki are also lovers in private. That's the secret they both are trying hard to keep. There is a lot of anger in their relationship, but also a lot of love.
When the most violent scene of their love affair takes place certain consequences occur for Klaus. I wrote above that I am not as sure anymore what to think of the scene, but regardless of what it is, the consequences would have been good enough for me to forgive him. There is also an underlying mystery as to where Klaus' loyalties lie and that mystery is not resolved, but the book does not end on a cliffhanger at all.
I just realized that rather than quoting I would like to be able to copy an episode and show you some panels inside this review. The pictures truly do tell the story here. I mean the words flow well enough, so I am assuming translation was good, but the art is truly wonderful. The fighting, the despair Taki feels when he visits his wounded soldiers, it is all there in the drawings. And Klaus' expressive face shows everything he feels too.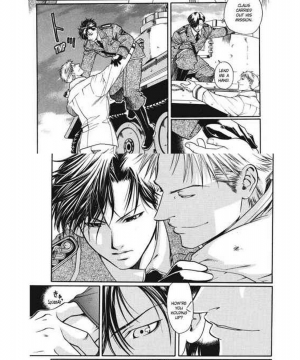 There is a second episode available on Kindle as well, which also does not end in a cliffhanger, and I highly recommend it. Unfortunately the third episode has not been translated yet, even though it has been several years, and I have given up hope that it will ever happen.
Grade A.