REVIEW: A Fire Born of Exile by Aliette de Bodard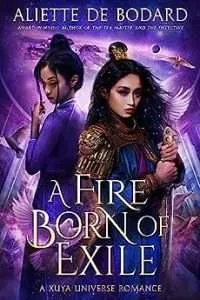 The Scattered Pearls Belt is a string of habitats on the edge of a huge galactic empire—a glittering, decadent society rife with corruption. Now, one of its victims—Quynh, a scholar betrayed and left for dead—has come back for her revenge, under the guise of the glamorous and enigmatic Alchemist of Streams and Hills.

Quynh's path intersects that of Minh, the daughter of one of her oldest enemies, who chafes at her own lack of freedom; and of Hoà, a near-destitute engineer who poses a threat to all Quynh's careful plans. Quynh finds herself inexorably attracted to Hoà, even as her plans upend the fragile political equilibrium of the Belt.

Falling in love wasn't part of Quynh's plans; but will she be able to grasp this second chance at happiness, or will she cling on to a revenge that may well consume her whole?

A poignant, heartwarming romantic space opera about love, revenge and the weight of the past.
CW – Use of State sanctioned torture is mentioned. One character is emotionally abused by a parent.
Dear Aliette de Bodard, 
I'm going to admit that I will think twice about reading another full length novel in the Xuya Universe you've invented. It's magnificently invented, richly described, and it also gives me a headache trying to understand the background parts of it which are not filled in. Each and every book I've read set in it drops the reader straight into the action with little worldbuilding to ground us. I feel as if by this point I should be past all that but no, I'm not. It's as if I'm being lead through a detailed tour of the luxurious cabins and rooms of the Titanic, introduced to a ton of characters – some of whom have more than one name or title, had the details of their clothes described, been told about the rich food and entertainment provided but nothing is mentioned about the icebergs ahead in the ocean and the fact that there aren't enough lifeboats on board. You know, the important stuff.
As this is a revenge plot story, I also feel I need to understand and connect with the reason for it. But I never got emotionally involved. Everything felt at arm's length from me. So many of the things that drove Quynh's and mindship Guts of Sea's thirst for revenge happened off page and in the past. Other characters think about these events in brief remembrances or tell them dispassionately and this just didn't get me invested as much as it should have. Yes, this is a space opera about revenge but it's still about revenge. I needed blood-pumping emotion but got sketchy clinical details.     
There are a ton of characters. Many have interconnecting relationships. Most apparently have extensive past histories. Since I really didn't come to care about – well, basically any of the characters, I wasn't on the edge of my seat seeing the revenge plot carried out. Wait, it goes deeper than not caring about them. I actually disliked most of them. The one I didn't dislike came across as a saintly drip. I know she was supposed to be the "light in the dark" but she came off one note. The children were just plot moppets. The villains were just evil. When they weren't sulking, the teens were mouthpieces for high flung orations on the future, loyalty, family, personal growth. The main character seeking revenge started strong and mysterious but as she was fleshed out and "redeemed," she weakened until by the end she seemed as confused about things as I was. Yes, this is a space opera but I need to care about at least some of the people in it.
At last we get to the culmination of the plot. But the denouement of the payoff of revenge dragged on. The characters trying to bring down the baddies kept letting events slip out of their control. They would let the villain monologue or they would appeal to the villain's better self one last time and – yep, here it is again – get caught, imprisoned, poisoned, taken down, held captive … whatever. Then to rub salt in the wound, the finale fizzled out. I wouldn't have minded a few explosions or fist fights or something dramatic. And in the end, what do we get? Things swept under the carpet and promises of change that even the characters don't truly believe in. 
As for the romance, it didn't work for me either. It's insta-love and the relationship never felt real to me. Instead it's merely a means to manipulate Hoa's and Quynh's actions. 
So although I got to be immersed in the intricacies of the social hierarchy of this world (yay, loved this bit!) and read endless details about what characters wore, the tea served, the overlay backgrounds, how well each woman's top knot was smoothed, and about each character's bots, I felt emotionally cut off about the reason for the revenge, dissatisfied in the romance, disliked most of the characters, and was disappointed in the satisfaction I should have felt when the book ended. Not a good experience. D 
~Jayne