Bridgerton: A Discussion, Part IV
This week we discuss Bridgerton in five posts. You can find the first three here:
Part I is centered on the show's worldbuilding and production values, on its treatment of race, and on Lady Whistledown.
Part II focuses on the show's matriarchs–the queen, Lady Violet, Lady Danbury, and Lady Featherington.
In Part III we talked about Simon and Daphne's courtship.
And now for today's discussion:

TRIGGER WARNING:
Simon and Daphne (Regé-Jean Page and Phoebe Dynevor): Part B—the marriage
Janine: So—this was when things between Simon and Daphne came to a head, and it wasn't pretty. We start with a honeymoon period where they jump each other's bones at every opportunity but things quickly fall apart when Daphne realizes that Simon misled her as to the kids issue. Contrary to what he'd said, he could have them. He just didn't want to. Daphne then decides to take matters into her own hands and rape Simon to steal his seed.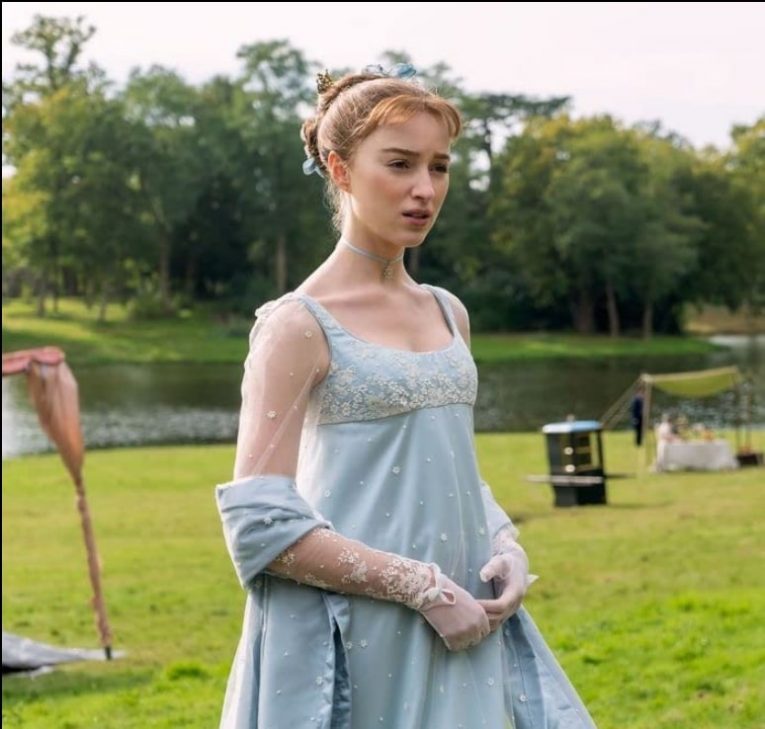 This for me was beyond the pale. If this was the husband making holes in his wife's diaphragm, or the infertility doctor inseminating all his female patients' ova, we would be completely disgusted by the behavior. It's wrong, no ifs, ands or buts.
Some black viewers feel that there's a racist aspect to the rape, and while I don't feel qualified to comment on that, I think it's important to listen to them. There are posts on the topic online and I encourage readers to seek them out.
Still, personally, I'm very fond of redemption stories and I might have appreciated the direction this story took more if we'd seen Daphne show remorse. Instead she acted like she was the wronged party. The way this was written, she didn't even come around to understanding (and "forgiving") him until she found his childhood letters to his father.
Daphne should have understood, at least on some level, that she had violated him immediately afterward. It also would have helped a great deal if, after she'd read the letters, she'd understood, even more and in her bones, just how harmful what she'd done was to him and to his trust in her. If she'd then asked for his forgiveness and told him that she loved him and wanted to be with him whether or not they had kids and Simon had, after that, decided that he wanted children after all, it would have been a more convincing and less frustrating happy ending.
But none of this happened. The show was written in Daphne's POV more than in anyone else's, and Daphne was spoiled and overprivileged. This, too, was not acknowledged.
Regé-Jean Page did an exceptional job here. He made me feel that Simon's statement that he couldn't have kids was more a miscommunication than a deception. If there was any intent there, it was to avoid reopening his painful past and to confide in Daphne so she would understand the reason he couldn't marry her. He was trying to keep from marrying her at the time so it isn't as if he used the statement to entrap her in a childless marriage.
There is a scene that takes place after the rape, on the stairs, where things get hot and heavy. Daphne suggests they go to the bedroom to finish, and Simon immediately pulls away. The look in Page's eyes was wounded. That was a terrific acting choice. Page was showing us what the writers didn't—that his character had been violated and traumatized, and was now afraid of his wife.
Layla: The controversial scene between Daphne and Simon was most interesting to me as an example of how coercive behavior permeates all aspects of a relationship—the lies and trauma between Daphne and Simon manifest tragically in intimate violations and small coercions. The marriage becomes about power and the sex becomes a power play—not about pleasure or intimacy but coercion and violence. A marriage with a foundation of mistrust and deception will not be fertile—literally and metaphorically.
Daphne's actions are reprehensible, and a violation of her husband's body and trust for which she is forgiven much too easily. While I never found Simon's reasons for deceiving her compelling —it felt more like he was doing what he was doing out of fear, and lack of direction, than from conviction or strong feeling—her betrayal of her husband during an act that requires trust was horrible and selfish. Daphne's anger did not justify her behavior at all. I found her to be childish immature and whiny in this portion of the narrative.
One final note—there is a long and ugly history of violence on black bodies, especially in the history of American slavery and in imperial and colonial contexts. It was not addressed in the show, but that the black object of desire is also an object of violation is problematic.

Anthony (Jonathan Bailey)
Janine: I liked the way the show developed Anthony through both his relationship to his sisters, Daphne and Eloise, and his liaison with his mistress, Sienna. Early on he overprotects Daphne, causing her suitors, who aren't good enough for him, to stay away. We see just how hypocritical it is when he pines for Sienna who is a commoner and a kept woman. Do you feel the show was using him to comment on the double standard between men and women? I did.
I can't say I liked Anthony—there was a moment when he shared a smoke with Eloise that brought out the brotherliness in his character in a positive way and that was the closest I came to feeling fond of him. But regardless of likability I did feel that he added a lot to the show.
I liked the actor Jonathan Bailey's choices in the role, the way he would have Anthony fling himself onto a sofa, for example. Jonathan Bailey acts with his whole body and I really like the physicality he brings to the role. There's something restless about him.
Layla: Excellent point! And he's always watching the clock, waiting for the next responsibility.
I didn't like him much either and I don't think we are meant to like him. He's in a really difficult position and plays a difficult role—the reluctant patriarch. Unlike Simon who is sexy and seems carefree (of course he's not) and whose smiles come easily, Anthony is morose and harried.
I have to say I was shocked when the show's first episode featured a very explicit sex scene between Anthony and Sienna soon after the opening credits. This honestly set me up to dislike him—he engages in casual sex, he times it and he does it in public in front of his servants! It just struck me as everything I dislike about gentleman of the time, he is privileged, wealthy and self-involved.
He only takes interest in his sister's plight when his mother urges him to do his duty. The central conflict for his character is that the obligations of his duty conflict with his desire to pursue his own pleasures. I know lots of people loved his relationship with Sienna, the opera singer, but I personally did not like it. I didn't think the two actors had chemistry and their relationship lacked depth.
Janine: That's a great point I didn't think of. There isn't much depth there, unlike with some other relationships in the show. Even relatively minor ones like Colin/Marina.
Layla: It's not a really innovative or new re-imagining of that trope of the wealthy lord and the poor working girl. I never understood why he liked her so much—beyond her representation of a kind of freedom, and freedom of choice, that he doesn't have. For example, he doesn't seem to appreciate art or her truly lovely singing voice. He continues to pursue her when she's said no but it seems a desperate bid to hold off his responsibilities and not because he loves her.
In that way he was like Daphne—he is doing his duty, but being made miserable by it. He doesn't have to pretend as she does, so you're right, he is a figure of commentary on the double standard.
Final thought—the actor himself is quite attractive (far more than the other two brothers!) so I am interested in how he would be written as a hero in the second season (if he is in fact the hero.)
Janine: I didn't find any of the actors playing the Bridgerton men that attractive, TBH. But as I said to a friend, it was necessary. It made Regé-Jean Page's handsomeness all the more dazzling, pointed clearly to him as the leading man. And as my friend then said, if they'd all been gorgeous it would have been a CW show, not Netflix.
—-
Join us for our last Bridgerton discussion post, where we cover the topics of feminism and of the writing.