What Janine is Reading: Rachel Reid's Game Changers Series, Part II
Over the past year, I've been reading Rachel Reid's Game Changers m/m hockey romance series. I posted about the first three books here. I've since caught up on the rest of the series. Here are my thoughts on books four and five in the series, Common Goal and Role Model.

---
Common Goal
After my experiences with Game Changer and Tough Guy, I was a little hesitant to read this one and although it was better than those books, my hesitancy still turned out to be well-founded.
Common Goal (like the earlier books in the series) takes place partly in the milieu of the NHL, although I think it is the least NHL-focused of the books. This one is set in New York and the main characters are 41-year-old bisexual goalie Eric Bennett and 25-year-old gay bartender / grad student Kyle Swift.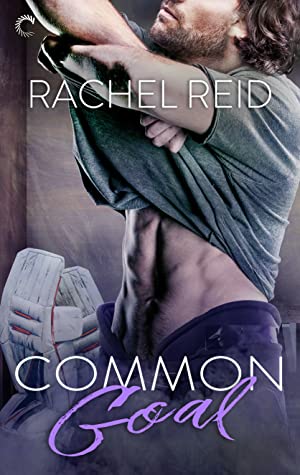 Eric and Kyle meet when Eric joins his gay teammate Scott (hero of Game Changer) at the Kingfisher, the bar where Scott's fiancé Kip works alongside Kyle. Kyle has been in love with Kip for a long time. He is happy for Kip and Scott but his heart breaks every time he sees them together and Eric quickly picks up on that.
Eric, whose twenty-year marriage recently ended, is thinking of trying to date men. When he befriends Kyle and comes out to him, Kyle offers to help Eric navigate the queer dating scene. This eventually turns into a friends-with-benefits relationship.
The book gets off to a strong start. Both men are likeable, especially Kyle. There is an initial misunderstanding when Kyle assumes Eric is a closeted married man because Eric still wears his wedding ring. Kyle was burned by married a man in the past so he's chilly to Eric at first, even though he's drawn to him. This is cleared up quickly, before it can get boring, so this minor conflict is engaging and well-paced and this part of the book is pretty good. There's also some nice dramatic irony when Kyle is playing the role of Eric's wingman, all the while desiring Eric himself.
The main conflict in the book turns out to be that Eric thinks he's too old for Kyle and so it wouldn't be fair to get involved with him. Eric feels that Kyle should be hanging out with younger people and enjoying his youth, not burdened by a boyfriend in his forties. Kyle misinterprets some of what Eric hints at to mean that Eric doesn't view him as boyfriend material (even when they are having great sex-buddy sex) because Kyle is under thirty and is understandably a little stung, but he doesn't let it stop him from helping Eric out by showing him around.
"He deserves more" is a close cousin to "I'm not worthy," a trope that I'm usually not fond of when there aren't major societal barriers that could cause the relationship to harm the other person. Since Kyle is already out that doesn't apply here. But Eric's reasoning is understandable so for a while this conflict is okay. It wears out its welcome eventually, though, because they each spend a lot of page time thinking that the other doesn't want them for anything beyond friendship and sex even though each does. Lather, rinse, repeat—I got frustrated with them because I felt that one or two conversations would solve what was the main issue for over half the book.
Something else that bothered me is that Eric was married for twenty years but never told his then-wife, Holly, that he was bisexual. I can think of many scenarios where this would work well; for example, if Holly were likely to turn abusive after hearing it, if she couldn't be trusted to keep it to herself and he wasn't ready for the world to know, if theirs had been a shotgun wedding and they didn't like each other much, and more. But no motivation for Eric's secrecy was given. The marriage was a peaceful one and even though Holly left him (because they'd drifted apart) they are still friendly in the timeframe of this book, a year after they split.
So why didn't Eric tell her for TWENTY YEARS? Under these circumstances I consider it deceptive. It's in my value system that failing a good reason, you should be forthcoming with your spouse about the major aspects of who you are. Your spouse has hitched their wagon to yours, hopefully for life, and if they are trustworthy, they deserve your trust.
Eric is also tranquil about this choice. He feels guilty about not telling Scott but not about not telling Holly, even though he lived with her for twenty years. This was a real head-scratcher for me.
Also, shouldn't Eric have at least felt some angst here on his own behalf? But no. When Common Goal begins, he is starting to think about coming out (concurrently with approaching retirement) and isn't quite ready to tell people but there's never any sense that being closeted from own wife made Eric feel isolated or that it kept him from feeling accepted–seen, known, and loved for who he was.
Additionally, Eric excels at too many things. He is a successful art collector with great taste in art, an amazing photographer (so much so that his art dealer thinks he could be a professional artist), a master at yoga, good looking (of course), a great goalie, and thanks to his hockey career, a millionaire. Kyle was a more believable character; his ambition was to run a bar where he could put his inventive cocktails at the menu and though he was hot in and out of bed, he wasn't superman. That made me like him more. He also had a backstory that was very affecting.
The sex scenes included edging (a new-to-me term for a concept that decades of romance reading have well acquainted me with). This kind of thing can make a sex scene really hot, but though I thought the sex scenes were to a degree, I wasn't happy with them because they felt objectifying. There were weeping penises, glistening penises, and jets of cum. Unsubtlety isn't really my thing even in m/f romances, but in a context where the characters are from a marginalized group and the author isn't from that same group, it can make me uneasy. The flimsiness of Eric's characterization and of the conflict in the second half, when combined with sex scenes where I strongly felt the female gaze, made parts of the book feel like an excuse for objectifying sex between men.
I read Common Goal mainly to catch up on Ilya and Shane from Heated Rivalry in time for The Long Game (Heated Rivalry's direct sequel) and it was nice to see Ilya here, his cameo was great. Unfortunately, this one is weak tea at best. C.
AmazonBNKoboAREGoogle Play Store
---
Role Model
The story here is about Troy Barrett, a hockey forward in the NHL. In Tough Guy we saw Troy bully his then-teammate Ryan Price. Troy has a history of being a bully, partly because that's what his father modeled for him and partly because Troy is gay and in the NHL. Troy is terrified of being discovered and acting the part of a toxically masculine man is a good way to cloak that part of himself. Over time Troy has begun merging with his mask and when Role Model begins he's not sure where the mask ends and his real self begins.
At the start of Role Model Troy has just been traded from the excellent Toronto Guardians team to the weaker Ottawa Centaurs. The trade came about because the star of the Toronto team, Dallas Kent, was accused of rape by multiple women. Though Dallas was his best friend, Troy knew him well enough to believe the women. Troy didn't plan on it, but he snapped at Dallas at a team practice, calling him a disgusting rapist. The practice was filmed and the video created controversy. Most Guardians fans and certainly the team's owners support Dallas and they wanted Troy off the Toronto team.
Troy arrives in Ottawa freshly out of another broken relationship, too. His ex-boyfriend and secret lover, movie star Adrian Dela Cruz, was also closeted when they met. Adrian turned out to have been cheating on Troy and Troy only found out when Adrian came out of the closet to announce his engagement to the other man. While Adrian collects praise and well-wishes, Troy struggles not just with his broken heart but also with being unable to share that part of what he's going through with anyone.
Troy feels a lot of self-loathing and doesn't reach out to anyone on his new team. A few of them reach out to him, but what most changes Troy's life is meeting Harris Drover. The team's openly gay social media manager, Harris is also sweet, lovable and cheerful. Harris isn't gorgeous or athletic, but Troy finds him attractive and his presence soothing. Troy begins to spend more and more time in Harris's office because of that, and as he does, he relaxes more.
Harris isn't sure at first what to expect of Troy but as he gets to know him, he quickly learns to like and respect him–a liking and respect that Troy feels he isn't worthy of. Harris doesn't know Troy is gay but he thinks he's gorgeous. His attraction to Troy persists even after he tells himself it's a bad idea.
A handful of times Troy starts to open up to Harris and then bails abruptly, worried that his need to come out to someone will overwhelm his need to stay closeted. Harris is confused by this abruptness.
The book is about Troy's journey but also about the team's journey— under the leadership of team captain and Hidden Rivalry protagonist Ilya Rozanov, the Centaurs slowly start to win games. Can they transform the team in time to reach the playoffs?
I had begun to wonder if Reid was a one-hit wonder so Role Model was a pleasant surprise. Though it wasn't on the level of Heated Rivalry, it was a solid book. The romance and the subplot about the Centaurs' transformation are both satisfying. I was impressed that despite the fact that the story was Troy-centered, Harris's presence never feels comparatively faded. He has such a distinctive personality that he stands out whenever he appears on the page.
The same is even more true of Ilya, who personifies charisma. He is cocky, snarky and amusing. Here we see how much he has matured in the years that have passed since Heated Rivalry. Ilya is now more open and generous, supportive of Troy and of the team. I love the way his growth has been developed over the course of the series and I was thrilled to see so much of him in Role Model. He's a scene stealer and the best thing about this and every other book in the series.
I did have some issues with Role Model. The biggest was that I found Harris a little too sweet and vulnerable. It felt manipulative to take it that far. He could have been just as good for Troy and more believable with just a tiny bit more self-preservation, a softie who nevertheless watched out for himself once in a while (for example if he'd felt slightly annoyed at least once when Troy abandoned him in mid-conversation). Making him this much of a patient marshmallow took some believability and dimension away.
Food was a more minor thing that tripped me up as far as Harris and believability. Harris's family were apple farmers and he was into all things apple—apple cider, hard cider, apple crisp, apple pies, apple shampoo. I don't know about anyone else, but if I had grown up on an apple farm, I would have been sick of apples by the time I was ready to leave. It was even more jarring that Harris's favorite food was ice cream, given his history of arterial surgeries. Every time he had ice cream or other rich foods, I worried that he would end up experiencing a heart attack.
The team was a bit too nice.
A copyediting nitpick—Reid confuses "may" with "might" in this book and in her others. Has anyone else has noticed that? May/might confusion is an issue I see more of in books than I used to and it's so distracting that it's almost enough to make me want to offer to copyedit the books myself.
I want to give props for a few things. The resolution to the storyline about Troy and the Dallas Kent controversy was satisfying.

And in this book, the sex scenes didn't feel objectifying, so there's that, too. B.
AmazonBNKoboAREGoogle Play Store
---