REVIEW: Just a Heartbeat Away by Cara Bastone
Dear Cara Bastone,
I heard about your debut contemporary romance, Just a Heartbeat Away, when it was recommended somewhere on social media. The main conflict (May-December) and the background of the hero (he's a widower) sounded good so I checked it out of the library.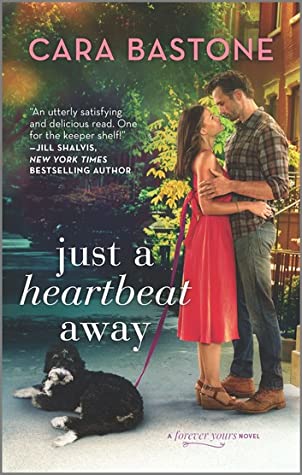 Sebastian Dorner, an architect and a Brooklynite, had his world upended when his wife Cora was killed in a car accident. Four months later, he is at a parent-teacher conference with his four-year-old son's pre-K teacher when Miss DeRosa, the teacher, gently breaks it to him that he has been neglecting Matty.
Seb is devastated, horrified and ashamed to realize Miss DeRosa is right—he's neglected his son in his grief. Luckily, not only is Matty's teacher firm yet sympathetic, she provides him with a list of things to keep track of, like making sure Matty has a fruit or vegetable at every meal and planning play dates for Matty with other parents.
Two years later, Sebastian is a devoted father. He has quit his job as an architect and has an artistic carpentry business. Each of his furniture pieces fetches thousands but he still takes the time to volunteer at Matty's school, PS 128, as a lunch-hour cafeteria monitor and he coaches soccer as part of PS 128's after-school program. Every afternoon, when school ends, he shows up to walk Matty home, too.
And even now, two years after that fateful parent-teacher conference, Sebastian has the list Miss DeRosa made for him taped to his refrigerator. He has scribbled additional notes all over it and although his parenting skills are many miles ahead of where they were, he refers to the lifesaver of a list periodically.
Seb's friend Tyler has been prodding Seb to put his profile on a dating app and start dating again. Seb goes along with this, but he doesn't really want to meet a woman this way; it seems too impersonal to him. When he runs into Miss DeRosa again at a local farmer's market, he strikes up a conversation with her. They click, it seems to him, and he's about to ask her out when her boyfriend materializes.
Upon learning from the conversation that follows that Via (short for Violetta) taught pre-K as part of her master's program training but is now about to start work as a counselor at PS 128, he's doubly relieved he didn't ask her out. Not much later, he realizes that she's very young—24 or so, he estimates (she's 27 in actuality)—and knows a relationship with her would be an impossibility even if Evan weren't in the picture because he himself is 42.
Via and Sebastian are present for the same staff meetings and she quickly realizes that a handful of the other teachers have a crush on him. She's surprised to see how much he has grown as a father, and to realize how mature, responsible, and open he is.
Stability and security have been paramount to Via ever since she was orphaned at age twelve. She grew up in the foster care system and bounced around before she found a lasting home with a loving foster mother, Jetty, and with Jetty's niece, Fin (short for Serafine). Jetty has since passed away but Fin is a good foster sister and friend to Via. She and Evan are all Via has.
Tension is introduced into Via's relationship with Evan when he quits his paralegal job without giving notice because he's frustrated with how he's treated at the law firm where he works. It chafes Via that Evan doesn't appreciate the value of a steady job. He has well-heeled parents to fall back on and he doesn't realize how fortunate he is.
It takes Via a little time to see Sebastian's attractiveness. She's puzzled by the other teachers' crush on him since he is not model-handsome like Evan and is too wide and tall to be her type. That ends, though, when he's invited to join a softball team she and a couple of their co-workers are in. When she glimpses his muscles she realizes that he's hot. Fin, who is present and concurs, asks Via to give Seb her number in case he wants to ask her (Fin) out.
Given all this, it's a long time before a relationship between Sebastian and Via seems feasible. Not only is there the age difference and Via's relationship, but each of them carries baggage. Via's is loneliness and fear of getting close to others. For years she's blended into the background so no one would reject her or kick her out, as happened at a couple of her foster homes. Sebastian's is guilt that he was not a good father to Matty while Cora was alive, and perhaps, therefore, not the husband Cora needed.
This was certainly an enjoyable book—the characters were sweet, the dialogue effective, and the concept interesting—but I ran into a number of issues with it.
I liked that Via's initial reaction was that physically Sebastian was not her type. This quickly changed but that first reaction was refreshingly different. Via and Sebastian's romance was slow, slow burn and I also appreciated that there was a real courtship here, and a basis for a romantic relationship that went beyond sex (hot though it was) and physical attraction. Via was wonderful with Sebastian's young son, Matty, and Sebastian had the values and maturity that mattered to Via.
The age difference was well-handled for the most part because it was treated as a potential obstacle rather than brushed under the rug. Sebastian thought about it a lot but I would have liked to see Via consider it a bit more.
Via's relationship with Evan was also handled well.
So these conflicts were set up and for the most part executed well. Later on in the book, though, I started feeling that the sex was being postponed in a contrived rather than organic way.
On another topic, their shared workplace, I didn't buy that Sebastian would be invited to participate in staff meetings because he coached after-school soccer twice a week and monitored the cafeteria during lunch. It seemed unlikely to me. Their other shared activities, such as being on the same softball team and participating in the staff Friday happy hour felt like much more believable ways of throwing them together.
Just a Heartbeat Away takes place in Brooklyn. More diversity would have been welcome not only in and of itself, but also because it would also have helped portray the setting more accurately. Via isn't a Latina, as her name might perhaps suggest, she's Italian American. The only signs of diversity I can think of (and I hope someone will correct me if I missed or forgot something) are that one of Via and Sebastian's co-workers, Sadie, is in a same-sex relationship and her fiancée, Rae, is Muslim. One would not know from reading this book that, per the 2010 census, nearly a third of the people who make up Brooklyn's population are Black and almost another 20% are Latinx.
I really liked Sebastian's candor with Via in a scene that takes place late in the book when he is ill and feverish.
Big spoiler ahead:
I appreciated that Cora, though dead, came across as a specific person, a character portrayed in a meaningful way. I recently read a book where a deceased character wasn't sufficiently distinguished from any other sister / daughter / granddaughter so I was glad that Cora was very much an individual. A bit more detail about Via's deceased parents along these same lines would have been good, though. It could have fleshed out Via's characterization a bit more.
I wanted a flaw in Seb and Via's relationship. Via and Sebastian were too perfect with each other and for Matty. Yes, the age difference and Via's having a boyfriend for a while were sufficient obstacles as far as making the book a page-turner, but I wanted a little bit of something more internal to the relationship that would have allowed for a more layered portrayal of them.
The book had too much sweetness for me—sweet main characters, almost every single secondary character a nice person who cared about Sebastian and / or Via, adorable kid, cute puppy who lolled his tongue a lot. I wanted something tarter to cut through some of the sweetness. A jagged, unexpected edge here or there, like there was in Sebastian's carpentry. I was glad, though, that (except for a minor character who appears in only one scene) there were no bad guys.
The book gave me the warm fuzzies, so though I am giving it a C, I still have some interest in the sequel and may or may not check it out.
Sincerely,
Janine