Review: The Missing Page (Page and Somme's #2) by Cat Sebastian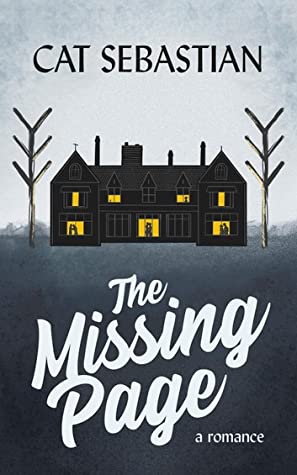 England, 1948: Semi-retired spy Leo Page and country doctor James Sommers team up to solve a decades-old mystery.

When James learns that an uncle he hasn't heard from in ages has left him something in his will, he figures that the least he can do is head down to Cornwall for a weekend to honor the old man's parting wishes. He finds the family home filled with half-remembered guests and unwanted memories, but more troubling is that his uncle has tasked his heirs with uncovering the truth behind a woman's disappearance twenty years earlier.

Leo doesn't like any of it. He's just returned from one of his less pleasant missions and maybe he's slightly paranoid about James's safety, but he's of the opinion that rich people aren't to be trusted where wills are concerned. So he does what any sensible spy would do and infiltrates the house party.

Together they unravel a mystery that exposes long-standing family secrets and threatens to involve James more than either of them would like.
Review.
Dear Cat Sebastian,
I reviewed the first book of this series previously and I really liked it, but I think I liked this one even more. Leo and James stole my heart once again and I think that mystery a la Agatha Christie was really well executed.
James' uncle died and left him something in the will as the blurb tells us and while Leo is away on the mission, James goes to visit his family and hear the will. James does not have the best memories about interacting with some of the family members for various reasons, but goes anyway because family is family I suppose.
Apparently his uncle's last will was written in a rather eccentric way – Uncle decided to leave most of his fortune to the person solves the mystery of the close relative who disappeared/ allegedly had a swimming accident two decades ago. Lovely close door mystery investigation takes place. In the meantime, once again as the blurb tells us, Leo comes back to James' house, and goes after him because he is worried about James. Of course Leo takes a rather significant part in the investigation and I thought it was well done and believable. I did not figure out what happened and the author absolutely left clues throughout the story. I thought the settings of the story were dark at first mostly because James did not have many very pleasant memories about the house he came back to and some family members he had to meet again.
However once Leo came, I thought the mood of the story lightened even though it was still an investigation of potential murder or suicide. I don't even know why I felt that the mood lightened – Leo is full of his own self doubts about where to go next with his career/ life in general. I guess I just felt that both of these men were really well suited to each other.
I often don't tolerate conversations very well about who is more worthy or deserving in the couple and whether one deserves the other, but in this book I even liked some of their talks about this topic – it was just gentle and sweet enough for me and more importantly I believed that the characters were trying to navigate their real worries and not just something author wanted them to say for the sake of adding some angst to the story.
""If I say 'looking after you,' are you going to take it as an insult? Because I don't mean it that way. I don't really know how to be a friend, let alone…" He made a vague gesture between them. "That fire's never going to take." "Ye of little faith," Leo muttered, and prodded a coal with a rolled-up piece of newspaper. James sat beside him before the empty hearth. "You seem to be doing a fine job. Not at building the fire. At…" He made the same vague gesture between them, accompanied by a wry smile. "Not that I have all that much experience. But I don't have any complaints." "That's because you have low standards and you let people walk all over you." James looked like he wanted to argue, but instead he sighed. "No, it's because you're a lovely man." Leo snorted. "Now I know you're full of it. Anyway, this is not the time to have this conversation. We're both tired and it's been a trying night." "What conversation?" Leo blamed weeks of exhaustion catching up with"
I was very pleased with where the book left Leo and James .
Grade: B+ stars