Review: Murder Most Lovely (Lacetown Murder Mysteries #1) by Hank Edwards and Deanna Wadsworth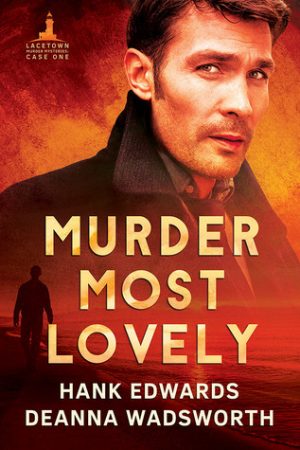 A killer at a small-town literary festival. Bumbling drug dealers. A kidnapped cat. Starting a romance among all this chaos might be the death of them.

Michael Fleishman is excited to meet his favorite mystery writer, Russell Withingham, at Lacetown's Literary Fest. He is not expecting to cross paths with sexy hairdresser Jasper "Jazz" Dilworth—or become embroiled in a real-life mystery. As Lacetown's only mortician and the county coroner, Michael is called to his first murder scene and is shocked to recognize the victim—Russell's young lover.

Jazz only wanted to confront his ex, Russell, over his cheating. Instead, he meets the adorably awkward Michael and becomes a murder suspect. Soon Jazz is teaming up with Michael to clear his name. Along the way, they are helped and hindered by Michael's sassy assistant, Kitty, the grumpy Sheriff Musgrave, Russell's creepy PR rep, Norbert, and Michael's lothario grandfather, who likes his manhattans strong and his women saucy. And of course, Mr. Pickles Furryton the Third…
Review:
Dear Hank Edwards and Deanna Wadsworth,
A book buddy in the book discussion group recommended your story and since I tend to really enjoy mysteries with gay romance in it, I happily bought the book (which was also on sale.)
I finished the book in one sitting. I am pretty sure that I did enjoy the story and wanted to know who the villain was. I was confused about some writing choices though and I am not sure how I feel about the romance.
Basically the story has several POV. It is written in third person limited. However in addition to two main characters we get to hear from at least four more people (it is either three or four if I counted correctly, so altogether we have five or six POV and I am not too keen on going back and double checking.)
I am used to multiple POV in some fantasy books, I never saw the reason for multiple POV in pure romance books. Off the top of my head, I don't remember reading a mystery with that many POV, although I probably did. However in this book it sounded like the authors were using multiple POV for one very specific purpose – to set up red herrings for the reader. Basically all POV characters we get to hear from (not including the two main characters) sounded as if they either had something to hide or already were up to no good.
I am not sure what I think about this device. I don't think it interfered with the flow of the story too much, as I said previously I did not want to stop reading at all. However I felt like placing red herrings that way was not cheating the reader rather than tricking the reader. I am probably not explaining this well, but if we would hear at least from one of these characters fully, well at least half of the puzzle would have been solved.
Yes, then we would have no story, but to me it would make very little sense that this character would not have been thinking about certain stuff. Of course the authors had to cut this person's monologue off, hide their certain thoughts otherwise no mystery would have been taking place. But then why did we hear from this person in the first place rather than hear from two main POV characters and them observing and making correct or false conclusions?
I spent a lot of time talking about this one issue, because it felt important to me and it is not as if I can talk about mystery plot much without revealing spoilers, but I want to say that I find the blurb to be a little misleading too. Jasper really is not a suspect for too long and Michael is worried about starting anything with him because in the beginning he is indeed a suspect in the murder case. I suppose formally he is considered a suspect for a while, but my impression was that after the sheriff's office had a conversation with him they were not going to pursue him as a suspect seriously or at all.
In case some readers may have an issue with this plot twist. I also thought that the authors took good care of "Civilians being involved in the investigation" aspect. As I may have mentioned in some of my reviews of m/m mysteries, I am not always convinced as to why civilian sleuths decide to insert themselves in the investigation and here it made sense to me .
Jasper was initially a suspect and Michael is a coroner, a county official in the small town. He is not a main figure in the investigation, but he has the authority to conduct those if need be and since this is the first time in his career both he and the sheriff encounter the murder it is not as if they are that experienced in those investigations and figure out stuff as they go.
I thought that both Jasper and Michael were great characters and even their almost Insta Love made sense to me – not sure why, but the authors convinced me. Having said that, I am not sure if I had seen that much emotional connection between them. I suppose it is just the beginning of the relationship, but if they will still be together in the next book of the series I would like to see more.
Grade: C+/ B-