REVIEW: The Obsession by Nora Roberts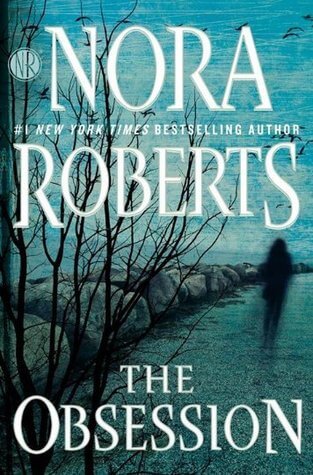 Dear Nora Roberts,
I look forward every year to your stand alone romantic suspense books. Not all of them work as well for me as others. Last year's offering, The Liar, was great but it read to me more like a contemporary than a romantic suspense book and the year before that, The Collector did nothing for me at all. But when you're on, you're on. My favourites of yours in recent years have been The Search and The Witness. The latter is, objectively, a better book but I admit The Search is my all time favourite Nora. Perhaps it is because of the dogs. I have a weakness.
The Obsession falls squarely in the "win" category for me. It reminded me in some ways of The Search actually – although there's only one (significant) dog in this book. There are some similarities: both books feature copy cat serial killers and sexual violence (Trigger Warning for same – there is some serial killer POV which may be difficult for some readers), both feature a dog or dogs and both heroes are of the grumpy variety. There is also an artistic similarity; in The Search, the hero was a wood artist and in The Obsession, the heroine is a photographer and the hero sings and plays guitar in a cover band.
They are nonetheless different books.  Perhaps what sets Naomi Bowes apart the most from The Search's Fiona Bristow (who had escaped from a serial killer's clutches) is that Naomi's father was a serial killer. The Obsession begins when  11 year old Naomi wakes one hot summer night in West Virginia and follows her very strict and religious father through the woods. She thinks he's going to put together her birthday present – a bike, hopefully a red one. What Naomi finds instead is a traumatised girl who has been raped and tortured by Naomi's father. And she's clearly not the first.
The story then briefly drops in on Naomi (now Naomi Carson) at various times following that fateful night and we see snapshots (heh, photography joke there. Geddit?) of Naomi growing up and her remaining family relationships. The next stop in the timeline is "present day" when Naomi has, much to her surprise, bought herself a gigantic house in need of significant renovation, in the small town of Sunrise Cove, Washington.  (And this is where similarities to another of your books (well, series') comes in. Like the Inn Boonsboro series, The Obsession features a lot of detail about house renovation.  I didn't find it intrusive and I was happy enough with the pacing, but I suspect some readers will find these sections a little tedious. However, they aren't as detailed as the Inn Boonsboro series and I thought these scenes gave the story a great sense of place. Also, I like Kristen Ashley books and she is notorious for a lot of detail. I've found I don't mind it in the right book. This was one.
Due to her father's notoriety, Naomi grew up hiding herself and keeping herself apart from others, the only exceptions being her immediate family. In Sunrise Cove, she finds community and friends – much to her surprise. She also finds a man – Xander Keaton. Xander is the local mechanic. He owns the garage and body shop and has part ownership of the local bar, where his band, The Wreckers, play regularly. He's blue collar but also an astute businessman. Like Naomi, Xander wasn't looking for a relationship. But Xander rolls with change a little more easily than Naomi does and so he's putting the moves on her pretty quick.
"…We start something—and I'm also not looking to start something—and it gets messed up, your friend and my contractor's in the middle of it."

"That's weak," Xander said, and went back to the pasta.

"Not from where I'm sitting, in the heart of a construction zone. Plus you're the only local garage and mechanic, and I might need a mechanic."

Thoughtfully, he crunched into the bread. "Probably get the work done faster if we're having sex."

She laughed, shook her head. "Not if we stop having it, and you're pissed at me. There's work, of which I have to do a lot to pay for this house, and everything that goes into it. I don't have time for sex."

"There's always time for sex. Next time, I'll bring pizza and we can have sex in the time you spent making dinner."

And thoughtfully, Naomi ate pasta. "That doesn't speak well of your . . . stamina."

"Just trying to work on your schedule."
Xander is a little pushy but he never crossed the line into coercive territory. He's more of the cocky, confident variety. He's also new to relationships and mostly terrified of a woman's tears, as well as not being very "hearts and flowers".
"If you need to yell, I can handle it. If you need to cry, I can handle it. Yelling's preferred."
To my delight, neither he nor Naomi are cuddlers in bed. It's not often I see that in romance and it made me happy.
That's not at all to say that the romance is lacking. It's perhaps more that Xander's romanticism tends to have a practical bent. And this suits Naomi perfectly.
The portion of the book where Naomi is settling into Sunrise Cove and where the romance between she and Xander blossoms has basically no suspense. However, right at the end, a local woman goes missing and when her body is found, there are alarming similarities to the victims of Naomi's father. And there are other connections to Naomi too. The next part ramps the suspense up to 11.  Other women go missing and it becomes clear Naomi is a target as well.  I wanted this book to be a meaty romantic suspense read and that's exactly what I got. In some ways, the "contemporary" section had lulled me into a false sense of security. So the tension, when it began had more impact.
Naomi is clever and capable and she takes sensible precautions, while maintaining her independence. Xander struggles occasionally with some tendencies towards being over-protective (which I found understandable in the circumstances and not offensive) but for the most part he acknowledges Naomi's skills and abilities and doesn't attempt to smother her or wrap her in cotton wool.  Naomi is an active part of the investigation in ways that made sense and utilise her particular skillset without being ridiculously unlikely.
I also enjoyed the friendships Naomi developed with other Sunrise Cove residents. By the book's end, I felt that Naomi had not only found love, she'd found a forever home and community. Plus, there's a great dog.  (This cannot be overstated.)
I loved Xander and Naomi together, their snappy dialogue, their chemistry and humour, their own brand of sizzle.  The Obsession delivered for me on pretty much all counts.
"You have a sixty-seven GTO convertible, in factory red."

He stood in reverent silence for ten full seconds. "I think you have to marry me now. You're the first woman besides Loo who's seen her and known what she is. I'm pretty sure we're engaged."
I still think The Search and The Witness are better books but The Obsession is right up there. It's a B+ from me and a definite recommend.
Regards,
Kaetrin