REVIEW: The Boy Who Belonged by Lisa Henry & J.A. Rock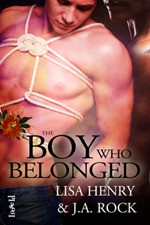 Dear Lisa Henry & J.A. Rock,
As I said in my review of The Good Boy, I liked it so much, I started The Boy Who Belonged straight afterwards.  While I liked The Boy Who Belonged, it wasn't as successful for me as the first book in the series.
**mild spoilers for The Good Boy follow**
The Boy Who Belonged takes up about 6 months after the end of The Good Boy. (As I said in my earlier review, I do think one has to have read the first book to appreciate the second.)  Lane and Derek have settled into a fairly stable and very happy relationship, Lane has turned 21 and begun community college to become a vet technician. He's still working at The Taco Hub part time and he helps out at the animal shelter run by Derek's sister, Christy, and occasionally helps Derek out in his photography business too – so he's a very busy boy.  Christmas  is coming and Lane is facing final exams, which creates some stress but things become a bit shaky for him when he is contacted by his mother's attorney.  His parents are about to appeal their lengthy gaol sentence for securities fraud and they want Lane to participate in the PR campaign to change public opinion about them.  This includes doing a tv interview.  Shy Lane is not comfortable talking in public and the prospect of an interview is pretty daunting for him.  Added to that, his feelings for his parents are very complicated.  I appreciated that this was so.  Lane was hurt and angry but he also still loves his parents, even so. And, even though he doesn't really believe it's very likely, he's hoping that their prison stay will have led them to reevaluate their lives and perhaps they could have some kind of meaningful relationship in the future.  He doesn't want to shut the door on that possiblity, as remote as it is – they are the only family he has.
Derek is feeling a bit sensitive about the 17 year age difference between he and Lane and when young colleagues call him "daddy" it's even worse.  He loves Lane but he sometimes feels that he can't have a bad day himself – if he gets upset and lets it out, Lane doesn't fight back or tell him what he thinks in no uncertain terms.  No, Lane gets hurt and scared and worried that everything is falling apart.  An apology and acceptance won't make those worries fade away.  Derek loves the D/s stuff they do but he wants a partner and he worries sometimes that he is acting in loco parentis – something he absolutely does not want.
I appreciated that this book made an attempt to show Lane's and Derek's relationship becoming more balanced.  I don't think I said it in my review of The Good Boy (which was too long already – my review not the book) but, while I certainly saw growth during the story, I was a little worried myself that Lane was too needy and that left Derek without someone to lean on occasionally.  Whether the book succeeds in showing that Lane can be Derek's rock too sometimes will be a matter for individual readers, but for this reader, well, I wasn't quite convinced.
The story is about 50 pages shorter than The Good Boy and there seemed like a lot more sex in this book than in the other one. In part that is because The Good Boy had a lot of character set up before Derek and Lane were at a place where they could have sex.  This book, of course, starts off where they are in an established relationship so there is the opportunity for sex from the get go.   More kink is explored in this book – including some sounding.  It's the first time I've read about the practice and frankly, I was too scared to Google it.  Even though it was described as not painful, I couldn't help but be extremely skeptical.  (But I don't have a penis so what do I know?). I did find the 'explanation' in the book of the different ways their play soothed, challenged or helped Lane enlightening however.
It wouldn't be the same as a spanking or chemical play or having Derek stop his breathing with the choke chain. He wouldn't have the escape of pain. Wouldn't be the same as wearing the collar either. With pain, Lane could pretend to lose control, when really he took on the responsibility of processing the hurt, of coping with it, leaching pleasure from it. He decided what to make of it. With the collar, he could have a respite from the demands of the outside world, a space to retreat, if that was what he wanted. With the sounds, he was at the mercy of his own closeness with Derek. He had to let Derek see him.
The money problems Derek clearly had in the first book were alluded to in this one but it had no real resolution.  Derek has a professional opportunity which could potentially lead to some financial and reputational improvement but the book finished before the event takes place.  Similarly, Lane's interview has been recorded and was being promoted on the TV but the book ends before it airs.  This left me feeling a bit let down.  I felt that the book explored a number of different issues – some of them had a level of resolution, some of them were left hanging and others were all about the lead up to something but not the actual thing.   I think the book could really have used another 50 pages to go a bit beyond Christmas  in the plotting.
Christy and her new partner (Paul) are away for most of the book, as is Erin (Derek's mother) so the book felt a little narrower in focus in some ways, even as it also had a greater number of  individual issues  to address.  There was plenty of Brin and Ferg and the macaw with the filthy mouth, Mr. Zimmerman.  Brin is a good friend to Lane and gives him some good relationship advice, even if it is delivered in Brin's typically outrageous style.
Brin said it was okay to be pissed off. Brin said Lane needed to let himself get pissed off more often. That if Lane didn't, he'd die early of a stress-related aneurysm, or at the very least would miss numerous chances to flounce around dramatically, ranting about the injustices of life and forcing Derek to comfort and validate him.
In the end, I think you did a good job of setting up the problems and potential pitfalls in Derek and Lane's relationship but I'm not sure there was sufficient space to fully sell me that they were resolved by the end of the book.  I did feel like I got part of the way there, but it wasn't enough for me to feel like they wouldn't just keep going round and round the same issues.  If there had've been more pages, or less of the book devoted to sex scenes (as well written as they were), I may have felt differently.  Nevertheless, by the end of the book Derek has come to this realisation:
It wasn't that Lane was a child—that he needed too much or fell apart too easily. It was that he was, at times, too gentle for a rough world. All that tenderness he had to give—that quiet love, that faultless obedience—he wouldn't always get it back. Some people would see it as a weakness. Some people would use it against him.
While I felt that Derek's understanding had grown, I wasn't sure the fundamental issue had been dealt with.  Could Lane be there for Derek in the same way that Derek so often was for Lane?  A good opportunity to demonstrate such strength on Lane's part was lost when the book ended before Derek's photographic event.
I did enjoy spending more time with these characters and I did feel there was growth, particularly with Lane by the end of this book.  To his great credit, Lane was negotiating his relationship with his mother on his own terms by the end and speaking up for himself, which was good to see.  I do think it likely that Lane and Derek will be able, with more time, to settle into a more balanced relationship where Derek isn't always the caretaker but I would have liked to have seen a bit more of that on the page.
I liked it but it wasn't the breath of fresh air The Good Boy was.  I give The Boy Who Belonged a B-.
Regards,
Kaetrin