My reading year was up and down – a big slump in the middle didn't help and the stress of moving house right near the end of the year meant I turned to comfort reads for the last 2 months or so. (In this time I read Kristen Ashley books almost exclusively. #NoRegrets) But there were some fantastic books nonetheless, a happy mix of new-to-me authors and old favourites.
As always, the disclaimer here is that these are my best – of the books I read, these were the ones that I liked the best for whatever reason. YMMV. And as usual, there's no particular order to my list. ~ Kaetrin
Ship Wrecked by Olivia Dade
Once again an Olivia Dade book is in my top 10 – I think her books just keep getting better and better.  My full review is here.
"We should seal our not-missing-each-other pact with a kiss." He raised his head and scratched his beard in contemplation. "That's the Swedish custom, correct?"
"Our daily lives revolve around the metric system, Speedos, and affirming how little we'll miss one another by kissing." Loftily, she clarified, "French kissing, obviously."
He almost managed to stifle his snort. "Because you're European."
"Because we're European."
"Well, then." His eyes flared with heat once more. "Consider me the newest member of the EU.
AmazonBNKoboBook DepositoryGoogle
The Missing Page by Cat Sebastian
I didn't do a formal review for this one myself but there is on by Sirius here on DA.
I enjoyed the previous book and liked this one even better. A mix of cozy mystery and romance, I enjoyed the post WWII setting very much. I'd be very happy to read more about this pair.
AmazonBNKoboBook DepositoryGoogle
A Merry Little Meet Cute by Julie Murphy & Sierra Simone
This one made me laugh a lot. Humour is, of course, very subjective, but A Merry Little Meet Cute lived up to it's "rom com" label – something I find pretty rare. I also enjoyed the sex positivity as well as the mental health rep.
My full review here.
It was the cruelest thing about bipolar disorder, I thought; there was never one thing that worked forever. No one med, no one dose, no one routine. My mom said it was like walking on a rope bridge, where every step was slightly different from the last and sometimes you had to stop and just hold on until you could find your balance again. But she also liked to remind me that sometimes the views from her bridge were incredible too.
AmazonBNKoboBook DepositoryGoogle
The Undertaking of Hart and Mercy by Megan Bannen
A complete surprise and full of fresh ideas, The Undertaking of Hart and Mercy piqued my interest via the blurb and the book itself more than lived up to my hopes. Megan Bannen is an author I'm looking forward to reading more from.
Full review here.
"I guess you're still alive, then," she said flatly.

"I am. Try to contain your joy."

Leonard, who could not contain his joy, jumped up to paw Hart's stomach, and Hart couldn't help but squeeze those sweet jowls in his hands. What a shame that such a great dog belonged to the worst of all undertaking office managers.

"Are you here to pet my dog, or do you actually have a body to drop off?"

A shot of cold humiliation zinged through Hart's veins, but he'd never let her see it. He held up his hands as if Mercy were leveling a pistol crossbow at his head, and declared with mock innocence, "I stopped by for a cup of tea. Is this a bad time?"

Bereft of adoration, Leonard leaped up higher, mauling Hart's ribs.

"Leonard, get down." Mercy nabbed her dog by the collar to drag him upstairs to her apartment. Hart could hear him scratching at the door and whining piteously behind the wood. It was monstrous of Mercy to deprive both Hart and her dog of each other's company. Typical.
AmazonBNKoboBook DepositoryGoogle
Soul Taken by Patricia Briggs
Perhaps the scariest of the Mercy Thompson books, I found Soul Taken genuinely chilling. I loved how Mercy and Adam worked together in this one – it ticked my romance-loving boxes big time.
My full review is here.
AmazonBNKoboBook DepositoryGoogle
Kiss Hard by Nalini Singh
I think Kiss Hard is my favourite of the Hard Play books; in a series full of wins, that's saying something. Catie and Danny's romance was pitch perfect – not angsty but also not lacking in tension, I really appreciated how this couple communicated and sorted through their issues. It did not hurt that the sex was hot and the humour made me laugh either. Plus, excellent disability rep.
My review here.
Shaking his head, he returned to get himself a glass of milk and his own plate of cookies. Because he knew Catie wouldn't share hers. Then he sat at the other end of the couch, and they ate cookies and drank milk like any other hot young twentysomethings who were having a flaming affair.
The Long Game by Rachel Reid
Perhaps my most anticipated book of 2022, The Long Game had a lot of expectation to live up to. It's a rare book that manages to do it but this one did. The boring cover was the only thing that let it down. Also, as expected, Ilya stole the show. His character jumped off the page at every opportunity.
Janine, Sirius and I reviewed The Long Game here.
…Ilya took a peek and saw the handsome man laughing with Shane about something. And then the fucker placed a hand on Shane's arm.

There was no good reason for Ilya to skate down the ice with one of the pucks and fire it at the glass behind Shane's head, but he did it anyway. He could hear Shane scream, and Ilya laughed when he whipped around, eyes flashing with fury.

"Asshole!" Shane yelled.

Ilya gestured with his stick toward the children on the ice and shook his head. "Language, Hollander."

Things were tense between them for the rest of the day. Ilya couldn't even apologize because Shane wouldn't talk to him. Not that he felt like apologizing; he just wanted Shane to stop being mad about it.

And Ilya wanted to stop feeling embarrassed about doing it. It had been immature and petty and unprofessional. He still didn't want to apologize, though.
The Suite Spot by Trish Doller
I'm so happy Trish Doller is writing contemporary romance again! The Suite Spot easily made my top 10 for 2022 – it deals with some pretty heavy topics to readers should definitely note the content warnings I provide in my review (here) but this book was just gorgeous. Angsty and sexy, The Suite Spot was pure beauty.
"You are beautiful and smart," he says. "And any man who doesn't appreciate all of you doesn't deserve any of you."
AmazonBNKoboBook DepositoryGoogle
Hunt the Stars by Jessie Mihalik
I've been enjoying space opera very much in the past couple of years but I'm picky about which books I read in this subgenre. Jessie Mihalik has proven to be a reliably good read, with fresh ideas and great characters. I liked the found family aspect of Hunt The Stars almost as much as the romance.
My review is here.
AmazonBNKoboBook DepositoryGoogle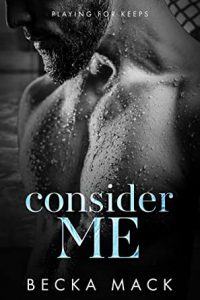 Consider Me by Becka Mack
A friend from Twitter put me onto Consider Me and I'm so grateful! While a different writer altogether, Becka Mack has something about her which put me in mind of Kristen Ashley and not just because it's long. I gobbled down this book in record time and wallowed in my enjoyment. Carter may not be everyone's cup of tea – I expect he is somewhat of an acquired taste but if he works, he works.
Full review here.
"Do me a favor," Emmett says as we head into the bar in the lobby. It's rammed and rowdy and I kinda don't want to be here. "Remember how it looks to be surrounded by girls who throw themselves at you. Doing nothing isn't enough. You have to actively do anything but nothing."

"What the hell does that mean?"

"It means it's easy for someone to snap a picture of you standing next to a girl who's touching your arm and headline it 'Carter Beckett: Cheating Already.' Be aware, that's all. You have someone else to think about now. A picture like that would embarrass Olivia."

"Right." I honestly couldn't feel more dense right now. How is it that I need to have this explained to me at twenty-seven? Either way, I'm thankful for his warning, because the second we sit, a girl throws herself in my lap.

I'm not sure my reaction is the best. I throw my hands in the air and scream, accidentally shoving her off my lap and to the ground when I rocket to my feet and yell out, "I have a girlfriend!"
Just because, I also decided to throw in a bonus non-fiction listen I picked up and loved that I think DA readers might be interested in.
The Butchering Art: Joseph Lister's Quest to Transform the Grisly World of Victorian Medicine by Lindsey Fitzharris. The title sums up the book nicely; it does what it says on the tin. Fascinating and pacey, this book reads like a fiction novel but it's all true. The narration, by Sam Woolf, is superb. For readers and listeners who like science history, this one is a big recommend from me.
AmazonBNKoboBook DepositoryGoogle