CONVERSATION: The Grumpy / Sunshine Trope
Janine: Recently we had an in-depth chat about the enemies-to-lovers trope, and I thought it might be fun to do the same thing with Kaetrin's recent favorite, grumpy/sunshine. I put the following questions to all the participants on DA's email loop.
Is grumpy/sunshine a trope you are drawn to or one you avoid? What works for you about it and what doesn't? Which grumpy/sunshine books have you enjoyed most and least, and why? Have you always felt the same way about grumpy/sunshine books or have your feelings changed over time? And has the trope changed over the decades?
This is the conversation we had.

Sirius: Grumpy v sunshine, you (author) better give me some additional reason for conflict, because this alone may not be enough for me.
Janine: I hope Katerin mentions examples—I have the feeling it would help me focus my thoughts. I admit I'm not 100% clear on what the grumpy/sunshine trope is, and if I have it wrong, I want to be corrected. Just the title of the trope makes me want to grind my teeth.
Grumpiness is okay, of course, but not an appealing trait. I don't want to see persistent grouchiness presented as cute because I don't feel it generally is. If it's just gruffness or reserve I'm more open to it. The sunshine half of the equation is actually my bigger issue. Of course, there are situations where one person's sunny outlook can help another think more positively or influence them to open up to joy. Mary Balogh does that really well in many of her books. But sometimes I'm not in the mood to read about a sunny person coming in to cheer up someone, because life isn't always like that.
Speaking from the experience of clinical depression, there are circumstances when friends and family can't cheer you up that much. Making an active effort to cheer up someone in that situation can sometimes be counterproductive. There are times when you are really suffering and no amount of sunshine is going to get through to you. To be told "cheer up!" or expected to be happy just adds another level of pain. There are better ways to help.
So while each individual book within the trope has the potential to be just fine, as with baby epilogues, there are aspects of life this trope can't capture well.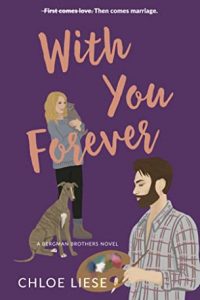 Kaetrin: Grumpy/sunshine is both a trope and a romantic pairing. It can be just part of the setting. I don't think it's about the sunshiney one changing the grumpy one. It's an opposites attract kind of thing. There's often more than one trope in these books and the differences between the characters are not necessarily the only or even the main conflict.
All the Feels by Olivia Dade is grumpy/sunshine. Alex is the sunshiney one in this pairing and Lauren is the grump – most commonly in MF it's the other way around.
Axel and Rooney in Chloe Liese's With You Forever are also a grumpy/sunshine pairing. Rooney has serious health issues (Crohn's Disease) and they're not glossed over in the book but in the general sense she's an upbeat, look on the bright side person. Axel is a neurodiverse grumpy loner who thinks no one would ever be happy with him because he needs his alone time and will never be a social person. These things are in conflict but the solution isn't for one character to change the other.
I don't even really need a sunshiney one to be honest – Julia London's Suddenly Engaged has the must delightfully grumpy hero and watching him be totally won over by the heroine's young daughter (who is a bit of sunshine now that I think about it) just melted me. (He doesn't end up that grumpy but that's because he was grumpy because reasons rather than as a character trait.)
Window Shopping by Tessa Bailey is a recent winner for me as well. Aiden is a Ted Lasso-type character. Stella is grumpy – an ex-con who has reason to be mistrustful of just about everyone. Aiden doesn't try to change Stella but wins her over because he's kind and that kindness is bone-deep and genuine.
The ABCs of Spellcraft series by Jordan Castillo Price features a grumpy/sunshine MM pairing but that's not the conflict. They're humorous paranormal mysteries, all novella length – available on audio in bundled volumes as well as singly in ebook. (Excellent narration by Nick Hudson by the way.)
There are so many ways for the pairing to work. I love it. Each character has a different way of seeing the world and they have to navigate how they move forward together and compromise and still be themselves so they can both be happy.
Janine: Thanks, Kaetrin, that really helps. You did an excellent job of explaining the trope. To clarify, though, I didn't mean that the sunshiney one changes the grumpy one, but rather that the sunshiney one's presence in their lives changes their outlook so that they are no longer grumpy.
I went looking for examples of grumpy/sunshine online and the only one I saw mentioned that I had read was Mary Balogh's Slightly Dangerous. I loved that book but I wouldn't have described Wulfric/Bewcastle as grumpy, just haughty and projecting coldness. Christine was sunshiney but I was more into Wulf. I loved the way her presence in his life changed his outlook, so it's not that I don't enjoy the outlook-changing trope. I very much do. It's more that I associate the word "sunshine" with relentlessly positive people. When you throw in this kind of personality it can annoy me because in my experience people like that sometimes try to foist their outlook onto others.
I often think specific grumpy/sunshine books aren't for me. I haven't read any of the examples you mentioned and in most cases your descriptions didn't attract me. Since you mentioned Milla Vane's A Heart of Blood and Ashes in our enemies-to-lovers conversation post, I think it can be counted as grumpy/sunshine as well as an enemies-to-lovers book. In addition to disliking Maddek's meanness to Yvenne, I was also annoyed by Yvenne's upbeatness. It felt like she was clueless to Maddek's bad qualities.
Jayne: I've only tagged one reviewed book with Grumpy/Sunshine but I did give it an A-. Looking at a lot of the books that are listed this way on Goodreads, I see quite a few I started but ended up DNFing.
The one I finished is The Geek Who Saved Christmas by Annabeth Albert and I liked it because I didn't feel that the grumpy character got jollied out of why he didn't enjoy the Christmas season. The other character understood why Grumpy felt the way he did and helped him but didn't try to change him.
I read a bit on one author's website about the G/S trope. Five character types are listed, one being "introvert." And immediately I realized why some of these books don't work for me. Lots of people see introverts as grumpy or misanthropes when in reality, all we want (and yes, I'm an introvert) is to sit quietly and not be forced into things or "dragged out of our shells and made to mingle." So when I see books with this type of character and that other characters are trying to basically force them to change and be extroverts, I want to slap this away.
Jennie: I feel like I always say this, but this is a trope that doesn't work for me, until it does. I was racking my brain trying to think of an example, and came up with Sarina Bowen's Overnight Sensation. The hero is a grumpy hockey player and the heroine is a very bouncy rich girl trying to make it on her own. When I reviewed it I noted that I liked the heroine much more than the hero, which tracks. Grumpy men don't appeal to me and in fact I find the concept kind of off-putting unless it's in a very humorous context (for some reason the first example of a grumpy male character that came to mind for me was not in romance but in television – Parks and Recreation's Ron Swanson).
Kaetrin: There are so many ways for the grumpy one to be grumpy. And grumpy is a vast oversimplification anyway. Sometimes it means introvert (+/- sick of people trying to force them to be other than they are), sometimes it means angry at the world because of a thing that happened, sometimes it means uptight and stiff or cold and haughty – I'm sure there are plenty of others that fit too.
I have huge love for the grumpy character because they're so often misunderstood. They're the ones who try and fade into the background, who are scared of being hurt and cover it up with gruffness, they're usually incredibly kind and generous but don't make a big deal of it (often they're acting in secret). They're introverts (like me!). They're overlooked and undervalued. And then the sunshiney one comes along and really sees them for who they are and values them just as they are. I really don't see the pairing/trope as being about changing the inherent characteristics of the people involved at all. That's a part of why I love it so much.
Janine: I think I liked these stories better in the 1990s because then they were often handled with a lot of emotion and I love that. For example, Balogh's in novella "The Best Christmas" the heroine brings together an unhappy gentleman and his four-year-old illegitimate daughter, and in her book A Christmas Bride the genders are flipped and the heroine is the grumpy, unhappy one. Some of Linda Howard's heroes could be grumpy—Rome in Sarah's Child comes to mind (he had excellent reasons). LaVyrle Spencer's book Years also had a grumpy hero. I think those all worked for me because there was a moving emotional journey but no sunshiney one. And it wasn't comical in any way. The unhappiness was treated very seriously and the reasons usually went very deep.
Remembering the Baloghs makes me think about the association of the grumpy character with Christmas. That's probably because Dickens' iconic A Christmas Carol is about a grumpy, unhappy man whose heart is softened and warmed. How the Grinch Stole Christmas is another example. I do like this kind of story at Christmastime–there's something about the warming of the heart that's very fitting for the cold and dimming days of winter. These kinds of books are exactly what I'd want to read curled up with a mug of cocoa in front of a fireplace.
Layla: I have mixed feelings about the sunshine/grumpy trope because like Jennie mentioned I actually dislike grumpiness in real life. I associate it with moodiness which I also dislike. I like the idea again of reframing it as optimistic vs cynical or cold vs warm — that works for me really well and I like it as a trope when it's done well.
Some examples: Laura Kinsale The Shadow and the Star (Samuel isn't grumpy so much as cold and closed down from trauma but Leda is definitely "sunshine" or warm). I'm going to apply this to a series, Patricia Briggs' Alpha and Omega— the books have a concept of an omega wolf which is kind of analogous to "sunshine" as a concept. Anna the heroine of her wolf shifter series is an omega and Charles again isn't so much grumpy as mysterious or perhaps more jaded. I also read Charlie Adhara's wolf shifter series where one male lead was more sunshine— naive a bit soft and sweet— and the other appeared to be more cynical and strong and grumpy. Of course it's revealed that he's not and then the books did a series of shockingly bad twists that changed the dynamic of everything (I can say more if anyone is interested!).
I remember also — just a side note I'm terrible at remembering titles and authors which is why I don't jump to contribute sometimes —a Sophie Jordan book where the hero was handsome and thought to be stupid and the heroine was a grumpy nerd. I like when the so-called grumpy person is actually just shy or introverted or in a gender reversal, is the heroine or a woman.
Sirius: I think this is the first time I learned that grumpy/sunshine can even be considered a separate trope!
What are your thoughts, DA readers? How do you feel about the grumpy/sunshine trope and why? Do you feel that the trope and/or your feelings about it have changed over time? And what are your favorite and least favorite executions of the grumpy/sunshine trope?