REVIEW: Moving Forward by Shelley Shepard Gray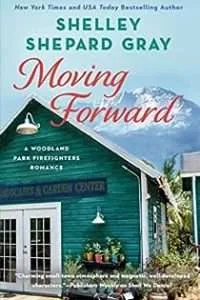 Former Army captain Greg Tebo loves his new life in Woodland Park. In the two years since he joined the WPFD, he's gained a reputation as a fearless firefighter, and after being stationed all around the country and overseas, he can't wait to settle down with a wife and kids.

When a call comes in about a possible heart attack at the scene of a fire at the Garden Center, Greg assumes they're going to be helping an elderly customer—not the beautiful, feisty proprietor in her late twenties. Kristen Werner has been determined to pretend everything is fine. She refuses to leave the company she's carefully nurtured and move home to her loving but meddling family in Houston. Since her devastating diagnosis caused her fiancé to dump her, she's given up on love and thrown herself into cultivating her blooming business instead—even if the hard work further weakens her heart.

Greg is drawn to Kristen's vibrant, independent spirit and hopes romance will flower. But she's had enough trouble with her heart to last a lifetime, and can't trust Greg not to break it—especially if he finds out she can never give him the houseful of children he longs for….
Dear Ms. Shepherd Gray, 
I enjoyed last year's first book in this series and was looking forward to this one. I liked it, I think some heavy issues were included and dealt with but … well, I had a few issues with it as well. 
Greg Tebo intended to make the Army a career until Something Happened in "the sandbox" and he decided that the PTSD was too much to continue. So he joined the Woodland Park fire department along with two of his Army buddies. When they respond to a business fire, he meets Kristen. She's got a lifelong health problem that flares up and despite her insistence that she's fine, she's not. Something in her feisty attitude intrigues Greg and he makes the effort to see her in the hospital before her discharge. Slowly, they begin to get to know each other. But both have issues that will need to be brought up before anything further can or should happen. Will they be able to work things out?   
 There's a little bit of religion and no sex in the book. Greg thinks of his deceased father and mentions thinking dad is in heaven. The no sex is handled as having Kristen be skittish of any relationship because of her former fiance who broke things off 2 hours before the rehearsal for their wedding (the bastard – and Greg thinks Clark is a douche, too) because he didn't want a "broken" wife. Kristen has PAH and some scars to go with that so that experience plus other dates who skittered backwards when she mentioned her condition, have her putting Greg firmly in the friend zone. 
I love the relationship between Greg and his mother. Mom raised seven children so there isn't much that gets by her. The relationships between all the firefighters seems realistic. There is one guy who gives someone grief then after a confrontation, suddenly he reverses course. Nice but it was too fast for me. Anderson and Chelsea are in some scenes but I don't think readers need to read their book first. 
The second relationship in this book is a "YA just graduated from high school" one rather than the older couple in the first book. The teens – one of whom works for Kristen and wants to become a firefighter and one of whom is trying out as a football walk-on at a local college – play a larger role in the story as well compared to "Coming Home." There is a home issue for Jen which is resolved but I feel it was too easy given how long term it is.  
 
This is a very easy going book that doesn't smack you with the angst that's there. And that was a bit of a problem for me after a while. Kristen has a congenital heart issue that she's lived with her entire life while Greg has resisted getting help dealing with his PTSD. Both know how serious these issues are but more than once, Kristen knows she needs at least to take things more slowly if not outright call for help but doesn't. Greg wakes himself and his fellow firefighters up with his nightmares but repeatedly puts off seeing a therapist.     
There is a lot of good communication between Greg and Kristen ..until there isn't. Greg's pretty good at reading people and when he sees expressions on Kristen's face or that her body language is shuttered, he asks about why, he makes sure it isn't because of something he did. He does push a little at one point and apologizes then later berates himself for it and also for the fact that she's now opened up about her issues while he's still hiding some of the things he's brought home with him from his tours of duty in Iraq and Afghanistan. Kristen asks him if there's anything he needs to tell her, after she discloses her medical issues, but Greg denies and then shuts down. So yeah Greg, that bit of communication would have been nice. As with Jen and her mother, things are resolved but the resolution is mainly off page and appears too easy. The epilogue is sweet but again, problem too easily solved. I liked reading another book in this series but this one's issues make it a C for me.
~Jayne