REVIEW: Mexican Gothic by Silvia Moreno-Garcia
Trigger warning:
Dear Silvia Moreno-Garcia,
Gods of Jade and Shadow, your 2019 fantasy novel, was terrific, and Untamed Shore, your noir thriller from earlier this year was also good. I don't usually care for horror novels but I have enjoyed gothics, so when I learned about Mexican Gothic, your new gothic horror novel, I requested it.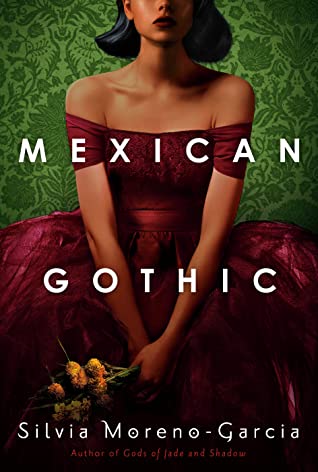 Mexican Gothic introduces us to Noemi Taboada. Living in Mexico City in the 1950s, Noemi is a young socialite who likes to flirt with handsome boys. She's a bit bored of her latest suitor when her father telephones in the midst of a costume party and insists that she come home immediately.
Noemi's father presents her with a letter from her cousin Catalina, who married the mysterious Virgil Doyle almost a year earlier and moved to High Place, his family's remote house in the province of Hidalgo. Catalina has not been seen or heard from since, but now Noemi's father has received a letter from her.
The letter details what sound like the fantasies of a mentally-ill woman. Catalina writes of ghosts, of voices, of a snake eating its tail, and of something lurking in the walls of a foul, decaying house. She longs for Noemi and pleads for Noemi to come and save her.
Noemi's father worries that Catalina, imaginative and a touch emotional as a child, has suffered a nervous breakdown. He asks Noemi to take the next day's train to High Place and assess the situation. Noemi has been asking him to finance her graduate school education; thus far he's been resistant, but if she goes to High Place, he will.
Noemi travels to High Place. The house is strange and indeed there are signs of decay; everything inside it is old and mold creeps over the walls. High Place sits atop a steep mountain and is often surrounded by fog. Noemi begins to dream of mushrooms, ghosts, and putrefying flesh. She hears creepy moaning sounds at night.
Just as strange are the Doyles, High Place's inhabitants. Catalina's husband Virgil thrives while Catalina weakens. Florence, Virgil's sister, is cold, disapproving and strict. She does not allow conversation at the dinner table. Florence's son Francis is wan and pallid. Howard, the patriarch, looks ancient and pale, and he's obsessed with eugenics and bloodlines. Like the soil on which High Place was built, Howard is a transplant from England. The Doyles are blond and have intermarried. They are as remote from the world as their house.
Virgil and Florence tell Noemi Catalina has tuberculosis. Virgil refuses to take Catalina to a psychiatrist and resists getting a second opinion. But Noemi is strong-willed enough to get the nearby village's physician, Dr. Camarillo, to examine Catalina. Camarillo doesn't believe tuberculosis is the cause of Catalina's symptoms but he can't figure out what is.
Catalina begs Noemi to buy her a tincture from the village healer; she's been taking it in secret to keep bad dreams at bay. In the village, Marta Duval, the healer, tells Noemi that the Doyles are cursed. Decades ago, their silver mines made them rich, but an epidemic swept through twice and many miners died. Ruth, Howard's late daughter. was expected to marry her cousin, but she fell in love with one of the miners. She shot her groom, her aunt, her uncle, her parents and then herself. Howard was the only survivor.
Marta reveals that Florence's husband committed suicide too. Marta warned him to get on the next train and go as far away as possible. He stayed and paid for it with his life.
Noemi's dreams worsen after that. She dreams of Howard Doyle seducing her, calling forth a sickening desire. But Noemi is determined not to abandon Catalina.
Noemi has one ally in the house. Francis is sidelined within the family, but he drives her to the village more than once, to the displeasure of his relatives. At first Noemi thinks the faded Francis underwhelming, but he has a core of gentle care. He doesn't tell her everything about his family, but he offers some aid. Noemi begins to reciprocate his attraction and to want the best for him.
Will Noemi escape High Place? Will she save Catalina? What kind of threat does the house pose to them, and what's wrong with the Doyles? Can the curse, if that's what it is, be defeated?
There are things I liked about Mexican Gothic, but also things that disappointed me.
Noemi is a vibrant character — a little flighty at first, as well as privileged. It takes her a while to realize that she's in a more vulnerable position than she's used to. She is strong-willed and persistent in trying to make headway though she's stymied by the Doyles. Even hemmed in, she digs deep inside her for the strength to fight for Catalina.
Of the three heroines in the Silvia Moreno-Garcia novels I've read—Casiopea (Gods of Jade and Shadow), Viridiana (Untamed Shore), and now Noemi, Noemi is the most well-developed. I got a strong sense of what mattered her: freedom, self-expression, agency. Rebellion is part of her personality, not just her answer to the Doyles.
The other characters in the book are underwritten. The Doyles are so enigmatic (and on occasion, cryptic) that it's hard to feel they have dimension or substance, except for Francis late in the book. Conversely, their agenda is obvious early on. I don't know if that was intended but it contributed to my lack of interest in them.
Catalina, though we're told about her personality, displays very little of it because of her affliction. And here the book suffers a lot, because Noemi's goal of saving Catalina can only matter so much without a strong sense of who Catalina is. With a clearer sense of her the stakes would have been higher. I would have cared more about Catalina's fate. I would have viscerally understood what kept Noemi in a house as creepy and inimical as High Place.
(One aspect of Catalina's backstory read as contrived. Why would the Doyles have permitted her to go to town to attend church? It doesn't seem like something they would want.)
Recurring motifs are unsettling: mushrooms and snakes, the mold eating the house, buzzing in the cemetery, all described in richly sensory detail. Also disquieting are the family's violent history, their creepy tendency to intermarry, and Howard Doyle's obsession with eugenics.
But the book isn't scary for the first 60%. Ominous, yes. A little disturbing and occasionally disgusting, but not unnerving. And even in the last 40% the hair-raising moments are intermittent. The predominant emotion I felt could best be described as recoil.
The book moves slowly because the main storyline, in the present day, isn't as dynamic or powerful as the bits and pieces we learn about the past the Doyles conceal. Until the final 15% of the book, most of the action is in that backstory. Knowing some of the outcome of that action in the novel's present saps suspense.
For all that Noemi's attempts at agency make her a charismatic character, she's thwarted often enough that it's frustrating. And because I knew this was a horror novel, I took information such as her dream experiences more to heart than Noemi did. This was only to be expected but it still created some impatience. I wanted her to catch on faster.
The Noemi / Francis relationship lacks vivacity because Francis has none (his agency is limited too). He is wan, almost frail, and not very strong-willed for a long while. Noemi, physically healthy and determined, complements him well, but the romantic subplot feels washed out for most of the book. I would have preferred for Noemi to be paired with Dr. Camarillo.
Marta Duval, the idiosyncratic healer who provided the tincture, was a terrific character, and Dr. Camarillo was good too. These two are minor figures, though. Most of the others bored me. I would rather have read a book about Noemi's life in Mexico City.
Which brings me to another letdown. The 1950s aspect of the setting isn't utilized much because High Place is old-fashioned in a timeless way. That's disappointing coming after the period details in Gods of Jade and Shadow (1920s) and Untamed Shore (1979).
Despite being smart, Noemi misses two golden opportunities that could have aided her in attaining freedom.
Mexican Gothic deserves points for its original concept (gothic horror in 1950s Mexico) and its memorable heroine, but was mostly ineffective. Keep in mind, though, that horror isn't usually my thing. C+.
Sincerely,
Janine