REVIEW: Perfect on Paper by Sophie Gonzales
Dear Sophie Gonzales,
Perfect on Paper was a finalist in the Goodreads Awards YA Fiction category and I thought it sounded interesting and different, so I picked it up.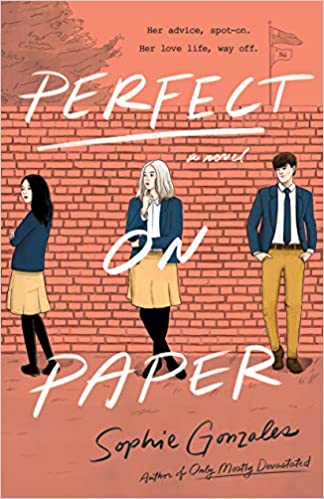 (A warning to readers: the blurb for this book contains spoilers and I recommend avoiding it if you don't want to be spoiled.)
Darcy Phillips is a high school junior and the daughter of a teacher at her school. This made it possible for Darcy to get a look at the lock combinations of the lockers, including the combination for the unassigned locker number 89, and she decided to use that locker to run an anonymous write-in relationship advice business. She advertised her services by placing flyers in the other lockers and suggested that student write "Locker 89" with questions and deposit money into the locker—ten dollars for each letter. It's a school where many of the kids come from well-heeled families. Darcy doesn't and her earnings help her fit in.
Darcy takes her business very seriously. She reads up on relationship dynamics and attachment styles, watches YouTube shows on relationship topics, and writes profiles of her clients to help her come up with good answers to their questions. Her answers seem to be successful; only four people have ever asked for their money back. Darcy takes genuine pleasure from seeing the relationships she nurtured blossom. No one knows who "Locker 89" is, but word of mouth among the students is good.
Early in the book, Darcy is caught by another student, Alexander Brougham, a boy whose parents have immigrated from Australia, when she is retrieving her mail from the locker after school. Brougham, as he asks her to call him, offers her twenty-five dollars an hour if she'll agree to meet up with him to advise him on how to recapture the interest of his ex-girlfriend, Winona, but he's arrogant and curt. Darcy hesitates for a moment and Brougham hints that if she doesn't take the gig, he'll reveal her identity as Locker 89.
Darcy is bisexual and she's in love with her best friend, Brooke Nguyen. Brooke is lesbian, attractive, and nice; a close and supportive friend of Darcy's. She works at a department store makeup counter and shares samples with Darcy and her sister, Ainsley. She comes over a lot, goes to the movies with Darcy, and she trusts Darcy with a lot of personal stuff.
Darcy and Brooke are tight and good for each other, but it's not clear to Darcy if Brooke reciprocates her romantic feelings. She can't help but hope for that, and sometimes she thinks Brooke does. There are signs that read that way. But it's not evident enough if that's real, and Darcy doesn't want to gamble with their friendship.
Seven months ago, Darcy did something she's ashamed of and feels a lot of guilt for. Brooke and another girl, Jaz, each wrote in to Locker 89 about a kiss they'd shared. They really liked each other and wanted to know what to do next. Darcy was horrified—Brooke's glances at her had been looking meaningful around that time. She'd been giving Darcy eye contact and casual touches, which raised Darcy's hopes. So Darcy deliberately sabotaged Brooke and Jaz's nascent relationship with her advice. Later, after Jaz had hooked up with a new girlfriend, Jaz and Brooke compared notes and figured out that Locker 89 ended their romance. Darcy is afraid that if her identity as Locker 89 comes out, Brooke will hate her, so she has no choice but to give in to Brougham's threat.
The only person Darcy can confide in is her sister, Ainsley, who was a couple of years ahead of her in school and is now a college freshman. They are close and Ainsley is unconditionally supportive. Ainsley is trans and started the Queer and Questioning club in Darcy's high school—another source of support for Darcy, Brooke, Jaz and others.
Darcy and Ainsley's parents are divorced and don't get along well, but neither of them is a terrible parent. They are just a little flawed and since they are authority figures, Darcy can't confide in them to the same extent.
Darcy and Brougham clash a lot at first. He has arguments against her methods and is slow to trust. She is prickly with him and since he doesn't show much emotion or vulnerability, she concludes he has none. When Darcy visits Brougham's house to help him, she overhears a loud argument between his parents and feels uncomfortable. Luckily, that is when Brougham loses patience with her advice and escorts her out, but it's enough to help her realize that Brougham's home life isn't great.
Since Darcy thinks Brougham is cold, she believes she fully understands why Winona dumped him, but eventually she learns otherwise. Brougham didn't pull away from Winona when she reached out as Darcy thinks; it was actually the other way around. His situation is more complicated than Darcy knew.
Meanwhile there is Brooke. Darcy is head over heels in love with her but still mixed up about Brooke's signals. At times it seems that Brooke is every bit as attracted to Darcy as Darcy is to her. At other times Darcy isn't so certain. Nevertheless she longs for more and gets butterflies in her stomach around Brooke. Whenever Brooke does something affectionate, Darcy feels warm.
Then Brooke begins a relationship with Raina, a girl Darcy has never liked. Darcy vows to a true friend this time. But when Raina writes in to Locker 89 and confides that she rigged the student council president election when Brooke ran against her the previous semester, Darcy can barely keep the secret in.
Darcy questions her reasons for feeling this way. Is it because warning Brooke would be the right thing to do or because Darcy is jealous of Raina? And why does she find herself confiding all this to Brougham, of all people?
This was a cute book. I liked Darcy, Brooke, and yes, Brougham, when his genuine self emerged. I wasn't sure for a while who Darcy would end up with. This frustrated me but not because the book handled anything badly, only because my expectations were off; I wasn't expecting a triangle. Triangles are not usually my trope of choice because I don't like it when two people are in the position of competing over or fighting over a third person. This doesn't happen here, though, so readers who have that issue with triangles don't need to be concerned.
The book is narrated in Darcy's POV in first person past tense. It is also epistolary and includes the letters students write to Locker 89 and Darcy's responses to them, as well as some of the profiles Darcy writes up for her clients (there's a nice motif where she keeps rewriting Brougham's profile as her view of him changes). I was impressed that the author, who is South Australian, did such a good job with American English. I only noticed one slip-up (Darcy's American mom uses the expression "I daresay.") The book was otherwise smooth in that regard.
Another thing I really liked was that Darcy's suggestions to Brougham on how to win back Winona didn't involve fake dating. Darcy's relationship advice was much more sensible than that. It's clear the author researched romantic relationships.
There were times when I felt there was a little too much relationship theory in the book and the writing reminded me of a self-help book. It made sense that there would be some of that, though, between Darcy's Locker 89 work and stuff that came up in Queer and Questioning club meetings. In many ways this was what the book was about—how confusing romantic relationships can be to young people, and the characters' attempts to make sense of them. I was glad that Darcy took her work as an advisor so seriously, that she read up on relationships and was so happy when things worked out for her clients. It made me really like her.
With regard to diversity, Brooke's surname is Nguyen, so I assume she has a Vietnamese background, and there's a lot of queer representation. Besides Darcy, Brooke, Ainsley, Raina (who is also bisexual) and Jaz (she's lesbian), there is Finn, Darcy and Brougham's mutual friend. Finn is gay and adorable, both fun-loving and surprisingly deep. I loved him and I'd love a book about him. The Queer and Questioning has a few other members, including Lily, who is on the ace spectrum and Alexei, who is pan and nonbinary, but theirs are very minor roles.
Biphobia plays a role in the book as well and I thought it was handled well. This was mostly portrayed with a light touch except in one scene, where it was addressed head-on. That scene is moving and powerful.
Darcy and Ainsley's mom was a nuanced character and I liked her. I liked the way the book touched on her conflict of interest as both a teacher and the mother of a student at the school, too. Her ex-husband, Ainsley and Darcy's father, lacked a well-developed personality. I didn't get much sense of him at all.
I had a few other issues. There were a couple of instances of what I felt was inconsistent behavior and/or thoughts on the part of the characters that bugged me but they constitute big spoilers so I won't go into them. I didn't understand how Raina could have rigged the student council president election and it was never explained. In addition, as an inhabitant of LA, I feel that this locale (the book's setting) could have been put to better use. Nothing contradicted what I know of LA but I would have liked a stronger sense of place.
Romance readers will no doubt want to know if the book has a happy ending and Darcy ends up with someone.
Perfect on Paper was a charming YA novel. I am glad I read it and I'll be on the lookout for Sophie Gonzales's next book. B+.