REVIEW: Of Dragons, Feasts and Murders (Dominion of the Fallen #3.5) by Aliette de Bodard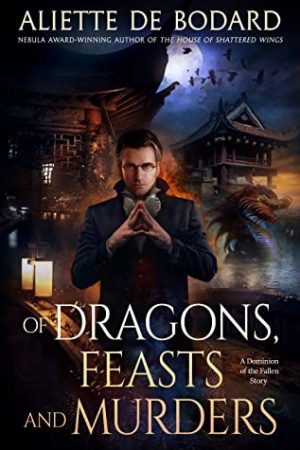 From the author of the critically acclaimed Dominion of the Fallen trilogy comes a tale of dragons, and Fallen angels—and also kissing, sarcasm and stabbing.

Lunar New Year should be a time for familial reunions, ancestor worship, and consumption of an unhealthy amount of candied fruit.

But when dragon prince Thuan brings home his brooding and ruthless husband Asmodeus for the New Year, they find not interminable family gatherings, but a corpse outside their quarters. Asmodeus is thrilled by the murder investigation; Thuan, who gets dragged into the political plotting he'd sworn off when he left, is less enthusiastic.

It'll take all of Asmodeus's skill with knives, and all of Thuan's diplomacy, to navigate this one—as well as the troubled waters of their own relationship….

A sparkling standalone book set in a world of dark intrigue.
A Note on Chronology
Spinning off from the Dominion of the Fallen series, which features political intrigue in Gothic devastated Paris, this book stands alone, but chronologically follows The House of Sundering Flames. It's High Gothic meets C-drama in a Vietnamese inspired world—perfect for fans of The Untamed, KJ Charles, and Roshani Chokshi's The Gilded Wolves
Review:
Dear Aliette de Bodard,
Considering how much I loved the "Dominion of the Fallen" trilogy and considering that Thuan and Asmodeus were some of my favorite characters (if not the favorite characters) and certainly my favorite couple, I had a pretty good hunch that I will enjoy this novella and happily clicked .
I did! I did enjoy it a lot. The blurb promised tons of fun and I thought it delivered. I was pretty sure romance won't let me down, but I was a bit hesitant about the mystery part of the plot. Not because I don't trust this writer's skill to take me through any plot, but simply because of the length of the story. I don't think one can develop a sophisticated mystery plot in 79 pages . Of course as it often happens, I should have known better.
The author made the best use of 79 pages. The mystery plot is not really sophisticated in a sense that we have a complex investigation and are trying to find out who did it. No, when the relative who has a position of influence in court asks Thuan to help look into the murder with the help of his husband, the relative gives him a name of the suspect already and that suspect is one of the villains (if we are taking things literally ). What our heroes are trying to find out is why and what exactly they were planning and to prevent bad things from happening.
And of course, of course we see Thuan and Asmodeus' interacting more, communicating more, moving forward with their relationship while doing very dangerous things, while having the core of their delightful personalities intact. Asmodeus, enjoying causing some pain to some people, while being his overprotective self of the dependents of his House and of his husband. Thuan, struggling to make sense of his past and his future and still caring for his Home while not living there, was a pleasure to read about. I loved how it was clear that both men (I know they are dragon and fallen angel, but they look very male, so they are men for me too) loved each other even when they were disagreeing about how to do things:
""Please, Asmodeus. I'm just asking you to stand by me," Thuan said. He tried to slip free of the net, but his chest and lower half were still encased in what felt like an unbreakable hold of khi-water. "Because it's important to me, and it's going to take way too much time to get me free." "Emotional blackmail?"
"No," Thuan said. "Because blackmail is when you don't have a choice. You do." "So you'll forgive me if I just free you and we walk away from this, instead of warning the Empress or whoever it is I should be risking my neck for?" Asmodeus's voice was sharp. He laid a hand on the net on Thuan's chest, and Fallen magic contracted it until Thuan's breath was a diffuse, throbbing fire in his lungs. "Don't lie, Thuan."".
It is very much not a fluffy story, but I don't remember ever reading fluff from this writer, but it has love (not just romantic love) and Romance. It really does and, of course, there is some social commentary as well which once again should not be news for anyone who read this writer's work before.
I wanted an intimate scene between Thuan and Amodeus and the brief one at the end was a treat – not explicit, but truly intimate to me.
Grade: A-