REVIEW: I Have Some Questions for You by Rebecca Makkai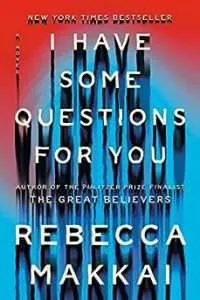 Dear Rebecca Makkai:
Janine brought this book to my attention, knowing my fondness for thrillers and dark academia. I wouldn't say this book is a thriller, exactly; a mystery would be a more accurate categorization, or rather literary fiction with a mystery at its heart. (My dividing line between thriller and mystery in the types of books I read, at least is, "is the main character ever chase/in fear for her life in the course of the book?" I realize this definition is rather esoteric.)
Here's the blurb:
A successful film professor and podcaster, Bodie Kane is content to forget her past—the family tragedy that marred her adolescence, her four largely miserable years at a New Hampshire boarding school, and the murder of her former roommate, Thalia Keith, in the spring of their senior year. Though the circumstances surrounding Thalia's death and the conviction of the school's athletic trainer, Omar Evans, are hotly debated online, Bodie prefers—needs—to let sleeping dogs lie.

But when the Granby School invites her back to teach a course, Bodie is inexorably drawn to the case and its increasingly apparent ?aws. In their rush to convict Omar, did the school and the police overlook other suspects? Is the real killer still out there? As she falls down the very rabbit hole she was so determined to avoid, Bodie begins to wonder if she wasn't as much of an outsider at Granby as she'd thought—if, perhaps, back in 1995, she knew something that might have held the key to solving the case.
Bodie is somewhat ambivalent about her return to Granby; she felt alienated during her time there and has made great strides to become the person she is today. But she must admit to herself that Granby has an almost mystical pull, and she's happy to see her best friend from Granby, Fran, who now teaches at the school.
As noted in the blurb, Bodie hosts a podcast called Starlet Fever, documenting the lives and loves of classic movie stars. She lives in Los Angeles with her two children. Her estranged husband lives next door, and their recent break-up fairly amicable.
Bodie is having a fitful affair with Yahav, a fellow professor at UCLA. She's glad to be going back to New Hampshire, if only to be temporarily closer to Yahev, who has taken a position at Boston College.
I should note that Yahev is technically still married. As is Bodie, but she's firmly separated. His situation seems a little more complicated and the ambiguity there may bother some readers more than it bothered me.
Bodie's childhood in Indiana was marked first by the tragic death of her father, and then her brother, after which her mother fell into a deep depression, checked out and left Bodie with a nice Mormon family who'd befriended them in their time of need. Since both Bodie and her mother were so depressed that they were barely able to function, the Mormon family, the Robesons, while not entirely providing a warm and loving haven, did save Bodie and put her on the path to a successful and fairly stable life. It's because Mr. Robeson attended Granby that Bodie lands there.
In her junior year at Granby, Bodie gets a new roommate, a junior transfer named Thalia Keith. Dark-haired and charismatic, Thalia immediately becomes popular, unlike Bodie, who is firmly in the "weird" camp and has adopted a goth persona to separate herself from the preppies she can't possibly compete with. Thalia and Bodie never become close, but Thalia is not as mean to Bodie as some of the worst of the popular kids.
In their senior year, Bodie has a single room. In the spring of that year, there is a class production of "Camelot." Bodie is stage manager; Thalia is the Lady of the Lake. After a performance, most of the in crowd attends a party in the woods.
The next day Thalia is found dead in the school swimming pool. An athletic trainer, Omar Evans, who was in the building at the time that Thalia died, is eventually arrested, convicted and imprisoned for Thalia's murder.
Back in the present, one of the courses that Bodie is teaching in the "minimester" (two-week period between winter and spring semesters at Granby) is on podcasting. She only has five students in the course, and she has sent them some potential podcast ideas ahead of her arrival. Impulsively, she mentions the Thalia Keith murder as a possible topic. One of the students shows an interest in the subject, and it's from there that the mystery begins to unspool.
The book is written as a sort of open letter to Mr. Bloch, a former teacher who was close to both Bodie and Thalia during his brief time at Granby. As the story goes on, Bodie begins to suspect that his closeness to Thalia was not as innocent as it may have seemed.
Bodie's complicated feelings about her relationship with Thalia's murder are well-depicted. She wasn't close to Thalia; she certainly wasn't one of her best friends. But she had roomed with her, and that gave her a certain connection to the case. Thalia's death becomes tied up with Bodie's grief over her lost family and the confusion and pain she experienced at Granby. I could relate to the way that she was wary of claiming Thalia's death. There's a delicate balance between having your feelings and acknowledging that you aren't a main character in a particular event. Bodie, ever the outsider, is especially hesitant to seem like she's centering herself at all.
There are a number of heavy themes in I Have Some Questions for You, namely issues of class, race and gender. Omar is Black and the more Bodie thinks about it the more she feels that he may have been the perfect, easy suspect to identify and convict. He wasn't "one of them" in any sense, and in retrospect Bodie feels like there was perhaps a rush to judgment. (That said, it's not hard given the evidence to understand why he was convicted, and I wasn't convinced of his guilt or innocence until late in the book. There were a confluence of circumstances, all too familiar from real life cases, that led to Omar's conviction, with race being just one factor.)
Gender issues, sexual abuse and #metoo are at the forefront of the story as well. Bodie was an outsider at Granby, but even the popular girls were at the mercy of their jock boyfriends. Late in the book, one of the girls who was meanest to Bodie tells her that on a ski trip, her boyfriend recorded them having sex and had it broadcast for his friends to watch. Some of these guys, when Bodie encounters them in the present day, seem decent and likable; somehow this makes their past actions feel all the more horrifying. Teenaged Bodie was tormented by Dorian, a rich kid who constantly tried to embarrass her by pretending she had a crush on him. She never knew how to react, or why he targeted her. It's the sort of thing a woman in her 40s may have "gotten over," but it's left scars.
One slightly false note is struck while Bodie is teaching at Granby; her estranged husband Jerome reaches out to let her know about a Twitter kerfuffle that Bodie eventually gets caught up in. A performance artist named Jasmine, whom Jerome dated when he was 36 (before he met Bodie) and she was 21, has performed a piece about his "predatory" behavior with her. Since Jerome and Bodie are both public figures – Jerome is an artist – the story gains some traction and there are calls to cancel Jerome and for Bodie to address her husband's behavior (since their estrangement is not public knowledge).
The subplot has some good points to make about the ambiguity of relationships with age and power differences, but when Bodie ill-advisedly publicly dismisses Jasmine's claims, Jasmine hits back with outrage that Bodie would be so dismissive of a "person of color." It turns out that Jasmine is 1/8th Bolivian. While this was sort of darkly funny, it also felt over the top and muddied the waters a bit too much for me – it was understandable for Bodie to be ambivalent about Jasmine, but making Jasmine ridiculous undermined that ambivalence.
The last section of the book takes place somewhat later. There are a couple of interesting twists, though nothing so dramatic as I usually encounter with suspense novels. I found the ending satisfying on some but not all fronts, but I will say that I think it was intended to be that way. I Have Some Questions for You is really well written and compelling; my grade for it is an A-.
Best,
Jennie