JOINT DISCUSSION (WITH SPOILERS): The Golden Enclaves by Naomi Novik
In our second post on The Golden Enclaves (you can find the spoiler free part one here), book three in Naomi Novik's Scholomance trilogy, we discuss spoilers from start to finish, so if you're spoiler-wary, avoid this discussion or come back after you've read the book (if you're not, please join us in this comment thread; we plan to make it chock full of spoilers too).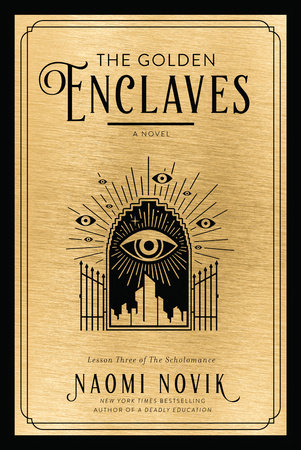 Jennie: It seemed pretty obvious that Orion was not going to actually be dead the first time, at the beginning of the book. When he's in jeopardy much later in the book, did you feel like there might indeed be a dark ending where he didn't survive?
Janine: I read a lot of theories last year, including one that Orion was a maleficer. When Gwen told El she sensed this awful hunger in Orion I started worrying about that. It stressed me out so much I peeked at the last page. So I knew Orion would survive, but nevertheless, when Li was telling El she had to kill him and El was so torn up, I was terrified! Novik did such a good job of scaring me that I had to remind myself about the last page to reassure myself. What about you, were you afraid of a dark ending?
Jennie: I really was. It just felt like signs in the big showdown scene were pointing that way – I mean, they obviously were, on the surface, but even beneath the surface there was this undercurrent of doom and dread that made me think that El killing Orion would be a fitting ending. (That said, I was glad she didn't!)
Janine: That would have been so depressing, I can only breathe a sigh of relief.
There are a number of twists in this book—Orion is part maw-mouth, enclaves are powered by malia, Liesel isn't as unprincipled as we thought, great-great-grandmother Deepthi loves El and made the prophecy to protect her, El didn't get the sutras for the reasons she thought, Liu is in danger of something horrible, and more. Which twist surprised you the most?
Jennie: I really wasn't expecting the twist with Deepthi. It had just never occurred to me to take that part of the story on anything but face value.
The rest were all surprising in the sense that I didn't expect them, but they made sense, you know? Not that the Deepthi revelation didn't, but it felt like more of a twist, whereas the others felt like new information that in context, made sense. I was very happy for the twist though, because I think it helped to heal El somewhat.
What revelations came as an entire surprise to you?
Janine: All the ones I listed above, as well as the last one about Arjun's sacrifice. The biggest shocker for me was what was being done to Liu. It was a one-two punch: I never dreamed of it and it also hit me really hard. So hard I didn't want it to be true. The one about Orion was equally horrible, but not quite as shocking because by the time he told El I was braced for something bad to be going on with him.
Jennie: The whole sequence with Liu, from the time they realize something is wrong with her until she's rescued (and after!) was very distressing to read. I have a soft spot for Liu going back to when El realized she was compelled to use malia to protect her cousins; she's such a gentle character. But it would have been horrifying no matter who it was done to. That it was Liu just made it that much worse.
What revelations were you expecting or had guessed ahead of time? I remember you had some theories at the end of the last book.
Janine: A few. The one I'm proudest of myself for is one I didn't see anyone else predict: that at least one if not both of Orion's parents was a maleficer and responsible for the killing of the entire murdered Scholomance class. That they took the malia from that mass murder and used it to conceive a child with Orion's unusual abilities. I was pretty damn on point with that one!
(I still didn't imagine that Orion was part mal, though—that part shocked me.)
Jennie: I really never made the maw-mouth/Orion connection at all, nor the maw-mouth/enclave connection. I had long suspected that the prophecy about El could be interpreted as her bringing down the existing power structure (putting aside the killing thousands part) of the enclaves.
Janine: Same here. Did you anticipate or guess any of the twists that were revealed in the book?
Jennie:  Ha, not really. With an author like Novik, who has such an imagination…I think I'm almost too intimidated to let myself start to speculate. I was reasonably sure Orion was alive in the Scholomance at the beginning, and that was it.
You said in the review that "I don't feel that the gaps between what I expected and what the book held were inconsistencies at all. They were hinted at in the earlier books and made perfect sense when they happened." Do you want to elaborate on that?
Janine: I feel that Novik didn't pull much out of her ass. Take for example El having sex with Liesel. In a bathroom scene in The Last Graduate, El watches Liesel primp to catch enclaver Magnus's attention and thinks,
She would have looked nice enough for a date outside; in here, by comparison with our usual state, she might as well have stepped off the cover of vogue to dazzle ordinary mortals
Later, when Liesel is doing Orion's homework after she and El had to shelter in his room from the cleansing fire, there's this:
If he had actually taken a first glance at her cleavage, she'd have been a plonker not to make sure he got a second.

But he hadn't, and when I realized he hadn't, I started to feel more than a bit panicky, because he hadn't any excuse not to be taking a first glance. I'm only mildly motivated in that direction myself and I absolutely had taken both a first and a second glance at the cleavage and the bouncy golden curls and shiny pink lips. I think anyone who wasn't really impervious would have.
Very clever on Novik's part because readers can interpret these statements as El only pointing out Liesel's ambition and Orion's obliviousness when in reality, they are also laying groundwork for the El/Liesel developments.
Jennie: Ooh, I didn't remember that, but rereading it I do remember those lines! And yes, I took it as mostly meant to point out Orion's obliviousness and maybe that he was so into El that he didn't look at other girls.
Janine: There was a lot else like that. Deepthi loving El and having her best interests at heart, as well as acting to protect her—well, we'd been told in advance the Sharmas were strict mana and kind to everyone else, that they wanted to take in Gwen and El and Gwen and El had every expectation that they would be welcomed and loved, so it fit. Enclaves being powered by maw-mouths—we knew enclavers had flexible values and prioritized their comfort over protecting others, so it wasn't out of place. Gwen and Arjun summoning the sutras—even though we had no clue about that, we knew they were valiant, caring people, strict mana and Scholomance students together, and that Gwen cherished her spell books. It was all in character. None of it came out of nowhere, but all of it was still surprising.
Was there any twist you found hard to buy?
Jennie: Hmm, not a twist, exactly, but the quick turnaround from "there's nothing to do but kill Orion" at the end to "oh, wait, let's do this instead and everything will be fine" felt pretty deus ex machina. What did you think?
Janine: That transition did feel fast. Not deus ex machina, because it didn't come from outside El and we knew the spells she combined, but her realization was mentioned so briefly it was almost skipped over.
On another topic, some readers are unhappy that El has sex with Liesel and see it as cheating. Did you see it a betrayal of Orion or not, and why?
Jennie: Not at all, the first time. El thought Orion was dead and she needed comfort. It surprised me a bit, maybe because there's virtually no sex in the first two books until the scene near the end with El and Orion. And so I had an ever so slight "is Novik trying to sex this book up?" reaction, which in retrospect I feel a bit ashamed of because 1) I've read enough of her books to know she doesn't throw in gratuitous sex scenes and 2) it really wasn't explicit at all.
Both of these facts made me see the relationship differently. And that in turn made me feel okay with the second encounter between them, the one that could sort of technically be seen as "cheating", since El knew Orion was alive at that point. I was still surprised when it happened, but in retrospect I felt like it was giving us information, in a roundabout way, about El, and her relationship with Orion (and possibly the way fidelity is viewed in the wizard world, though that may be a stretch). El never acted like it was cheating or she was ashamed on that count, so I accepted that it wasn't an issue.
Janine: Oh, I didn't view it that way at all. What kept me from viewing it as cheating was that both times it was about her love for Orion. The first time she thought he was worse than dead, and out of her reach forever, so it wouldn't have been cheating in my eyes regardless. But she thinks:
But whatever her reasons, at the moment she was here, and where she was touching me it was only her hand on my skin and the faint sandalwood smell of the free soap, and there wasn't any room left over in my head to go circling back to Orion, Orion, Orion, and maybe I was looking for a way I could shove him away, out of the gates of my mind, for at least a few minutes, because when Liesel leaned in and kissed me, I kissed her back.
This is so clearly to me about her heartbreak over Orion, her having to fight back the knowledge that he is gone, that she can't bring him back. Her pain over her loss of Orion is greater than her attraction to Liesel for reasons having to do with Liesel herself. She's doing this for a moment of comfort, for breathing, and what's more, as we later find out, Liesel is doing it to comfort her also. There's not that much lust here, or even sexual need, it's almost all about an emotional need stemming from love for Orion.
The second time, I was more surprised, and a little taken aback, until I realized it was also because of Orion. Because there's this:
Liesel predictably tried to pry some information out of me afterwards; we were toweling off when she asked abruptly, "Now will you tell me what happened? Why did Orion go?"

And it turned out that was the real reason I'd done it. It was easier to tell her here, and I did have to tell her. Because I didn't know what I could do for Orion, and that meant I was going to have to ask for help to do it: the lesson I'd had thumped into me properly last year in the Scholomance.

So I sat down on the lid of the loo and told her right there, with the roaring of the plane going all around us, trying not to listen to the words I was dragging out of myself.
El she says it plainly- she had bathroom sex on the airplane with Liesel because she needed to tell her about Orion, to figure out what she could do for him, which is something she can't do without Liesel's help. Even dragging the words out is traumatizing because she loves him and he is undergoing this horror. So even that sex was primarily about him (not to say that she didn't enjoy it or like it or take comfort from it)— "the real reason I'd done it." In both cases the information I thought Novik was trying to impart was how much heartbreak El was feeling over Orion, how much she wanted to save him, how much she feared that she couldn't. And how easily she could fall over the edge.
I have to say that if I didn't feel confident that Liesel didn't love El or even have a crush on her in any sort of naïve way, I might have been angry toward El for her treatment of Liesel. But Liesel didn't, and she initiated both times, clearly aware of what was going on with El (she was way too smart not to know) so I couldn't see El as using Liesel.
More generally, how did you feel about Liesel by the end of the book?
Jennie: God, I loved Liesel so much. In a book where many different ethnicities and cultures are depicted, I think the author has to be careful about the stereotyping (and IIRC Novik got in trouble with a couple of things in the first book that were viewed as offensive by some). But Liesel is a glorious Germanic stereotype and I found it, and her, hilarious. She is so practical and…not emotionless, exactly, but certainly not driven by emotion. She's logical and impatient with those who aren't. She just felt like a perfect foil for El throughout the book and I think a lot of her decisions both moved the story forward and…kind of saved the world, in a manner of speaking.
Janine: Agreed. For me Liesel was the unsung hero of this book. She did so much to help on so many levels. All those you mention, but for me also what I just talked about, her willingness to offer her body and her emotional sturdiness to El to get El through this—to keep her from blowing up the world and to get her to the place where at the end, she can save Orion—made me see her as heroic (although the stereotyping did bug me a bit). She saved Orion as much as El did, in a way—another reason I can't view it as a betrayal. And it showed that she could be generous and kind, in her way. Before this book I hadn't known she could.
Jennie: How did you feel about the revelations about the choice that El's great-great-grandmother made to protect her? I was left with residual resentment on El's behalf, as well as a slight sense that the whole thing was a plot necessity that needed to be cleaned up. But that may be unfair of me.
Janine: Oh, I loved Deepthi. She was without a doubt my favorite of all the characters we met in person for the first time in this book. I've read the scene where she has her first conversation with El more times than any other part of the book; it was the most comforting and loveliest of them all for me.
It didn't read to me like a plot necessity, or at least, no more than any other scene that forwarded the plot. For me it read as a satisfying payoff. Like I said, it fit in with so much of what we knew about Arjun's family and I already expected a twist to the prophecy itself. And I don't see what else Deepthi could or should have done. If she'd left things alone Ophelia would have found little El and made her into a maw-mouth or done something equally awful to her, and then turned her on her enemy enclaves. Should Deepthi have stood aside and let that happen?
It devastated Deepthi on a personal level. She, her grandson and her granddaughter-in-law had already lost El's father (and she had to not intervene with that!) and El was the only piece of him that was left. She wanted to love El and embrace her with all her heart, and instead she had to hurt her. A five-year-old child! She was still crying because of it thirteen years later. I saw it as an incredibly self-sacrificing thing, and I wanted very much for El to forgive her. I'm glad that El (as I read it) is on the road to doing that.
Can you elaborate on why you felt as you did?
Jennie: I think I had a harder time than El did letting go of all the years of resentment. (After three books, I love and identify with El very strongly.) I can acknowledge that Deepthi had no other choice, but at the same time the feeling lingers. It's not fair – and I did think she was a lovely character! – but it's still there.
Thoughts on Orion's mother? I felt like by the end Novik was maybe giving her a tad more grace than El, which reminded me that El has a very black and white world view (to be fair, El feels forced to have that world view to a degree, since she always fears tipping off into the dark side).
Janine: I don't feel El has a black and white worldview; she bends over backwards to say that most enclavers are acting to protect their kids and not out of malice and to acknowledge that she herself wanted to be an enclaver and was almost willing to farm out her terrifying skills to become one. She sees and acknowledges shades of gray in almost everyone's motives. She's an idealist with strong feelings about what people ought to do, but that's not the same as seeing the world in black and white.
I didn't feel that Novik gave Ophelia more grace than El did. Humanizing Ophelia only made her more awful to me because it made her more believable. And Li is the one who insists on portraying her as understandable. His hands aren't clean, so it's in his interest to view her and her crimes that way. He points out that there was some logic and emotion behind her decisions, but so what? Isn't that behind everyone's decisions?
El's line about how even Ophelia spending the rest of her life scrubbing out the toilets of the families of the children that she murdered wouldn't make El forgive her was the final word about Ophelia in the book and I thought that was a good place for Novik to finish saying what there was to say.
Jennie: I think that's fair. I also noted and found interesting that it was Li who gives a slightly different perspective on Ophelia, and honestly, why wouldn't he, given his own deeds?
Janine: We encountered a number of characters here that we'd only heard about before—Gwen, Ophelia, Balthasar, Liu's parents, Aadhya's family, Li, Deepthi, El's other relatives in Maharashtra and possibly others. Which of them did you like encountering on page the most? And if that character wasn't also your favorite, who was?
Jennie: I didn't really feel like I was "meeting" Gwen for the first time because El talked about her so much. I really loved Aadhya's family – they felt very real and normal, living outside of an enclave and just kind of being a typical large, close-knit immigrant New Jersey family, the kind that pushes food on visitors and just in general shows exquisite hospitality. I felt like El needed to meet people like that.
Janine: For me it was Deepthi and after that Li. Not in the sense of liking him as a person. But he was complex and interesting, a mix of ruthlessness and gentleness, a degraded moral code and the self-awareness to know he doesn't have much leg to stand on. And yes, Aadhya's family after that. I loved them too. They were so warm and welcoming to El.
Along these same lines, of the established side characters, who did you like reading about best? You can name more than one.
Jennie: Absolutely Liesel. I think you touched on it in the review – she wasn't the most likable character in the last book but I just adored her here. I would read a whole book with her as the main character, gladly! And again, I thought she was a great foil for El.
Janine: Liesel for me too; like you, I loved her reframing. After that, Aadhya. I love how Aadhya's pragmatism a big part of her core yet she'll set it aside for El.
There also were some notable absences or near-absences—very little of Chloe, none of "that […] useless trombone Magnus" (A Deadly Education), and the Scholomance as a character wasn't in this book either. Others too. Who did you miss most or hope to see more of and didn't?
Jennie: I did miss Chloe a little bit. She had developed into an interesting and somewhat sympathetic character in the first two books. Magnus, not so much, though he could be mildly entertaining.
I didn't miss the Scholomance as a character, mostly, because I felt like it was played out and did its job in the first two books. It was really different to go from an enclosed setting to "El runs all over the world." But I thought it was a good change.
I probably missed Liu the most; even though she's an integral part of the plot here, she isn't really on the page as a character as much as I'd have liked, or perhaps specifically I missed the El/Aadhya/Liu dynamic. They're a great trio and I had expected to see them in action more than we did.
Janine: Agreed about Magnus and the Scholomance. I wanted a bit more Chloe but I feel she's also played her part. I would have loved more Liu but I can't say I consider her an absent or near-absent character. A character I wanted back (I suspect many won't remember her because she wasn't in book two) is Clarita, the valedictorian of the class ahead of El's. I also wanted to see Nkoyo.
Despite the fact that everyone survived and things were a lot better by the end of the book than in the beginning, for me The Golden Enclaves was dark. Dark dark dark. Did you feel that way too, Jennie; did it hit you hard? If so, what hit you the hardest?
Jennie: It was very dark, but it didn't really hang over me too much except for the scene with Liu being tortured, essentially. That upset me a lot. Also, Ophelia creeped me out when she and El first met.
I'm not sure why the general darkness didn't affect me as much, but sometimes that just has to do with the mood I'm in when I'm reading a book.
Janine: I wish I felt that way. Ophelia didn't creep me out as much as I feel she should have, but from the moment they found Orion until El finally saved him, a black sky hung over my reading experience. It receded slightly in the scenes with Deepthi, but was still there and returned full force for the following scenes at the Scholomance. El was hurting so much and I was hurting for El. Even at the end, the sky I saw was still somewhat gray.
There were a lot of grace notes in this book, though; moments when people supported El, thanked her or came through for her, and moments when El found the courage she needed. What was your favorite?
Jennie: I'm not sure I have a favorite – there were quite a few. Do you?
Janine: Number one for me was Deepthi's love. I loved the love from Liu's grandmother. One that I really enjoyed and didn't expect at all was when Khamis showed up for El. He's such an obnoxious jerk and yet he came through, and he was also the one whose push got El to come up with her solution at the end.
Jennie: I did find the gratitude that was shown towards El somewhat reminiscent of moments on Buffy the Vampire Slayer when people acknowledged that Buffy was always saving the world and that doing so placed a burden on her. It made me think about parallels between El and Buffy (both characters I love!).
Janine: I mentioned loose ends earlier; I spotted a lot of them. What about you? Was there anything you wanted to have wrapped up more thoroughly?
Jennie: Seriously, you are somuch better than I am at that. I would love to hear yours to see if I even noticed them!
Janine: In brief:
If Orion is carrying the Scholomance and Patience's other enclaves on his shoulders, as El says, then what happens to them when Orion dies or even gets injured? Or does "stay" mean he's immortal now?
How is El going to support herself in the future?
I can't picture Ophelia sitting on her hands and extracting no more malia from anyone. Near the end that Deepthi warns El about her again—El will be putting herself in danger if she goes to New York. Can El even visit Aadhya in New Jersey? And what's to stop Ophelia from making another Orion?
I don't buy that it will take the enclave councils a decade to figure out that El is toppling the enclaves. Li already knows from personal experience that hurting a maw-mouth means damaging an enclave, and every enclaver present for the book's climax saw how that killing the maw-mouth in Orion almost took down the Scholomance. What happens when they figure it out (in a few weeks IMO) and start hunting El?
This fifth one is more of a plot hole / unanswered question – how do Liesel, Liu and El know that their new multi-caster Golden Stone spell works if they don't have the mana to test it?

Jennie: I think #3 was the one that stood out for me at the end. Ophelia remains a clear and present danger, as do other maleficers. But I took that as: "life goes on, and our work continues." It wasn't an ending that promised safety for El or those she loves, definitely.
How did you feel about how things were left between El and Orion? Were you disappointed, or did it seem to fit?
Janine: Well, first let me ask you how you interpreted the way things were left with El and Orion, because I've seen at least one disgruntled reviewer say that they weren't even together anymore by the end of the book.
Jennie: The romance reader in me always wants a HEA (or HFN) ending between characters that I think have a lot of chemistry. But I also did feel that the ending was fitting. To go back to El/Liesel, I think maybe it was telegraphed that El and Orion weren't meant to live a conventional (well, conventional for magical people) lives in an Enclave or a tent near Gwen's or whatever. They both had important work to do, so the ending absolutely made sense. It was still just a tiny bit bittersweet.
Janine: I did feel that they were together, and when Gwen said, as she dropped El off at the Scholomance in the last chapter, "Maybe you'll have two homes, now," I took it to mean that El would probably live with Orion at the Scholomance part of the year and out in the world during the other part. It seems feasible; now Scholomance students will have a summer break they might also have a short break between semesters and El could move in for one semester and be out for the next. And Orion indicates that he'll be in the outer world helping her hunt maw-mouths during the summer. The new Scholomance rooms being made to accommodate two people now can also be taken as a nod in that direction.
Jennie: I absolutely felt that they were together at the end, just that "together" meant something different in this context. I also assumed that El would spend time with Orion at the Scholomance and of course Orion did actually say he'd be with El in the summer. So I don't get why anyone would think that their relationship was over.
Janine: Probably because they saw El as cheating on him and then concealing it.
Jennie: I felt that the lack of addressing of "cheating" meant that it was a non-issue for El and hopefully a non-issue for Orion. It's not like El ever said, "Orion can never know about this!" Now that would have made me uncomfortable.
Janine: Agreed. Also, Orion let what Ophelia did to him go so easily, I can't imagine that this would upset him. For me the return to the gym in the last scene signaled a coming back full circle—this was the place where El and Orion first made love, and also where she found him again to bring home. And there was the kiss at the very end. So I saw them as together. Not physically together at all times but that's still an HFN for me. I see them as a couple in the sense that implies exclusivity at least for now.
They're too young to get married so I didn't wanted them to, but I did want their future to be articulated more. For El to say "Next semester I would be out hunting maw-mouths, but the semester after that I was planning to spend with Orion working on improving my maw-mouth killing spell—maybe someday we could get it so other people could cast it. Orion was already talking about joining me in the summer." Not a lifetime commitment but a plan for how to juggle a relationship with Orion with her life on the outside for now. They had suffered so much; I wanted a resting place for them and for me as a reader.
Jennie: I can see that. But I also see it as…they are young, energetic and resilient; I might want a respite for them both but maybe they didn't feel the need? I interpreted it as an "on to the next adventure!" ending.
Janine: Good point. I like that interpretation a lot, actually. But if so, the book would have been better if that was clarified, and the loose ends on my list don't help. The respite we did get didn't feel like enough of one. Because the book was so dark for me I wanted to close the book on a fun or playful moment (like Orion and El running through the obstacle course alone together as they did in The Last Graduate) for more happy, romantic feels. All in all, it felt like something was missing and that kept the book on the edge of too dark. I felt a little relief but not enough.
Did it seem to fit? I guess I have to say not entirely because the happy ending wasn't equal to all the darkness. But in terms of their characters and in terms of their relationship, it absolutely fit.
What about you? Were you satisfied? Did you think it fit?
Jennie: I see your points. I also wanted an epilogue. Now that I've had time to sit with the ending, though, I wonder if it'd be hard to have an epilogue that didn't feel too epilogue-y, too tacked on to make the reader feel like everything was okay in the end. Because the world they inhabit absolutely had the chance to be better, more equitable, and more peaceful, due to the actions of El and her friends. But there were still challenges, and the darkness was still there, and all the bad stuff had still happened.
Janine: I wanted not so much an epilogue within the book (just a happier last scene there), but an epilogue novella or novel, maybe even from Liesel's POV, to wrap up all the loose plot ends. I don't feel that would necessarily be too epilogue-y; it could have its own plot.
Jennie: That would be great. I would love to see more of this world, honestly.
I didn't feel most of the darkness of the book as deeply as you did, I don't think. I acknowledge it, and really felt it in the business with Liu, but it didn't affect me strongly. So I didn't feel the need as much for lightness at the end or more hope or even joy. I think the ending fit. As with Orion and El being in a less ambiguous relationship, I think what I might want and what made sense in the book are two different things.
Janine: I wonder if the reason I don't see their relationship as ambiguous to the degree you do is because of the way I read El's reasons for sleeping with Liesel. To me it was about El's heart breaking over Orion and her need to save Orion, to get through the heartbreak so she could find the strength to do it. So it doesn't make me feel that El and Orion's relationship is an open one, if that's what you are getting at.
Jennie: Not necessarily an open relationship, but I felt that the lack of shame, guilt or worry on El's part about being found out indicated that in her world, the interludes with Liesel were not a big deal and not considered cheating. I felt like I had to take Novik's lead and view it as a non-issue, because everything in the text indicated that it was a non-issue.
Janine: I agree it wasn't an issue to El but to me that was because the first time he was effectively dead and the second was because she needed to discuss how to save him with Liesel, and needed the emotional support/comfort (given and taken through sex with Liesel) that would make it possible for her to find the strength to do what was necessary for saving him. How could it possibly be a betrayal of Orion to do that? And if it isn't one, what does El have to feel she did wrong? So I saw it as a non-issue as well, but to me that wasn't an indicator (one way or another) of how it would be viewed in the Scholomance world, just an indicator of how El saw it and felt about it–and I think that her feeling about it was the correct one.
Please join us in the comments and let us know what you thought of the book and its twists. We would love to hear from you!