AUDIOBOOK REVIEW: The Wife in the Attic by Rose Lerner, read by Elsa Lepecki Bean
Trigger warnings:
Dear Rose Lerner,
I stopped listening to your new audiobook, an Audible Original titled The Wife in the Attic, at 74% for reasons detailed below. It pains me to say this, not only because I've enjoyed some of your previous books but because I like you and because in addition to providing me with the ARC, you kindly sent me a list of character and place names spellings when I asked.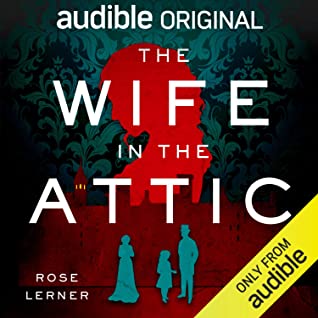 The historical suspense novel, a retelling of Jane Eyre, begins in the Regency era, in the village of Lively St. Lemeston. Guitarist and music teacher Deborah Oliver is struggling to find work and can barely feed herself. She is almost alone in the world. Her friend and sometime lover, Iphigenia Lemmon, is elsewhere and Deborah doesn't want to ask her for help.
Deborah is then approached by a countess, Lady Tassell. Lady Tassell has heard good things about Deborah and suggests a means of employment. Sir Kit Palethorp, an acquaintance of Lady Tassell's, is in need of a governess for his young daughter, Tabby. Sir Kit's estate and his country house, Goldengrove, are remote and Deborah knows little about him. As a woman of Portuguese Jewish descent, she is slow to trust strangers since they may harbor antisemitism. But she agrees to take the position since it will in all likelihood put a stop to her hunger pangs.
Shortly after her arrival at Goldengrove Deborah realizes there are some strange goings-on in the house. For one thing, Sir Kit keeps both the outer doors and the doors to all the rooms locked at night. To Deborah, who has a deathly fear of fires (the reason why is only gradually revealed) this is horrifying, and though Sir Kit gives her a key that opens all the rooms within the house, including her own, the locked exterior still poses a terror.
Another disturbing thing is that Lady Palethorp, although alive, almost never appears. She's said to be mad, locked away so as not to endanger others, yet Deborah finds ominous signs of her unsettling presence, such as a guitar with cut strings that Sir Kit restrings for her.
Tabby is a spoiled child who is often peevish and throws temper tantrums, but Deborah helps her improve her behavior over time. Deborah doesn't believe she will ever have children of her own and she grows to love Tabby and view her almost as her own child.
Sir Kit, Tabby's father, exudes charm and quickly worms his way into Deborah's thoughts. He turns on his bright smiles and personal interest whenever he is with Deborah, and Deborah, who has always considered herself too plain to attract any man, feels intensely drawn to him, though she knows it would be unwise for her to become involved with her (married!) employer.
But Deborah and Sir Kit find time to be together in private. They read aloud to each other and Deborah plays the guitar for him after the rest of the household falls asleep. Though he hints that he'd like to sleep with her, he accepts Deborah's refusal with good grace.
As time passes, Deborah wonders at the fact that Iphigenia has not written to her. She begins to ask herself if it's possible that Sir Kit is withholding her mail, and even, after she catches him making a seemingly throwaway comment or two, whether he might be antisemitic (he is not aware that she is half Jewish; it's not something she advertises). But his charm and good humor, his utter—or so it seems—kindness, cause her to question this instinct.
Things get creepier in the house and some of the staff and Sir Kit's behavior begins to verge on inexplicable. Deborah starts to consider whether she might be wrong about Sir Kit—and about the wife he keeps locked up in his attic.
This audiobook and I began on a good foot. I have enjoyed your other books and was prepared to love this one. Everything about it sounded good, most of all the twist on Jane Eyre since I've felt for years that Rochester, Jane's love interest, was unbearable and his actions unforgivable.
And indeed, the book got off to a good start. Deborah was an interesting and engaging narrator, Goldengrove eerie and disquieting, and Sir Kit's creepy charm so very effective. As I continued reading, though, I became frustrated with Deborah, whose thoughts are a constant stream of uneasiness, anxiety, and self-doubt. So much so that this aspect of her overshadows most of her other characteristics.
There is plenty that has the potential to be interesting and engaging in her—her love of music, her bisexuality, her family history, and her well-founded fear of antisemitism, but it is all drowned out by how high strung she is. While her fears are justified and here extreme emotions can in part be put down to PTSD, I don't think many people could function in a state of such unrelieved fear and alarm.
Even under some of the most extreme conditions, people usually have something in their makeup to sutain them–resilience, an occasional moment of peaceful calm, enough detachment to see things from a new perspective occasionally, the ability to get a good night of sleep, or a or a sense of humor, even if a macabre one. We human beings couldn't function without at least one or two of these things to give us relief from tension, and since I didn't see them in Deborah at all, her characterization was hard to credit. Also, since the book is narrated by Deborah and her state of mind didn't provide me with much of a break from her state of high alarm, I began to emotionally withdraw from her and her story.
This affected my perception of the narration, too. I love good gothic narration—Lockwood's narration was one of the things that made me love Wuthering Heights in all its chaotic melodrama. But here the narration seemed too melodramatic, even for a gothic suspense novel. I don't know how much of this to put at the foot of the writing and how much to pin on the audiobook's narrator. Elsa Lepecki Bean emphasizes some elements that don't need emphasis. For example, I felt pounded over the head with Deborah's fear of fire.
Lepecki Bean also dials up the novel's tautness, but it is (this is my best guess—audio narration and story can be hard to separate) at eleven to start with, and doesn't need to go to twelve. The result is an overwrought tone that made me wish I was reading the book in print. I think I might have appreciated it more if I had "listened" to it in my imagination rather than to this rendition of it.
And then there's the pacing. Deborah seesaws between loyalty to Sir Kit and the uneasy suspicion that not all is as it appears at Goldengrove for too long. No matter how charming a man might be and how dangerous or disturbing his wife, it doesn't justify locking her up in the attic. That Deborah didn't realize this sooner, that even as more and more clues to Sir Kit's true nature stacked up she kept second-guessing herself, became harder and harder for me to rationalize.
When Deborah finally makes her choice with regard to Jael, Lady Palethorp, the two women's relationship develops too quickly, given Deborah's suspicious nature. The first 60% or so of the audiobook drag and the next 14% felt rushed.
There are some good things in the book—I particularly liked the exploration of Judaism and antisemitism in Portugal and England. I am Jewish myself yet I learned more than I'd known about antisemitism in these countries in the eighteenth century and in the early nineteenth century, and I liked the way Deborah's family history tied into this theme and others. Though it was mostly shown in Deborah's backstory, I enjoyed Deborah's friendship with Iphigenia, the contrast in their personalities, and how these differences complemented one another. The prose was good, too. And because of all of Deborah's missteps, her few smart decisions were immensely satisfying.
But this was, in the end, not enough. I'm guessing there will eventually be an ebook reissue of the book and since I am a fan of your writing I wish I had waited for it. I may even still purchase the ebook when it comes out. I want to find out how things resolve, and reading goes faster than listening, which I think might help some with the pacing issues I had. But the audiobook, at least, was one I had to put down.
Sincerely,
Janine