If You Like Books About Characters with Disabilities
Ridley offered to write up this list of books which she feels are a) good and b) portray people with disabilities inoffensively. You can find Ridley on
Twitter
(@_Ridley_),
Goodreads
and her
tumblr
blog.
As someone who uses a power wheelchair due to a neuromuscular disease, I have a personal interest in how authors use disability themes in their books. Over the past couple years I've read dozens of romances where one or both of the protagonists lives with some sort of disability. Unfortunately, I've found that most books are downright offensive in their portrayals of disability. Of all the books I've read, these are the only ones I'd recommend.
Heroes with Disabilities
Flowers From the Storm – Laura Kinsale
http://www.goodreads.com/book/show/360259.Flowers_from_the_Storm
This is a bit of a cheap place to start, I admit. First of all, recommending this book is like recommending Nora Roberts, unless you live under a rock, chances are that you've read this already. Secondly, it deals with a temporary disability, although the hero never quite shakes off all the effects of his stroke. That said, I love this book's take on dealing with a neurological disability. The parts of the book written from the hero's POV are as clever as they are insightful, and pull the reader into his frustration and confusion with him. Where I think the book excels, though, is in how the hero never loses his dignity. He rages in frustration at others' patronizing treatment of him, but retains his pride throughout. The heroine doesn't save him, she provides the means for him to save himself. Few books with disabled characters manage to do this, and I appreciated it.
Simple Jess – Pamela Morsi
http://www.goodreads.com/book/show/692935.Simple_Jess
Deprived of oxygen at birth when the umbilical cord wrapped around his neck, the hero, Jess, lives with an intellectual disability, hence the nickname "Simple Jess." Set in the early 20th c. Ozarks, this book manages one of my favorite portrayals of disability in romance. Jess is never used as a morality yardstick – you have no idea how many books separate the protagonists from the villains based on how they treat the disabled character – and is never the object of pity. He's a dignified man who goes through life to the best of his ability. He sees how other people treat him, but never internalizes their patronization. For her part, the heroine never treats Jess any differently than she would treat anyone else. She doesn't do Jess a favor by hooking up with him, she's just drawn to the man who makes her a happy woman. It's a great book full of wonderful characters.
The Write Man for Her – Christie Walker Bos
http://www.goodreads.com/book/show/4315240-the-write-man-for-her
A commenter on Dear Author pointed me towards this one when I whined about how books make disability out to be a dreary, angst-ridden existence, and I really enjoyed it. While not flawless – it does feature a number of disability-theme cliches like his ex leaving him because of his injury, the presence of wheelchair sports and "normal" sex – I liked how the hero is just a man in a wheelchair. He's an English professor, a basketball player, a good cook, and a handsome dude, leaving "wheelchair-user" and "paraplegic" refreshingly low on the character-definition totem pole. The heroine's his student (It's a non-degree, online course. They're both divorcees and about the same age.) and sets out to make a move on "Professor Hottie" before she even knows he's a wheelchair-user. It's just a romance between two people, one of whom just so happens to sit in a chair.
Lord Carew's Bride – Mary Balogh
http://www.goodreads.com/book/show/227636.Lord_Carew_s_Bride_Signet_Regency_Romance_
http://www.goodreads.com/book/show/6545729-dark-angel-lord-carew-s-bride
Although the author clearly uses the hero's disability – a limp and diminished dexterity in one hand – for a blatant "seeing beneath the surface" allegory, the lack of angst over his body or sense that the heroine is doing the hero a favor by digging him saves the book for me. It's such a cute story about two people finding the best friend they didn't know they had that I'll forgive Balogh the ham-fisted appropriation. Despite her best efforts, it's not actually a story about ignoring someone's "flaws."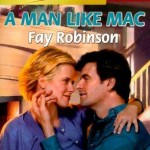 A Man Like Mac – Fay Robinson
http://www.goodreads.com/book/show/2284185.A_Man_Like_Mac
Oh I loved this one! An Olympic-level distance runner comes back to her college running coach for help rehabbing after an accident. He's seen the medical reports and knows she has no chance of competing again, but agrees to help figuring he's in a unique position to help someone adjust to a life changed by injury. Mac's just a great character. He's perfectly adjusted to his paraplegia, continues with his career in college athletics, has meaningful friendships (lord save me from sad, disabled loners in romance) and is just your typical straight man. He's not some sad wretch the heroine deigns to love, he's her salvation. It's out of print and not in ebook, but Amazon has a ton of used copies for cheap. Totally worth tracking down.
Heroines with Disabilities
These stories are the hardest to find. A heroine with a disability almost invariably is a sad, helpless martyr thrown into a story merely as fodder for the caretaker alpha sort of story. It's not an accident that there are only three heroines with disabilities on my list and they're books I still have reservations about.
What a Scoundrel Wants – Carrie Lofty
http://www.goodreads.com/book/show/3225515-what-a-scoundrel-wants
This is the strongest portrayal of a disabled heroine I've read so far. The blind heroine in the novel is not only not helpless, she's a talented chemist with a penchant for explosives. The hero is Will Scarlet and this medieval-ish Robin Hood retelling is a fun sort of swashbuckling read. It does have the heroine rape the hero and a bit of an info dump problem, though. The book was a debut novel, and it shows.
Out of the Blue – Sally Mandel
http://www.goodreads.com/book/show/1981887.Out_of_the_Blue
This one's not really a romance novel so much as a novel with a romance. It's the story of the heroine finally coming to terms with a diagnosis of MS. It's told in the first person and follows the heroine going through life as a 28-year old private school teacher in New York five years after her diagnosis. When she meets a man who makes his interest in her known, the life she thought she was comfortable with starts to confuse her. It's an interesting look at someone finally accepting that she needs the help loved ones offer, but the martyrish "I don't want to be a burden" theme really grated on me. The hero and the heroine's foul-mouthed mother calling the heroine out on her BS helped, though.
Samantha's Cowboy – Marin Thomas
http://www.goodreads.com/book/show/7101554-samantha-s-cowboy
This one's complicated to rec. The heroine deals with nightmares and memory problems after head trauma incurred as a teenager. Her wealthy family has provided for her every need, but as a 32 year-old woman she's desperate to break out on her own and live the independent life she knows she's capable of. She's a great character with a wonderfully healthy outlook. She's aware of her limits but is prepared to work around them. She's sick of being treated like a child by well-meaning friends and family and is ready to put in the work to prove to herself and others that she can run her own life. Unfortunately, she's a great character trapped in a mediocre book. It has a wicked case of series-itis, an overly precocious child character and a flimsy deception-based conflict that goes on a bit too long. I can recommend it for the heroine, but the book's nothing special.
Now, I know the next step with these has the commenters leave their recommendations. I'm just going to warn you kids, though, that if you suggest Phantom Waltz, I'm going to unfriend you on Goodreads and block you on Twitter.
Here's (http://www.goodreads.com/review/list/2543252-ridley?format=html&shelf=disabled-h-h) my shelf of books with disabled characters if you'd like to check them out to see what I don't like or what I plan to buy.
If you'd like to author an "If You Like" please email jane at dearauthor.com. These are very useful to the community.