Reading List by Sunita for March and April
I'm reading fewer new releases and more non-romance novels. I didn't get nearly as much reading time as I wanted over the late winter and early spring, but the summer looks better, especially for Big Fat Books.
The Silkworm by Robert Galbraith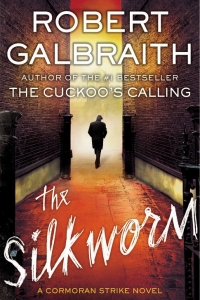 This is the followup to The Cuckoo's Calling, which was written by JK Rowling under the pseudonym Robert Galbraith. I succumbed to curiosity once the true authorship was revealed and really liked the lead characters, military vet Cormoran Strike and his assistant Robin Ellacott. The Silkworm is darker than TCC and full of acerbic commentary about the London publishing scene, which Rowling presumably knows very well indeed. Strike and Robin have a good relationship with a bit of sexual tension, but Robin is engaged and Strike is still not over his long, destructive relationship, so that stays well under the radar. Very few of the characters are sympathetic, but they're mostly pretty interesting.
The mystery itself is good but not great. I didn't guess whodunit, but I'm sure other readers did, and the way the killing was carried out kind of comes out of nowhere (there are partial hints but nothing that really points the reader to the answer). We are introduced to a half-brother of Strike's who seems like a good guy, as well as a couple more friends, which I liked because it gives me hope that he will develop a more rounded existence in the upcoming books. Robin continues to grow as a sidekick and a person, and while there was a plot twist with her boyfriend/fiance Matthew, it didn't go the obvious way (and I liked the way it went).
In her review at the Guardian, Val McDermid said that there was too much contextual detail, so that it was like a travelogue of London. That's true, but I think that for many readers that is a strength (just as it is a strength for Harry Potter readers). There's something about being able to picture the street, or the intersection, or even the pub, when you're far away, that is very appealing. Rowling has said she plans to write seven Strike mysteries, and I'm in for the long haul. Grade: B
AmazonBNKoboAREGoogle Play Store
---
The Cinderella Killer by Simon Brett
Simon Brett's Charles Paris mystery series has been a favorite of mine for many years. I thought it had ended last year (Brett seemed to bring Paris back for one last, somewhat depressing hurrah), but when this showed up last fall, I had to get it. Charles is a journeyman actor who ages across the dozen or so books from his 30s to late middle age. He is separated from his wife and doesn't see his grown daughter much, but he's a likable failure, in part because he's self-aware. And he's funny. Brett has written for radio and TV in the UK for decades and he is wonderful at affectionately skewering the theater world.
The story is set at Christmas time and Charles is playing a minor character (of course) in a Panto version of Cinderella. Brett lovingly describes the Pantomime traditions with his trademark dry wit, and the mystery itself is pretty good. I figured it out, but the unraveling of the mystery is pretty interesting, and the characters are very good. There's a terrific portrayal of two very experienced Pantomime Dames and how important they are to the enterprise. I learned a lot without feeling as if I were being directly educated (just as it should be).
I listened to the audiobook because Brett narrates his own story and I've always enjoyed the ones where he does. He is predictably good with the British characters, but there are several American characters as well, and those were much less successful. Not so much that it detracted severely from our enjoyment, but be warned, Americans, the accents and word usages will grate on occasion. In addition, Charles is a (mostly unsuccessful) hound dog, and there are a few annoying asides about women. But overall this is a fun return to the series. Grade: B
AmazonBNKoboAREGoogle Play Store
---
The Goblin Emperor by Katherine Addison
I broke down and read this because so many of my friends were raving about it (Janine's review for DA is here) and it made several SFF award shortlists, including the Hugo. I found it to be a warm, fluffy, blanket of a book. It was never particularly surprising; the good people stayed good, the villains were who you expected them to be, and the hero and his immediate circle were unfailingly decent, honorable, and admirable. Maia, the accidental emperor, was sweet and obviously sympathetic, but in some ways his characterization was too obvious. It felt like something I accepted as part of the story rather than something that reached out to me and gradually brought to me care deeply for his fate.
The writing is smooth and the world is immersive. There are airships and clockmakers and fantastical bridges, but they're just sort of there, and the relationships between people matter more than anything else. We have a parliamentary system out of early modern Britain and a court life in an AU Versailles. Yes, the elves are white and the goblins are black, but except for reactionary parts of the elven ruling class, no one seems to care that much. Of course it's bad for Maia that some of his closest family members are part of that that reactionary wing, but it's mostly the bad bits of the family, not the ones who turn out to be on his side.
There's no plot to speak of. Maia learns to be Emperor, to value himself (which is easier once the people who hate him are dispatched), and to gain in confidence. Given that hereditary rulers are the ultimate crapshoot, Maia is your dream candidate, because all the things that are wrong with him are fixable. His soul, which you can't engineer, is golden.
All this wonderfulness means that there's not much tension, but it's still a good read, for two reasons. First, the language and writing style are very high quality indeed. They are elegant without tipping into excessive lyricism, and there are some cracking passages, especially the party and dinner scenes in which the more worldly characters take center stage. In those sections we get all the complexity and verve, often through sparkling dialogue, that is absent in Maia's internal monologues and expository sequences. Second, the depiction of imperial, courtly politics is consistently insightful, in particular the monotony-punctuated-by-crisis regimen of even the highest government servants. Grade: B-
AmazonBNKoboAREGoogle Play Store
---
Stranded With the Tycoon by Sophie Pembroke
I read this book for April's TBR challenge, but I DNF'd it because I had such a visceral reaction to a plot plot three-quarters of the way through that I couldn't keep going. It was entirely a personal, idiosyncratic response and I didn't feel it was quite fair to the author to write up a big long rant because many people wouldn't have been nearly as bothered, and since I didn't finish the book I couldn't tell readers what the eventual outcome was. If you want to know what set me off, I talked about it here (spoilers ahoy). Now that a month has gone by I can appreciate the things I liked in the story more, and I would definitely read more by this author. I might even finish this one!
I used to read a lot of Harlequin sweet romances, and this book exemplifies many of the strengths of the line. The hero and heroine knew each other in the past, which makes the quick attraction in the story work a bit better, and I'm always a sucker for an academic character, especially when it's the heroine.
Lucinda (Luce) is a university lecturer who runs into an old acquaintance from college when she's attending a conference in Chester. The hotel has lost her reservation, but Ben is providentially standing by when it happens. This is providential because Ben's company owns the hotel, and he just happens to be booked into a suite with two bedrooms. He offers, she accepts, and they spend a chaste night together, and he gives Luce a lift to her home in Cardiff the next day. But a snowstorm requires them to divert to Ben's cozy cottage in the Brecon Beacons, and things progress from there.
Luce is academic, uptight, and the rock of her family. Ben is carefree, never spends two nights together with a woman, and does his hotel job well but it's just a job. Opposites attract indeed, but you can see why they do here. Pembroke's writing is smooth, she does the familiar with just enough individual touches to make it a good read, and I liked the Wales setting a lot. As I said, I'll be looking out for more of her books when I'm in the mood for a category on the sweet side. Grade: DNF.
AmazonBNKoboAREGoogle Play Store
I also read the first in Michael Nava's historical fiction trilogy, City of Palaces (you can read the review here), and the second in HelenKay Dimon's Corcoran Team series for Harlequin Intrigue, Ruthless (you can read the review here).