Reading List by Jennie for April, May and June
Read and reviewed: Last Night in Montreal, Lords for All Seasons, The Idiot (joint review with Sirius) and Uprooted
 The Children by David Halberstam
This was an informative and absorbing recounting of the early days of the civil rights movement as seen through the eyes of its youngest fighters. It follows such notable leaders as Diane Nash, Marion Barry, James Bevel and a number of others from the first attempts to integrate Nashville lunch counters through the Freedom Riders project and onto the voting rights drives in the Deep South that followed. It's a big, often harrowing story, very well told. I gave it a B+.
AmazonBNKoboAREGoogle Play Store
---
The Yellow Wallpaper by Charlotte Perkins Gilman
I first read this in high school, I think, but I recently came across it again and couldn't remember if I had read it. Once I started it (it's really quite short), I remembered it instantly. Hailed as a classic of feminist literature, The Yellow Wallpaper is also an incisive first person account at a woman's descent into madness. The narrator is largely confined to her bedroom by her well-meaning but stifling husband (it's implied she's being treated with the rest cure for "hysteria"). She begins to believe that there is something sinister living in the wallpaper that covers the room. A lot of heavy themes are touched on in this haunting story;  among them are Victorian repression, motherhood, sexuality and self-determination. My grade was a straight A.
AmazonBNKoboAREGoogle Play Store
---
 The Shameless Hour by Sarina Bowen
Reviewed by Kaetrin here. I thought this was a pretty well-done entry into the college/New Adult romance genre; I haven't read any of the other books in the series (I haven't read Bowen before at all, actually). I liked the pairing of the experienced heroine with the virgin beta hero, but was a bit perturbed that after setting Bella up as unashamed of her sexuality, the majority of the plot had to do with her being assaulted, abused and shamed for that very thing. Also, I did not think the wrongdoers' punishment was sufficient. I've read a couple of new adult books in the past couple of years where heroines are assaulted, and in all of them the women adamantly refuse to pursue legal remedies. I really, really get why this happens in real life, but it doesn't happen every time in real life, and I'd like to see a heroine who does choose to go the cops when she's assaulted. Again, in real life, I don't judge – there have been too many stories of women mistreated by the system, especially on college campuses, when they report a rape or assault. But it's gotten to the point where I judge women in fiction a little bit, and so the heroine of The Shameless Hour frustrated me at times. Still, my grade was a B+.
AmazonBNKoboAREGoogle Play Store
---
 Sizzling Sixteen by Janet Evanovich
Sigh. I can't believe I've read 15 (now 16) of these books. I really rather enjoyed the first maybe, half-dozen? Then I got into a rut that I can't seem to get out of where I start reading one (I had a bunch of them in paperback that a friend had sent me, and then I bought a bunch digitally when they were on sale ), and would wonder why I was reading it. They're so stupid. Every one is the same, it includes the same observations about any number of characters, and Stephanie never. learns. anything. At one point in this one Stephanie and Lula manage to lose their skip for the SECOND time by leaving him in the car by himself while getting fast food, and I just got so irritated I wanted to quit the book then and there. I get that it's supposed to be broad humor but I don't even think the books are funny. I also get that the things that irritate me are also probably the things that other readers like – everything is very familiar and nothing ever really changes. The weird thing for me is that always, at some point the story clicks for me and I get drawn into the comfort and the familiarity of the world Evanovich creates. It still irritates me, but it's the irritation you feel at someone you otherwise like, sort of a fond aggravation. I honestly can't say if I want Stephanie to change or not (though I could do without hearing everyone's backstory for the 17th time). I gave this a B-. I'll probably read the next one at some point.
AmazonBNKoboAREGoogle Play Store
---
The Good, the Bad and the Furry by Tom Cox
I've been a fan on social media for a while now of British author Tom Cox, who writes about his cats, rural life and other things (including golf, ugh). I first became aware of him through his @mysadcat Twitter account, which is all about his 19-year-old cat The Bear, who is (or rather looks) very forlorn pretty much all the time. Unfortunately, none of his books were published in the U.S. until The Good, the Bad and the Furry came out here recently. So of course I bought it. It's full of sweet, funny and incisive musings about the author's life, his parents (his dad is hysterical), home ownership, relationships, and yes, cats. I gave it a B+ and will definitely be keeping an eye out to see if his other books are published in the U.S. (yes, I know I could get them shipped, but I'm such a Kindle girl these days).
AmazonBNKoboAREGoogle Play Store
---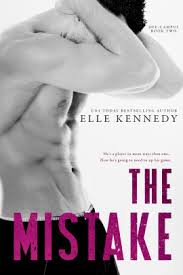 The Mistake by Elle Kennedy
Reviewed here. As with most of the college-set New Adult books I've read, this was very absorbing and readable. The thing that kept it from being a higher grade for me (I gave it a B) was that in spite of the fact that the virgin heroine was portrayed as being very sex-positive, not prudish and fairly comfortable/familiar with everything leading up to P-in-V intercourse, there were still a lot of subtle (and not-so-subtle) negative portrayals of "puck bunnies" and slutty college girls without self-respect who are used and discarded by the hero and his hockey-player friends. For all that I think they're usually better written and more complex than the average, say, HP Presents, a lot of these college-athlete-New-Adult books still seem pretty reductive in their gender roles. The heroes are usually athletes, hyper-masculine and promiscuous until the heroine comes along and redeems them. The heroine may or may not be virginal and innocent, but she is almost always contrasted with the other young women in the story – with the exception of past or future heroines – who often come off as trashy, catty and shallow. I'd love to see more natural depictions of college life and heroines with good female friendships, and if the female friends (or even the heroines themselves) go to a frat party or a club and wear something short and tight, I don't want it to be depicted in such a way that I feel I'm supposed to judge or pity her.
AmazonBNKoboAREGoogle Play Store
---
The Awakening by Kate Chopin
I think this was the story I was thinking of when I picked up The Yellow Wallpaper. I guess I'm on a classic feminist literature kick. Unlike The Yellow Wallpaper, I hadn't read The Awakening before. This one was a long short story, or perhaps novella length, set shortly before the turn of the 19th century. Edna Pontellier is a young wife and mother vacationing on Grand Isle, Louisiana with her Creole husband Leonce and their two sons. Edna is restless and discontented in her role, and forms an attachment to Robert Lebrun, a young single man who is also staying at Grand Isle. The story continues in New Orleans, where Edna lives with her family. Robert has left for Mexico, ostensibly to seek his fortune but really to stay away from Edna and their doomed relationship. Edna begins to kick off her traces, starting an affair with a lothario, but ultimately the stifling rules of society dictate that her attempts at freedom are doomed. I'll admit that I didn't always like Edna; her childlike selfishness didn't make her sympathetic. But I appreciated in a larger sense that she was never given a chance to make any choices for herself, and the story was haunting and evocatively told. My grade was a B+.
AmazonBNKoboAREGoogle Play Store
---
The Great Movies by Roger Ebert
I still miss Roger Ebert, who died in 2013. He and Gene Siskel were staples of my childhood, and his latter-day presence on Twitter, after he'd lost the ability to speak, was warm, smart and genuine. When I saw this book on sale I snapped it up, figuring that I'd love Ebert's writing as much as I loved Ebert. Well, yes and no. I've enjoyed the book, but it's a bit much to read 100 essays on movies that I haven't, for the most part, seen. Sometimes, Ebert's enthusiasm is infectious and I think "I have to see this film!"; at other times, it's a little bit like being trapped in a cocktail party conversation with someone who is raving about Prague, which I've never been to. Additionally, a lot of the movies Ebert writes about (maybe most of them) are pretty high-brow, which makes sense on a "greatest films of all time" list. Now, I tend to have fairly sophisticated tastes in cinema-going (my Easter 2010 sojourn to Hot Tub Time Machine notwithstanding), but reading essays about highly philosophical, metaphorical and esoteric Japanese films that I've never seen and will likely never see is not my idea of fun, exactly. That said, Ebert is a compelling writer and his humanity – what made him so relatable as a reviewer and critic – shines through. My grade is a straight B.
AmazonBNKoboAREGoogle Play Store
---
 Shards of Hope by Nalini Singh
Reviewed here. Eh. I don't know. My relationship with this series has stalled (or maybe it wasn't that strong to begin with?). The things I like about the books (the world is well-imagined, even if I can never quite visualize the PsyNet; the stories have a certain compelling quality that moves them forward) are the same in every book. The things I don't like are the same, as well: the animalistic changelings are the Good Race and the cold, intellectual Psy are the Bad Race. The only way the Psy can get better as a race or as individuals is to be more like the Changelings, who are presented as perfect, if not as individuals, at least as a society or societies. I don't care if these are cheesy books about leopards who shift into human form; the idea of a master race continues to give me the heebie-jeebies. Also, I get so sick of how "-est" each heroine and especially hero is.  The tortured character (usually the hero but sometimes the heroine) is the most tortured character ever. The heroes are all the most macho, the best at being a changeling or a Psy or whatever. The Psy heroes/heroines continue to not just be good at whatever their Psy talent is but the best, the most unusual and special Psy out there. The women are fierce, unless they are healers or empaths, and then they're the gooeiest and sweetest and most nurturing heroines EVAH. Even a heroine like the one in Shards of Hope, Zaira, who is honestly dangerously violent and unhinged (and who suffered, as a child, the most over-the-top mistreatment I may have ever read about), is ultimately portrayed as being in the right because she only beats people to death who deserve it. This ignores the fact that she almost attacks a changeling who (barely) flirted with her mate (he stops her), and almost beats to death a human who made her angry. I don't like the pro-vigilante message in the books or the simplistic black-and-white, good-vs.-evil conflict that's set up. Lip service is given to many of the characters (usually Psy) being morally ambiguous but the way they're portrayed it's more like they're tough on the outside but marshmallows on the inside. That said, I'll probably keep reading the series and ultimately my grade was a B-. At least they aren't boring.
AmazonBNKoboAREGoogle Play Store
---
 Younger by Suzanne Munshower
I got this through Amazon Kindle First program. I don't usually read suspense, but it sounded interesting enough and hey, a free book is a free book. It opens a bit confusingly, in the middle of the action; Anna Wallingham is preparing to flee her flat in London, when her boss Pierre Barton shows up, they have a brief, opaque conversation, and Pierre promptly falls ill and drops dead. The book then backtracks to several months earlier; Anna is a 57-year-old publicist in Los Angeles who abruptly gets fired from her one big client. Pierre Barton swoops in and offers Anna an opportunity to be a guinea pig for a product Barton Pharmaceuticals is producing: a line of facial products designed to take decades off of one's appearance. Anna is skeptical, but desperate for the money Pierre offers, so she goes for it. Again, I don't read much suspense, but I was a little disappointed at the lack of twists and turns in this one – with one exception, there were few surprises as to who the bad guys were. Anna spends a fair amount of time musing about society's treatment of older women and the value of being (or appearing) young. Some of these observations were trite, while others were actually pretty insightful. I ended up giving this a B; it would probably be a low B, closer to a B-, but it is fairly readable and decently written.