Beatriz Williams Twitter Chat and Giveaway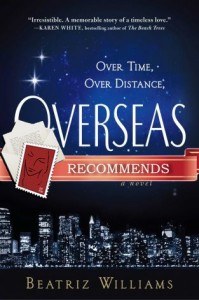 Tonight at 8:30 PM ET, I will be participating in a chat with Beatriz Williams and other readers regarding the book "Overseas".  This was organized by Elyssa Papa and Beatriz Williams is giving away a  "Kate and Julian" themed gift basket, with the contents hand-selected by the author to a random participant in the chat.  I'm going to giveaway a copy of the book on Twitter as well.
You don't have to have an account to follow along by loading this link in your web browser and I'll repost the chat (as best I can) using Storify and posting it here at Dear Author.  Hope you stop by.