Realistic Depictions of Rape in Romance by Rebecca Rogers Maher
Remember at the end of the year I said that Dear Author would really benefit from guest essays and guest voices?  Author Rebecca Rogers Maher  (http://rebeccarogersmaher.com/) wrote me with an essay regarding Realistic Depictions of Rape in Romace.  It's a great guest piece and I hope others will consider contributing to the community here.  Rogers Maher is the author of the Recovery Trilogy—I'll Become the Sea, Snowbound with a Stranger and Fault Lines. She is a Vassar graduate, a former community organizer and Brooklyn public school teacher, and a mother to two insanely sweet boys.
*****
A recent Dear Author post on slut-shaming generated a fascinating discussion about the internalization of rape culture in women's novels. In our books, do we blame the victim? Do we minimize the impact of rape and the complexity of recovery from it? Most importantly, do romance writers carry any special responsibility for representing sexual violence in a pro-survivor way?
I would argue that we do, and here's why. According to the Rape, Abuse & Incest National Network (RAINN), one out of six American women will be sexually assaulted in her lifetime. We all know that the real numbers are actually much worse. Many women blame themselves, fear retaliation from their perpetrators, or fear being blamed or dismissed by their loved ones or communities. So they don't report it and they don't discuss it.
They do, however, read romance novels. If one in six women (or more) has been sexually assaulted, and if our books reach hundreds of millions of women, then we can assume that many millions of our readers are survivors of rape, incest and sexual abuse.
In many ways, romance novels are the ideal place to consider the impacts of rape. Our stories deal directly with issues of love, trust, intimacy, connection and sexuality—the parts of our lives that are most affected by sexual violence. Romance novels have the privilege of treating these issues with the gravity and depth they deserve. Because we have the luxury of a happy ending, our characters can think and talk about their feelings, confront their problems, examine their own histories, struggle to make better choices, and heal from their wounds. The presence of detailed sex scenes gives us the opportunity to explore how a sexual abuse history can complicate sex and intimacy. Our stories can dramatize and interrogate sexual violence while at the same time contemplating what it takes to recover from it.
Much has been said about negative portrayals of rape in romance novels. The rapey heroes of our past have given way to more subtly damaging tropes, such as using rape as a shorthand to create false gravitas in our heroines' histories but failing to realistically explore the impact of sexual abuse on their emotional and sexual lives.
Reflecting on these mistakes does have value. We do need to talk about how we have represented rape in the past and look at the ways these representations might have supported, rather than fought against, a culture that blames the victim and minimizes the impact of sexual violence. But the next step is the more important one. What are we going to do moving forward?
What obligation do romance novels have, exactly, with regard to our depictions of rape? I'd like to contribute to that discussion by talking about a selection of books that portray rape and its consequences with sensitivity and—perhaps most importantly—accuracy. Looking at these exemplary books can help us determine what constitutes a nuanced, pro-survivor portrayal of sexual violence.
Hopeless, Colleen Hoover
Colleen Hoover's Hopeless deals with sexual abuse of a minor. Perhaps owing to the age of the abused girl, very little detail (thankfully) is offered about the attacks. What we do see is the little girl's terror of her bedroom doorknob. We feel her fear when the doorknob turns because we know what's coming, but we are not forced to queasily suffer through a rape scene that could in any way function as an additional sex scene. While this in itself is a welcome gift, the most striking aspect of Hopeless is that the rapist is not depicted as a sneering stranger. He commits an evil act, but he is a contributing member of society, a husband and father, and a person that the heroine loved. He is not an "other." He is one of us.
This is how it is in real life. Rapists are not caricatures. They are people we know: parents, babysitters, coaches, neighbors, siblings, and friends. It's important to get this right for two reasons. One, it's more factually accurate. Romance writers do all sorts of intensive research to get historical and cultural details right, and this issue should be no exception. Two, if we keep acting like rape only happens at the hands of evil villains, we perpetuate the idea that sexual violence committed by "normal" men is not actually rape. It is rape. It the most common form of rape, and our literature should reflect that.
Hopeless also pays detailed attention to the aftermath of sexual abuse. Sky's disassociation, for example, stems directly from her history and plays a central role in the plot and in our understanding of her character. Her rape history is not just tacked on to give the novel spice. Its reverberating consequences are integral to the story.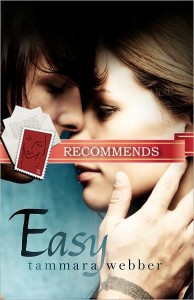 Easy, Tammara Webber
Tammara Webber's Easy does a similarly wonderful job of depicting a rapist who is a respected member of a community. Although Buck veers fairly sharply into sneering villain territory, he is an established friend and fraternity brother, and many of the story's supporting characters refuse to believe him capable of committing such a crime. Webber's examination of the community's willingness to blame, disbelieve and discredit the victim is painfully realistic. Allowing the heroine and her supportive friends to work through this backlash allows us, as readers, to look at some of the ways we might stand by each other and the reasons why we would want to do so.
Easy also places a welcome focus on the support of friends. Like the heroine in Hopeless, Jacqueline gets through her ordeal not just because of the hero's magical penis, but because she has friends who love and help her. This process takes place inside a genuinely moving and well-written story.
Broken Wing, Judith James
In many ways a callback to the sweeping, almost absurd melodrama of the romance stories we grew up with, Broken Wing offers a lengthy and thoughtful meditation on the burden of shame. After escaping a childhood of forced sexual labor in a brothel, the hero is beset by years of post-traumatic stress. His fits of violent self-loathing, his commitment to sabotaging his relationship with the heroine, the fact that he routinely cuts himself out of rage and despair—this is exactly what many sexual abuse survivors go through. But where the story really shines is in its depiction of the heroine's support. Sarah gives Gabriel exactly the kind of love a survivor would need to heal. She listens again and again as he tells his story, she doesn't judge him, she expresses outrage at what's been done to him, she's very direct and truthful, and she tells him how much he's worth.
Perhaps most importantly, Sarah doesn't have sex with Gabriel for almost a year, after hundreds of pages of the book. Why? Because she doesn't want him to feel that his only value to her is sexual. And because she knows that sex will be traumatic for him. She waits and waits and waits, until he's ready. I couldn't help but wonder if I'd ever seen the same degree of patience from a romance hero in love with a female sexual abuse survivor. Would we expect a man to wait like that?  Sarah does so, happily, and as a result, when they do make love, it's a healing experience for Gabriel rather than a traumatic one. To give sex back to an abuse survivor, to help him transform it from dirty, disassociated and shameful into something beautiful, something that forges a connection of love—that is really damn romantic.
The Shadow and the Star, Laura Kinsale
The Shadow and the Star also features a male rape survivor—Samuel, another forced childhood sex trade worker. Again, I wonder if the issues Samuel faces—as well as the cruel mistakes he makes—are somehow easier to stomach coming from a male character. I'm not convinced we would have the same degree of patience for a female character before we started to judge her or to feel she should get over it. Nevertheless, Samuel gets plenty of time to work through his most painful obstacle: the fact that he is an intensely sexual person who responds to his own feelings of desire with profound self-loathing. It is the job of sweet, steadfast Leda to show Samuel that it's okay for him to like sex, that it can be beautiful and pure between two adults that love each other.
Interestingly, as in Broken Wing, the love of the heroine in The Shadow and the Star turns out to be not quite enough. Both heroes require extensive adventuring, martial arts training and male companionship in order to recover from their trauma. They need personal journeys too, and the support of their male friends. No magical vaginas here either. Recovery is a process, and it takes more than the relationship between the hero and heroine to make it happen. Again, I do wonder if our female heroines are offered the same kinds of walkabout experiences in their recovery, or whether we over-rely on the magic touch of the hero to heal them.
Blue-Eyed Devil, Lisa Kleypas
In addition to being a brutally honest look at how a smart, strong woman can become a victim of domestic violence, Lisa Kleypas's Blue-Eyed Devil also touches on the issue of spousal rape. The story follows Haven Travis through a journey from self-blame to empowerment, and you know what gets her there? THERAPY. This is the final missing piece to our books about rape. In real life, no one man can fix what rape breaks. It is a pervasive, insidious, all-encompassing, devastating crime, and it takes a lot of work to recover from. Without getting too bogged down in details from Haven's counseling sessions, Blue-Eyed Devil addresses the value of working through trauma with a caring therapist. While a magical dick sure doesn't hurt, we really do need other resources to help us.
Additionally, Blue-Eyed Devil shows the ways rape impacts the heroine's sexual experience with the hero.  In the midst of lovemaking, the trauma comes back to her, and she and the hero have to deal with that. It doesn't disappear just because the hero is hot and touches her in exactly the right way. They have to talk about it and work through it. Details like these matter. They provide accuracy and power to the story. They make the book stronger while at the same time showing due respect to the true experience of abuse survivors.
The books discussed above take romance novels in the direction I believe we need to go. There is depth and value in stories about rape survivors. They are powerful and they are worth telling. With a focus on love and intimacy, and the possibility of a happy ending, romance novels are uniquely qualified to tell these stories. They also reach enormous numbers of women. When we talk about rape in our books, we have the opportunity to do so in a way that shows support for women—for the fullness and complexity of our experience—and that shows what the road to recovery from sexual assault really looks like. We can do this in the name of accuracy, and also as an act of sisterhood with our readers.