A Special Announcement for the Dear Author Community
As you know, Dear Author takes the business of serving readers very seriously. We know how much of a disconnect there is between what our readers say they want and much of what is being published today. And as excited as we've been at some of the self-publishing ventures of authors, we don't feel like it's enough to really challenge the status quo in Romance publishing.
So, over the past few months, Dear Author has been in negotiations with a major publisher to acquire books for a new imprint, one that will reflect the interests and priorities of the Dear Author community, and will push the envelope on what's currently being published in the genre.
And I am thrilled to announce that Dear Author is now in partnership with one of the industry's most successful publishers to create a new imprint: Dear Author Reads.
Updated: 
We've made our first acquisition from newcomer, debut, never been published before author M. Brooks. Check out the never seen before cover and the never released before excerpt!
"Do you love me?!" he screamed, then tore open his zipper. Gripping his massive member, he shouted, "When I was fucking you, I just wanted to punch my dick for being inside you!"

"No, Gideon," I sobbed. "I don't want it as much as I want you!"

His face contorted with rage, he squeezed. His giant shaft turned purple, like the lilies tattooed across my soul. Balling his fist, he punched the plum-shaped head.

His scream of agony dropped me to my knees.

"No!" I cried. "No!"

His raging fist punched his cock again, his broken cries echoing in my broken soul.
Updated x2: The submissions are coming in fast and furious.
Captain Jade Lawrence will be the first woman to land on Mars. She and her trusty crew have a mission. Discover if life on Mars is viable as Earth is dying. They think they're prepared for anything.

They're wrong.

S'chales is a warrior snake, known to defeat his enemies in one big swallow. Yeah. He swallows, not spits. He's called by the High Priestess to cleanse his soul . . . and find his true purpose. Shedding his skin is never going to be so hard, but it's worth it when he meets Jade.
Update x3: The proposals are pouring in from more never before heard from authors. This is for our erotic romance line:
Brock "the Rock" Dickson is a man who knows what he wants–and what he wants is SPEEDOS. No…wait…lost my train of thought…what he wants is Lindy Lane, the sweet librarian he rescues during an armed robbery at the local library. Now that he's saved her life, he demands something that SHE'S been saving: her virginity.

Lindy can't believe a man as well-endowed as Rock wants to make her a woman, but who is she to look a gift cock in the mouth? What results is a steamy ride with a former Marine who knows exactly how to shoot off a gun in bed.
Update x4: From submission in the comments to successful acquisition. Our speed to market cannot be beat.
Tattooed Dick by DH Clooney
A motorcycle-riding asshole duke in 1812…
            Frustrated by the endless balls that the ton hosts, Leo Gatsby, Duke of Dicaprio, heads out to Massachusetts, USA in the hopes of finding a woman who would love him and not his dukedom. In Concord, Leo discovers a world unseen –a world filled with motorcycles and tattoo parlors. There, he lusts and stalks after a virgin prostitute (a bit redundant, don't you think?) named Rose Dawson.
An innocent prostitute trapped in Massachusetts…
            All Rose wants is an escape from her life of prostitution (surprisingly her hymen is still intact). Unable to resist her attraction to the new duke in town, Rose gives in to her hussy ways when she discovers Leo has tattooed her name on his gorgeous, enormous, and twitching length of passion. Really, it's a wonder that she can stay conscious when she's in the same room as his dick.
Forever thwarted by a nontattooed twin brother…
            Yet trouble strikes in the shape of Michael Gatsby, Leo's identical twin brother. When Michael seduces Rose, Rose gives in willingly to his loving because she mistakenly believes that her seducer is Leo.  Apparently she forgot to give him a blowjob before letting him fuck her. Reason #69 why women should give blowjobs BEFORE hitting a home run.  When Leo finds out his brother's heinous treachery, will he forgive his innocent temptress (you guys can really tell I love oxymorons)? Read the exciting conclusion to answer this question: does Leo only HAVE a tattooed dick or IS he a tattooed dick?
Note from Author: If you read this book and think to yourself, "Gee, this sounds really familiar. I feel like I've read this before in a Leonardo diCaprio fanfic," this is what I have to say: YOU ARE WRONG. This story IS NOT from a fanfic and it is certainly NOT PLAGARIZED from LeoLover340. Get over yourself and focus on enjoying the story rather than destroying an amazing writer's career.
Excerpt:
 Leo smiled slowly and dickishly,"I have something to show you, doll."
 Rose gulped slowly and could only pant her head like a puppy in response.
 Slowly yet surely, Leo unzipped his jeans that he had bought on Bond Street in London. Rose gasped louder than every single romance heroine put together. Leo's…thing was beautiful. More beautiful and bigger than all those naked Greek statues (although Rose had never seen a naked Greek statue in her life). And it said ROSE on it! Did all things have names on them? Was that how a man could find his soulmate? Was Leo (strong, broken – author note: Leo's not actually broken but it's a law that I put the word somewhere in this book –, beautiful Leo) her soulmate?
 She batted her eyes at him. "What is that?"
 Leo laughed huskily and dickishly. "That, doll, is my dick. It's going to make you a woman when it breaks your hymen. In case you didn't know, your hymen is inside your vagina."
Rose stopped. That didn't sound right at all! "But Leo…are you sure? I read this blog called Smart Bitches and they say the hymen is external (http://smartbitchestrashybooks.com/blog/where-is-the-hymen)."
 Leo rolled his eyes dickishly (are you noticing a pattern?). "Doll, who are you going to believe? Me, the man who's going to make you into a woman, or some smart bitches?"
Buy the book to see who Rose is going to believe and to also read about some awesome motorcycle sex that may be impossible to accomplish in real life. 
Updated x5: Because no imprint today can be without two important elements: Cute animals and Wealthy men. Together in one PETA approved package, we present The Billionaire's Kittens. (This will also be a club but the authors haven't been informed yet. Part of the problem of speed to market. Sometimes things happen to improve on stories without the authors knowing but that's covered in the contract, page 256, subpart 5, fn 11)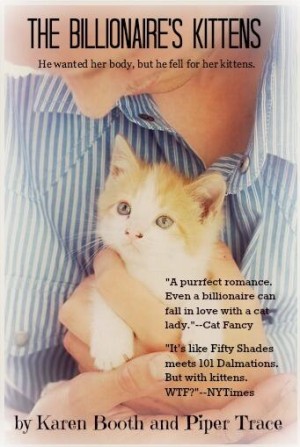 My writing partner for every faux book (or fauxbo's, as we like to call them) and every novel we've written over Twitter (or Tweetellas, as we like to call them) has been Karen Booth. Ms Booth and I have studied your publishing philosophy and business model and strongly believe that Dear Author Reads is uniquely qualified to publish our latest exciting collaboration, The Billionaire's Kittens.

If there are two things we've learned from the world of romance and the social media, it's that women love billionaires and women love kittens! …And BDSM. And, to a lesser degree, Disney cartoons. Because we also love billionaires and kittens, we proudly present for your consideration:

~~~~~~~~THE BILLIONAIRE'S KITTENS~~~~~~~~~

HIGH-CONCEPT

: "It's like 101 Dalmatians meets 50 Shades of Grey. But with kittens."

Katherine is kinky. She likes her sex often and rough. But she's got a dark secret, and because of that secret she's certain no one can love her, certainly not sinfully handsome, enigmatic billionaire, Baron Warbucks. Her dark secret? The only thing she loves more than her kink (and Baron) is her litter of one hundred and one kittens.

She's a crazy, kinky cat lady. Baron could never love her…or could he?

MEMORABLE MOMENT

: Katherine to Baron: "Do you want a regular, vanilla relationship with a lady with no cats at all?"

"I can't believe you said that." Baron's face bloomed pink with heat.

"Well I did. Answer me."

Baron looked down, biting his lip, then whispered, "I like your kinky cattery." 

RIDICULOUSLY SIMPLIFIED SYNOPSIS

: Billionaire Baron Warbucks walks into the heroine's apartment. She's worried: "This is it–he's not going to like me anymore! When he sees my one hundred and one kittens he's going to think I'm a crazy cat lady." All is lost.But barrel-chested Baron sees the kittens, yells, "KITTENS!!!" in a high-pitched voice, runs in and start rolling around with the litter, laughing and talking baby talk. Katherine has never seen anything sexier. Baron puts down the kittens, looks at his woman with that intense, smoldering look that only billionaires can give (there's a license involved, it's very expensive), and says, "I'm going to take you to the bedroom and make sweet love to you without mercy…as soon as we get all the cats off the bed."

Thank you for considering our novel for publication. If we hear from you right away with an acceptance and a hefty advance, we may also consider your house to publish our other two billionaire-plus-kitten books:

**This cat doesn't just walk across her owner's keyboard, she actually writes books on it!

"WRITTEN BY KITTEN: THE LIFE OF MY PROLIFIC PUSSY" Oh, and in this one, the cat's the billionaire, because, duh, she's a published author.

**A rogue band of billionaires prowl the streets on their motorcycles looking for their mates. They have a dark secret… They are kitten-shifters!  In "KITTIES' GOT CLAWS".

I've included a possible cover for our book, though before publication you'll probably want to take his shirt off and give the kitten a collar. A studded one, of course.

Thank you,

Piper Trace and Karen Booth, authors of romance and rock stars. And kittens.
And our first acquisition:
Through DAR, we will be acquiring books in all sub genres of Romance, including historical, paranormal, science fiction/fantasy, inspirational, romantic suspense, contemporary, new adult, young adult, erotic, m/m, etc. We will be looking for stories in both long and short format, and are hoping to put be able to put together some anthologies, as well. Each book will be labeled with the banner Dear Author Approved and will be released in both print and digital.
We realize that this complicates our reviewing platform significantly. At this point we are trying to determine whether we should simply shut down this part of our site and let the publisher take over operations, or whether we can continue to review books, as long as we avoid all DAR releases. One idea we have also been thinking about is developing a writer's forum that would could provide seeding for new book ideas and give the Dear Author readership the opportunity to share original work and receive feedback from other community members (sort of like the First Page feature, but in a forum environment). However, these are details that we will be working out over the next couple of months, and we welcome any suggestions as to how you think the site should proceed.
As we finalize the details of this innovative publishing partnership, we will be in the process of soliciting manuscripts. Although we are not currently allowing open submissions, we do encourage anyone who has a manuscript you believe would appeal to the Dear Author readership to contact us at [email protected] with a brief treatment of the story and an author bio statement. Please note that emails are not protected as confidential writing, and will be subject to posting and re-posting.
In the meantime, please enjoy the cover image for one of the first releases from Dear Author Reads!