2021 Covers: The Hot…and the Not
NOTE: Today DA commenter DiscoDollyDeb has a post for us on the sexy (and not-so-sexy) book covers of 2021. Enjoy! –Janine
Dear Readers,
When it comes to romance novel covers, I have opinions—mostly of the type that could be whittled down to "Bring on the shirtless cover models with the amazing abs and hairy chests and send the illustrated covers to the back of the room." Unfortunately, when Janine asked me to write a post about which 2021 covers worked for me and which covers didn't, she was anticipating something slightly more nuanced; so I trawled through some of the covers that caught my eye in 2021 and tried to distill what it was about each that made me either want to read the book or recoil from it. While I freely confess to liking covers with hot cover models—and I'm shallow enough to admit that I've read any number of books because the cover featured a member of my "alternate-universe reverse-harem" of cover models (Kindle Unlimited is a godsend)—covers that really call to me have to possess something beyond that. I like a cover that intrigues me, that has some element that makes me want to read the book and not just stare at the cover image.
So here are some covers that engaged me (or didn't) in 2021 and a few notes about why I selected that particular cover. Because my romance reading is almost exclusively contemporary (and almost always of the angsty and/or dark variety), all of the covers I chose are from contemporary romance with no rom-coms, fantasy, paranormal, or historical romance represented.

SAINT by Sierra Simone
Photographer: Stevan Reyes
Designer: Hang Le
Model: Zachary Ledrew
An amazingly expressive cover that, with nothing but a face, shadows & light, and a crucifix on a chain, conveys the incredible levels of angst, spiritual conflict, and erotic anguish contained in the book. A less-is-more image that perfectly reflects the contents of the book. My favorite cover (and, coincidentally, my favorite book) of 2021.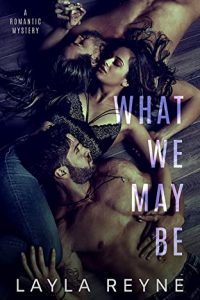 WHAT WE MAY BE by Layla Reyne
Cover Design: Cate Ashwood Designs
Cover Photography: Wander Aguiar Photography
The moody and evocative cover for this MMF romance avoids the cliched "woman standing up and being squeezed between two guys" menage cover. The fact that the models are reclining is the first thing that makes the cover unusual. The composition of the shot communicates a dynamic between three people who are comfortable with each other and obviously share a history. I also like the little detail of each of the woman's hands being caressed in different ways by each of the men.

WITH THIS RING by Natasha Knight
Cover: CoverLuv
Image: Wander Aguiar Photography
When I think of what constitutes a "smoking-hot cover," an image like this one comes to mind. The cover model is the whole package (he's not named in the book, but I think he's Andrew Biernatt), but—beyond the abs, the hairy chest, and the beard—the pensive-look-down pose communicates a sense of vulnerability that we don't usually see on dark romance covers where generally the gaze is direct and almost confrontational. Even if I was not a big Natasha Knight fan (which I am), this cover would make me want to at least download a sample to see what the book was about.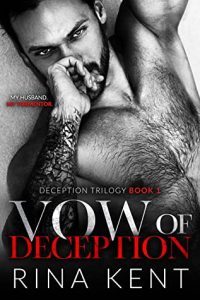 VOW OF DECEPTION by Rina Kent
(No cover information provided in the book)
What can I say? I obviously have a type. The cover of VOW OF DECEPTION is far more representative of what I think of as a "typical" dark romance cover than WITH THIS RING. The cover model stares directly into the camera (is it just me or is his arm in a position that suggests he's taking a selfie?), with an unapologetic look that says, yes, he knows he's hot and what are you going to do about it? That confident and direct stare is very much stock-in-trade for dark romance and it just grabs me.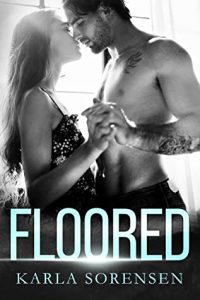 FLOORED by Karla Sorensen
Cover Design: Najla Qamber Design
Sometimes a cover image captures my interest and then I start seeing it everywhere. Such was the case with this couple who appeared in similar poses on a number of covers in 2020 and 2021. I've chosen three of those covers. On the cover of FLOORED, the backlighting and the sense of tender chemistry between the two people really shines through.

THE KISS by M. Robinson
Photographer: Regina Wamba
Same couple, close to the same photograph, but this image is a little crisper and cropped closer to the models' face than the one on FLOORED. With just those small adjustments, the image is sharpened. But with their foreheads touching, there's still a sense of tenderness and intimacy.

NOT WHAT I EXPECTED by Jewel E. Ann
Cover Design: Letitia Hasser, RBA Designs

The same cover models, now smiling. Smiling cover models are rare on romance novels where frowns or smolders are the order of the day, so it's nice to see a cover where the couple appear to be sharing a private joke, smiling and even laughing. Also, the heroine being in sharp focus and the hero being a little blurrier works perfectly for NOT WHAT I EXPECTED because the book straddles the line between women's fiction and romance and is told entirely from the heroine's point-of-view, so the hero does remain somewhat out-of-focus throughout the book.
HEAVY PETTING by Erin Nicholas

Cover Photo: Wander Aguiar
Cover Design: Najla Qamber, Qamber Designs
Another cover with smiling cover models. I like the closeness of the two models and the sense of trust and intimacy their pose communicates. Also, although he's not named in the book's acknowledgements, the male model is Zack Salaun, whom I long-ago dubbed "king of the soulful-sexy-scruffy-hot look" and who is the capo di tutti capi of my reverse-harem of cover models (he's also on the cover of Brenda Rothert's ANTON, the sine qua non of hot covers, imho).

THE OTHER SIDE OF UNHAPPY by Kailee Reese Samuels
(No cover information provided in the book)
Yes, the torso caught my eye—I love the shadows and light, the twist of the cover model's body, plus that hat!—but it was the rainbow colors on the word UNHAPPY that made me want to read the book. That one design choice takes this from a cover with a hot cover model to a cover that attracts readers beyond those looking for eye-candy.

THE DEVIL AND THE DEEP BLUE SEA by Amelia Wilde
(No cover information provided in the book)
This cover model is on a ton of covers (usually intertwined/passionately kissing a dark-haired woman—that must have been some photo shoot!), but this is one of the best uses of his chain-jewelry and tatted-up look. The green-blue background and sea colors, along with the gold text work in a similar way to the word UNHAPPY on the cover of THE OTHER SIDE OF UNHAPPY: taking a sexy cover to an interesting one.

OUT OF BOUNDS by Khardine Gray
(No cover information provided in the book)
I would describe this as a "typical DiscoDollyDeb cover" because—beyond the hot cover model (he's not named in the book's acknowledgements, but his name is Christoph and appears frequently on covers that accentuate his fathomless aqua-blue eyes), who apparently missed his waxing appointment—there's not much else to say about the cover.

HOT UNDER HIS COLLAR by Andie J. Christopher
(No cover info in front of book)
Even if, unlike me, you have no existential issue with illustrated covers, the cover for HOT UNDER HIS COLLAR is dreadful in every respect. First off, this is a priest romance and—possibly influenced by my youthful reading of THE THORN BIRDS—I'm there for a romance where, after an arduous fight against temptation, a priest betrays his vow of celibacy. But is there anything about this cover that says there's spiritual and sexual angst ahead? Secondly, the image itself is unpleasant—the blocky colors, the huge smirking priest, the woman's overly-short dress right in the priest's eye-line, the unequal sizes of male and female characters—all contribute to a feeling that nothing between these two is going to be particularly sexy or consensual.
By contrast, I only had to take one look at the cover of Sierra Simone's PRIEST (the ne plus ultra of priest romances—and priest-romance covers) and I was like, "Come to mama!" I knew there was going to be so much spiritual agonizing and hot sexy-times ahead. Nothing about the cover for HOT UNDER HIS COLLAR communicates anything like that. There are some subjects that just don't lend themselves to illustrated covers and a priest falling in love with parishioner is undoubtedly one of those.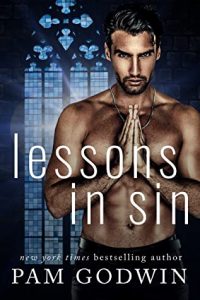 LESSONS IN SIN by Pam Godwin
Cover design: Book Beautiful
Photographer: Michelle Lancaster
Contrast the cover of LESSONS IN SIN to the cover of HOT UNDER HIS COLLAR. Both are priest romances, but you know you'll be getting exactly what's on the tin with LESSONS IN SIN, which is both a priest romance and a dark one (there's a D/s dynamic between the hero & heroine). We get the direct gaze of a dark romance cover along with praying hands and a church window in the background. While I didn't have quite the same level of visceral reaction to the cover LESSONS IN SIN as I did to the cover of PRIEST, this is certainly a huge improvement over HOT UNDER HIS COLLAR.

TAGGART FAMILY VALUES Lexi Blake
(No cover info in the front of the book)
OK, here it is—the most what-the-fuck cover of 2021. (Does anyone else "of a certain age" think it looks like an old T.V. Guide cover?) This cutesy illustration might actually work on a collection of humorous vignettes about trying to keep the romance alive when you're raising five kids—and I'm sure people unfamiliar with Lexi Blake's long-running Masters & Mercenaries series would think that's exactly what they'd be getting with this book. However, that is so not the case. Instead, TAGGART FAMILY VALUES is a collection of romantic-suspense short stories full of espionage, bad guys, fire-power, and—oh yeah—intense bdsm sex. In fact, if you take a peek inside the book (go ahead, I'll wait), you'll see the first story takes place in a bdsm club and starts with the dom hero considering spending the night with not one but two subs! I can just imagine the reaction of someone buying this book thinking it's going to be an amusing take on modern family life and then reading a scene featuring handcuffs and floggers! Talk about false advertising.
Take care,
DiscoDollyDeb