An Interview with Sharon Shinn
If there's one author that Jane, Jayne and I have all enjoyed reading, it's Sharon Shinn. So when I floated the idea of interviewing her, it was met with great enthusiasm and it quickly grew into Sharon Shinn week here at Dear Author. Of course, the whole thing hinged on the author herself agreeing to be interviewed. Luckily for us, Sharon Shinn said she would be delighted to do the interview. So we sat down togeth– well, no, not really. We sat down at our computers to send the questions and answers back and forth. The result was this interview, here for your enjoyment. — Janine

Tell us a little bit about how you got started writing and how you came to be published.
I wanted to be a writer from the time I was about 8 years old. I wrote my first novel the summer I was 20 and working at a pretty slow-paced government job. Every time one of my co-workers asked me what I was doing, I said I was writing a letter. All summer! But that book was unreadable, and the next few were unpublishable. I finally started hitting my groove in my early 30s.
Still took a while to get anything published. I sent out a few unsolicited manuscripts–one of them languished for two years in the slush pile before it got rejected. Finally found an agent, and it was still three more years of sporadic rejections before my first book sold. But since then, the sales have been pretty steady. So I always tell people I'm the poster child for perseverance.
Which books and authors are your personal favorites? Which books do you feel have influenced your own writing?
Georgette Heyer was my first major influence. I still know a few scenes in her books by heart, and I can tell when newer Regency romance writers quote one of her lines. In the sf/fantasy field, the authors I loved before I started writing were Anne McCaffrey, Patricia McKillip, Robin McKinley (lot of Mc-authors), and Peter Beagle. More recently, I've discovered Juliet Marillier in the fantasy field, and a few in the romance field: Suzanne Brockmann, Jennifer Crusie, and Susan Elizabeth Phillips.
All three of us who write for Dear Author are avid romance readers, and we've all enjoyed your books and think that many of them would appeal to readers of that genre, so I want to ask you a few questions about the romantic aspect of your books.
Several of your books have a strong romantic thread or storyline. What is it that inclines you to write about romantic love?
You know, I write the kinds of books I like to read. I read fairly widely, but I always enjoy a book more if a love story is part of it. So while I try to layer on a lot of the fantastical elements of sf/f, and I certainly hope to provide a compelling plot, I usually think the love story is the core of the book. To enjoy the romance again is why I tend to re-read the books I bother to re-read, and the romance is often the part that's the most fun to write.
Your main characters have depth and are likable despite or perhaps because of having human flaws. What does the process of creating such seemingly real and at the same time sympathetic characters involve?
Well, perfect people are both boring and unbelievable! But it's hard to explain how I create my characters. I guess the answer is, I think about them a long time before I try to put them on paper. I imagine how they're going to behave in certain situations. I also try to conjure up situations that will show them at their best (or their worst).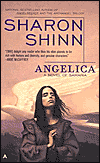 One of my favorite scenes of character development takes place in Angelica when Susannah is essentially having a sleepover with Gaaron's sister, Miriam, and Miriam's friends. To this point, Susannah has found Gaaron rather remote and dispassionate, and she doesn't think she'll ever be able to love him. But Miriam tells a story about how Gaaron protected her from their abusive father when she was growing up, and Susannah gets a sudden deep insight into his character. He's not even in the scene, and yet it has a profound effect on the way she sees him.
Do you feel there are special challenges that go along with writing about two people falling in love? If so, what are they?
I'm not sure if, in general, there are challenges that go into writing about people falling in love, but my tendency has been to throw as many obstacles in their way as possible so that they certainly face challenges! I've divided my lovers by race, culture, class, religion, marital status, and distance. I think such clashes give an author a lot of room to explore–the characters are forced to examine what matters to them, what really isn't important, and what they're willing to give up.
Do you find it difficult to balance the romantic element of your writing with the fantasy or science fiction aspects, or do the two grow together organically when you write?
The settings you create are wonderfully detailed yet accessible. Many have a fairy tale quality, but feel real at the same time. What goes into creating these worlds?
I?ll answer these two questions together since they both address the way I come up with a story. For me, all three elements–story, character, and world–tend to unfold together organically. The one will influence the other. I'm currently mulling over a story I might write in the future. I want to put the heroine in a situation where she has to rescue the hero. Deciding how to put the hero in danger helped me come up with a piece of the world-building puzzle that had eluded me. That tends to be how my whole story-telling process goes, with one building block at a time. Maybe it's a bit like a Rubik's cube–each twist of each section changes the overall look of the creation.
Of course, to some extent that's only true when I'm writing the first book of a series. Once the world is built, I'm pretty much stuck with the terrain I've already mapped out! Then the trick is to move new characters through the landscape in a way that also illuminates their personalities.
Back to the question about intertwining the love story with the fantasy elements: I try really hard to make both of my lead characters essential to the plot. For instance, both Gabriel and Rachel have to be present to sing on the Plain of Sharon or the whole mountain comes down. I don't like the idea of just having a "love interest" in the book. I either want the romance to drive the plot or the plot to make difficulties for the romance, and I want both characters to be necessary to the story overall.
Your books generally have happy endings, even though the genres you write in don't require them. What is it that draws you to write books that end happily?
Because the world is an unhappy enough place as it is! If I had a chance to dispense happiness in the real world, I would certainly do it. I have that power in fiction.
You have written novellas for the anthologies To Weave a Web of Magic and The Queen in Winter, which included novellas that blend romance and fantasy from both fantasy authors and romance authors. How did these projects come about? Have more romance readers found you as a result?
Those anthologies were put together by my publishing house specifically to generate some crossover readership between romance and fantasy readers. I was delighted to be included, because I did expect to pick up romance readers who hadn't come across my work before. I'm assuming I have, but it's hard to know for sure.
Judging by the number of reviews on Amazon, Archangel seems to have received a tremendous response from readers. You went on to write four more books and one novella set on the world of Samaria. What was it that interested you in writing about genetically engineered angels?
People frequently ask me how I got the idea to write Archangel, and the truth is, I can't remember. I think it was a mishmash of images–I was coming up with the storyline in the early 1990s, when there was a sudden intense interest in angels. I'd also seen some images of a city built in the middle of a river, and I thought, "Only angels could fly to that." Just a combination of thoughts and ideas that gradually coalesced.
In the Samaria books, you describe the angels' singing beautifully. Did you research music for these books, or do you have some musical training yourself?
I have a little musical training, but it's pretty informal. I took about eight years of piano lessons, and I was in school and community choirs most of my life (except recently). While I was writing Archangel, I was in a choir that was rehearsing Mendelssohn's "Elijah," and you can clearly see how that experience colored the book!
In my family, many of us like to sing and play instruments. My mom is a talented musician, and two of my cousins have divine voices. Whenever we're together, especially at Christmas, singing is a big part of the day. So any scene that describes two or three voices blending in harmony can probably be traced to a family rendition of "Silent Night."
In Jovah's Angel, you matched an angel heroine with an atheist hero, and in Wrapt in Crystal you wrote about a hero who had lost his faith following personal tragedy. These two books examined questions about different kinds of beliefs, and about the nature of faith. How have your readers responded to your exploration of these topics?
If you'd asked me fifteen years ago what one of my enduring themes would be, I wouldn't have said, "Religion," but it sure does seem to crop up in my novels a lot. I think I write about faith because it's so complex, and it can be so powerful, and yet the forces that rule the universe are so mysterious. There's endless variation there–and a character's relationship to his gods is one of the most interesting relationships in fiction.
Many of my readers do respond to the religious elements, and they all interpret the books differently. I've heard from devout practitioners and lapsed believers, who both say I have captured exactly how they feel; I've gotten letters from priests, Mormons, Jews, Catholics, pagans, and atheists. One young woman sent me the paper she wrote for one of her classes, tracing the theme of religion throughout the first three Samaria books. Clearly, it has struck a chord with some readers. But then, the topic of religion tends to evoke strong reactions wherever it's brought up. :-)
Heart of Gold was published almost a year and a half before September 11th, 2001, but it touches on issues we've all become familiar with in the past five years, including terrorism and cultural differences. Did you expect the book to become so relevant when you wrote it? Have readers' reactions to it changed as the world we live in has changed?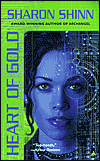 I think terrorism and cultural differences have been with us forever. I would hope terrorism will not be with us forever, but I believe cultural issues will be. It does seem that the book is even more relevant now than it was when I wrote it, but I don't know that readers' reactions have changed. But if it makes anyone stop and think for a minute, that would be a good thing in my mind.
Although many of your books have touched on oppression or prejudice in various forms in the past, it seems to me that more recently, in Angel-Seeker and the Twelve Houses series, your characters have been spending a greater part of the story in danger of being discovered and persecuted for being who they are or for loving those whom they love. Do you feel that you are taking your books for adults in a darker direction?
There's probably some darkness at the heart of all my books. (Bryan, the cruel prince in Summers at Castle Auburn, is a prime example.) To some extent, that's because there needs to be a source of conflict to drive the plot! To some extent, that's because the world is full of scary things and scary people, and fiction would be pretty irresponsible not to acknowledge that. But the great thing about fiction is that you can usually score victories for tolerance, compassion, and freedom, which you can't always do in the real world.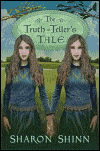 You have also written four fantasy books for young adults: Summers at Castle Auburn and a three book series, The Safe-Keeper's Secret, The Truth-Teller's Tale, and The Dream-Maker's Magic. How is the experience of writing for younger people different from writing for adults?
Some writers say there's no difference at all. For me, I'm conscious of a few things: One, the books are generally much shorter, so I have to write more tightly and get to the point more quickly. That's a challenge, but it's really good for me; I think it's made my other writing sharper overall.
Two, the readers are younger, and so are the protagonists, so I've tended to tone down the happily-ever-after stuff. The books set in the Safekeeper world also feature romances, but the heroines are 16 or 17 by the end of the book. I've been a bit cautious about how I've ended those books–you believe the main characters will be together, but for the most part they aren't getting married right away and setting up household. I want them to realize that they still have some growing up to do.
The other thing I've tried to be careful about is how I've treated key issues. In Safekeeper, for instance, a village woman comes to Fiona and asks for some herbs to use as a contraceptive. I could have had her come to Fiona and ask for help getting rid of a baby once she was already pregnant, but I chose the birth control route instead. I'm not saying abortion shouldn't be covered in a YA book, but I didn't want to deal with such an important issue in what was essentially a throwaway scene.
I'd like to talk a bit more about your series. In what order do you recommend to readers that the books in the Samaria series be read?
I think the series probably makes the most sense read as I wrote it: Archangel, Jovah's Angel, Alleluia Files, Angelica, and Angel-Seeker. I've seen a few online forums where people say they've read the books in chronological order (Angelica, Archangel, Angel-Seeker, Jovah's Angel, Alleluia Files) and they prefer that. I'd think it would be tough to start with anything but Archangel, though. Maybe read that one first, and then skip around as you like. I intended each of them to be standalone books, but I think they probably all make more sense if Archangel is read first.
Will there be any more books about the angels and mortals on Samaria? Is there a chance we will see Hagar and Uriel's story someday, perhaps?
This is the question I get asked more often than any other! My standard answer is: I have no plans to write more angel books, but you never know.
The Dream-Maker's Magic, the most recent book in the series that began with The Safe-Keeper?s Secret, was published this past May. What is the book about?
This book follows a young girl whose mother has raised her as a boy, and her friendship with a young man who has limited use of his legs. It starts out with some pretty dark scenes — abuse, intolerance, casual cruelty — but what lights the whole book is the way friendship and individual acts of kindness can bring wonder to any life. Like the first two books in the series, it touches on themes of identity, the interplay of truth and falsehood, and how to recognize which dreams are worth wishing for.
Will there be any more books set in that kingdom, or is The Dream-Maker's Magic the last one?
I don't have plans for more books in this series, either–I like the balance of the three stories as they are. But, again, you never know. I wrote a short story set in that world ("Wintermoon Wish"), which appeared in the YA anthology Firebirds Rising. I really enjoyed a chance to go back to the world for a brief visit.
Turning to the Twelve Houses series, Mystic and Rider, the first book in that series, was published in mass market size this past March, while the second book in the same series, The Thirteenth House, came out in hardcover the same month. Can you give our readers some background on the Twelve Houses series and the kingdom of Gillengaria?
The Twelve Houses books were designed to be classic sword and sorcery novels — set in a semi-medieval world where the forces of good and evil clash in the middle of an imperiled kingdom. My real goal was to create vivid characters that I could follow over the course of several books, allowing one or two to come to center stage in each successive book. One of the things people complain about with the angel books is that I don't follow Gabriel and Rachel much past their initial story. So I wanted to create a group of people that I could stick with for a long time — and that readers would enjoy seeing again every time they showed up.
Dark Moon Defender, the third book in the Twelve Houses series, just came out October 3rd, and I've been looking forward to Justin's story. Please tell us about the book.
Oh, I love this book. Justin is sent off to Neft, the little town close to the Lumanen Convent, to spy on the religious fanatic Coralinda Gisseltess and see if she's really hunting down and killing mystics. He falls in love with a novice from the convent–which is bad enough–but Ellynor is also from the Lirrenlands. In the Lirrens, women aren't allowed to marry outside the clans; if a woman tries to elope with an outsider, her father or brother will duel that man to the death. Meanwhile, Ellynor has certain healing powers that are causing people to view her as a mystic–and a mystic in the middle of Lumanen Convent has a very short life expectancy. So dangers abound.
I loved writing about Justin. He's very much an "alpha male," to use romance terminology, and he has absolutely no sense of introspection. He has been surprised enough by friendship that he clearly has no idea what to do with love, but he's also stubborn enough and confident enough that once he finds love, he's not willing to surrender it without a fight. It was just delightful to help him figure out what was happening to him and what to do about it.
This book also contains some of my favorite Tayse-and-Senneth scenes, and the bickering relationship between Kirra and Justin also evolves a little. (I just love all scenes with Kirra and Justin, particularly in Thirteenth House and Dark Moon Defender.) I also had a chance to show off more of Cammon's extraordinary powers, which will come to the forefront in the fourth book. All in all, this was way fun to write.
After Dark Moon Defender, what else can we expect in the Twelve Houses series?
Next up [tentatively scheduled for publication in the fall of 2007] is the book currently titled Reader and Raelynx (though that title may change). It follows Cammon when he's invited to the royal palace at Ghosenhall to help the king appraise suitors to Princess Amalie's hand. The theory is that Cammon will be able to tell if the young lords are sincere when they come wooing. Cammon, however, begins to fall in love with the princess himself…
Meanwhile, readers will learn more about the mysterious Queen Valri, and war finally comes to Gillengaria. And, as you'd guess from the title, the magical beast first introduced in Mystic and Rider makes a memorable re-appearance. Most of the loose ends of the first two books are wrapped up (I hope).
I'm contemplating a fifth book in the series, one that follows a character introduced in Reader and Raelynx. She's one of the Riders, and she's always nursed a crush on Justin. She makes a key mistake in R&R, so she feels the need to atone–and the fifth book would be about her journey.
What other book or books do you think we might see from you in the future?
I've finished another YA book that ought to come out in fall 2007. This one, also a fantasy book, takes place in a world that's roughly equivalent to the 19th century era when Britain ruled the world. A young girl travels to a fabulous and unfamiliar place that has just been invaded by the armies of her home country; her father is the general leading the troops, and her fiance is the second in command. But the longer she lives there, and the more she comes to care about the country, the more uneasy she is made by the realities of imperialism. Clearly this is another book with topical themes! Sometimes I can't help myself.
Meanwhile, I've talked to my editor about putting out a book that contains four novellas, each set in a different one of my worlds. (Most likely these would be set in the worlds first introduced in Archangel, Mystic and Rider, Heart of Gold, and Summers at Castle Auburn.) She seemed interested in the idea, but we haven't made any firm plans yet.
I have read that you have some finished books that were never published. Have you considered e-publishing them?
As a matter of fact, I have. But they'd all need extensive rewriting before I would want to release them to the public, and at the moment I'm more interested in working on new books than editing old books. Maybe someday.
We have a lot of ebook readers who visit our site, so this question is on their behalf. Why are only some of your books available in ebook format?
I have no idea! Until recently, I wasn't even aware that some were available as ebooks! But I think it's great. I believe more and more readers, especially younger ones, will start using ebook technology to access books, and I would love to have all my books in their hands.
Myself, I'm still a traditionalist–I love to hold a book, and fold down the corners of the pages where I find a line I particularly like, and leave it lying around the house along with all the other books I'm in the middle of. I spend way too much time staring at a computer screen as it is. Give me ink and paper when I'm trying to relax.
Is there a possibility that you'll write a book in the romance genre someday?
Something else I've toyed with. In fact, a few years ago, I experimented with writing one, but even I could tell it wasn't working. Maybe now that I've spent some time reading more contemporary romance, I could try it again. But it's not high on my list at the moment.
Do you have a personal favorite among your own books and stories?
At the moment, my favorite is Dark Moon Defender. This tends to change. The Shape-Changer's Wife and the three YA [Safe-Keeper series] books are the ones I think are closest to perfect–fewest flaws, closest to my original vision. I love the rich, Victorian language in Jenna Starborn. Of the Samaria books, my favorite is Angel-Seeker. Two of my very favorite books are among my unpublished manuscripts–but, really, I love them all.