Monday News: B&N Nook Rumors; Amazon closing accounts of serial returners; friends on the internet
New Product Listings on B&N Website Hint at New Nook Models Coming This Fall – Another of Nate's readers has alerted to him to some tablet accessories found on the Barnes & Noble site which suggest a refresh of the Nook devices. This might give readers who are on the fence about purchasing the much discounted Nook Tablets some incentive to buy now.
My source also told me that there are a number of other product pages already in B&N's system that mention accessories for the SW and AV. He thinks that the new devices will be called the Nook SW and Nook AV. He could be right but at this point there's not enough info to say for sure. The Digital Reader
Kindle Owners Beware: Amazon is Now Closing Accounts of Bad Customers in Germany – There are a number of authors upset with the ease of the digital book return. I've seen this phenomenon in self published authors because digital books are likely returned at a higher rate than print and because sales information and thus returns, are accessible daily. One reviewer on goodreads has a "read and return" shelf with hundreds of titles. An author emailed me about this. I suggested that perhaps that the label had a different meaning than the one that seemed most obvious to the author.
The reason that I believed this is because there have been more than one report of Amazon shutting down a customer's account due to excessive returns. Nate, the Digital Reader, notes that some accounts in Germany are being shut down for being "serial returners. The Digital Reader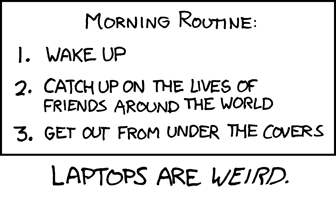 On Internet Friends and In-Person Friends, Or As They Are More Commonly Known, "Friends" – This essay by Becky Chambers at The Mary Sue highlights the benefits of the internet friend and the drawbacks. We are in regular contact with our internet friends brought together by a common interest but our contact is primarily cerebral, limited by our ability to express ourselves in words (and sometimes GIFs).
I've read many things discussing — usually with concern — how the internet is changing the way we socialize. There's this perception that the internet is making us lonelier, or cheapening our friendships. I don't think we have to worry about that. People who want face time are always going to seek it out, and those who have difficulty making friends in the real world can have an easier time of it online. As for me, I reside somewhere in the middle. I'm always grateful for the opportunity to avoid empty chitchat, as it affords me more time to talk about spaceships. I equally love being able to see someone's face when they laugh, or to explore a new place with a companion. The value of our friendships isn't changing; the way we conduct them is expanding. I don't know where that will lead us, but given the new people and ideas I've encountered as a result, I'm all for it. And if nothing else, I'll be in good company. The Mary Sue