CONVERSATION: Time Travel Questions
Sirius had some questions for us—and you—about time travel stories. This discussion will run in two parts, with today's focusing on the questions below and Monday's reserved for discussing Outlander and for our book recommendations. -Janine
Sirius:
So this is one of my favorite topics in SFF. I have been a fan of time travel in books and movies since I started reading science fiction as a kid but the first story that I remember where time travel is a very significant plot device was a Soviet movie called "Guest from the Future". It was based on the book
Girl from the Future
by Kir Bulychev, but this was one of the rare occasions when I found the movie to be much better than the book (maybe because I watched the movie first). I think it became a cult kid movie of the sorts (it is
available on YouTube
and even with English subtitles if anybody is interested :). But enough with me talking here are the questions:
1. Do you enjoy time travel as a trope in a book? If you do, when do you consider such a plot twist successfully executed?
2. There are usually several different means of time travel in the books. The character may get into another time by accidentally or deliberately walking into the place which is a connection between our time and the other time, the character may use some time travel device, the character may be forced to time travel by another character. Do you have a favorite one? If you do, which one and why do you prefer it?
3. Do you actually care if the time travel consequences make sense? I am talking about the idea that many authors use and some don't that the time traveler may influence the events of their present time by appearing in the past. I am not even talking about radical influences (killing Hitler kind of thing), but simply suggesting to somebody that doing something is not a good idea).

Do you Enjoy Reading about Time Travel?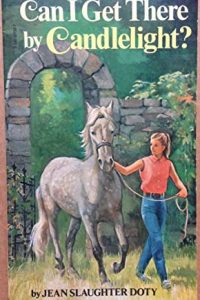 Layla: I do like time travel in general, in both sci-fi and in romance. I don't think there are many great romance books in romance that employ time travel (at least I haven't read any), although I wish there were more. My favorite is when a 20th or 21st century woman goes back in time to medieval or regency England. I haven't read any that go back to the Victorian era, or Georgian or Edwardian.
Janine: I do enjoy time travel in books and movies. As with all tropes it depends on execution and sometimes I like it better than others.
Since you mention your early experiences with time travel, Sirius—one of my earliest was a book called Can I Get There by Candlelight? by Jean Slaughter Doty. It was sold out of a Scholastic catalog at school, does anyone remember those?
Jayne: Yes, I remember Scholastic books! I used to love to peruse the catalog in school.
Janine: Can I Get There by Candlelight? was about a girl with a horse named Candlelight who took her to an earlier time (19th century, I'd guess) where she met another girl. The ending was bittersweet but the way she discovered time travel felt magical (in the figurative sense). I remember being entranced and I read the book more than once.
Kaetrin: I love time travel books but I think I'm finicky about them. I do look for internal consistency.

Successful Execution


Jayne: Going back and reading one of my TT reviews I found I'd written this which encapsulates my view on them – "When I read time travel books, I'm always crossing my fingers; will it make sense and play by its own rules or will the edifice end up collapsing by the close of the story?"
I remember when I got back into reading romances in the late 90s and early 2000s, TT was a fairly popular part of the SFF subgenre. At first, it was interesting to me and I read quite a few – though I'd struggle to remember titles now. At this honeymoon stage, I didn't really notice how well the TT was done but later I became more discerning especially if the time difference was in the hundreds or thousands of years. If the author didn't include reasons why no one would notice the out-of-time time traveler (if the character was supposed to blend in) then it started to irritate me. I'd be thinking "why does no one notice this 20th C person's strange speech in 16th C England or this 12th C person's gobsmacked reaction to modern tech?" If the TT character wasn't supposed to blend, I worried they'd end up in a mental asylum or arrested.
Janine: That's a great point, Jayne, about how the time travelers are treated by the characters in the other time period. I don't think anyone from the present could successfully impersonate someone from 1800 or the Middle Ages, but I want some nod to the fact that they have to think about how to pull it off and make an effort.
For me successful execution depends on multiple factors. Is the way the main character feels about the period they've traveled to believable? Does it take them time to adjust? Do they miss the comforts and technologies of the 21st century in the past, or see our twenty-first century society and technologies as primitive if they are from the future? Do they miss their relatives and friends back home? Is the time travel utilized in the plotting in ways that are interesting and fresh? Are there surprising obstacles in the character's path how does the fact that they are from the future or the past play into overcoming those obstacles?
Sirius: I consider time travel itself to be well executed when the writer actually does not give us too many details about it.
Jayne: I agree with Sirius about the depth of detail in books regarding time travel. Deliberately vague is fine for me. What irritates me is when the author starts with detailed descriptions and rules and then later hand waves away their own rules.

Means of Time Travel

Janine: I don't know if I have a favorite means of time travel, it all depends on execution, but accidental time travel and being forced to time travel are both more interesting to me than using a device on purpose because they suggest some kind of conflict. It's more important to me that it be surprising and compelling than what it is, though.
Sirius: I think time travel machine built by future scientists is one of my favorite means to time travel. I don't know why but somehow it always *legitimizes * time travel in my head or so to speak. If device can be built so there is a justification for it to work (never mind that such justification is completely made up).
Janine: I like it when the means of time travel is one I would never expect. To give an example of something similar, when Lucy travels to Narnia through a wardrobe, you don't expect that. She is hiding so she heads toward the back of the wardrobe through the coats in the dark and then the coats slowly give way to trees and snow. That's not time travel, but that's the kind of thing I mean. In "Dr. Who", the TARDIS can look like a phone booth on the outside and is a lot bigger than that on the inside. That was also surprising when I first saw it.
Quite possibly my favorite execution of time travel is in Audrey Niffenegger's literary SF novel The Time Traveler's Wife. The method of time travel was really fresh and different. Henry travels through time involuntarily because he has a health condition that displaces him in time. He can usually only travel to time periods within his own lifetime, and he never travels to a time that is more than forty-three years past his birthdate, so you as the reader don't know if that means that he will be cured in the future or if it means that he will die. The event Henry travels to most often is the scene of his mother's death, a car accident that took place when he was a little boy (and a passenger in the same car). He arrives there as a child, a teenager, an adult, even though he doesn't want to.
When Henry time travels, he always arrives naked and has to steal clothes and money or get someone to give them to him and to survive in the cold and escape being arrested for his nudity in public. Through reading that book I realized how much I like it when time travel presents real difficulties for the traveler and when it haunts the reader.
Sirius: In that movie I mentioned, "Guest from the Future" (and the series of kids' books by Soviet writer Kir Bulychev), the main character is a girl from the future something like a hundred years ahead from the 1970s-1980s. She often gets to travel to the past for whatever various reasons (in time travel machine). In the movie though before Alisa ends up in "our time" the boy from "our time" ends up in the future. Why you say? His mom sends him on an errand. On the way he runs in the school mate who is observing a strange woman always disappearing into the old building. Of course the twelve-year-old boys have to investigate the mystery and it turns out that the woman is a time traveler who avoids them just in time to go back to her future. Our hero though sees a machine which could not / would not / didn't have to be properly secured and goes to check it out because of course he would! And then all the mayhem and adventures both in past and present to follow.
I guess the time travel in this made so much sense to me because I just didn't see how a twelve-year-old boy would be able to avoid a temptation.
Layla: I don't care if the time travel makes sense, and I prefer it when the time travel happens accidentally. What I enjoy most is the fish out of water element like I said earlier–I like when a modern heroine has to navigate in a space that is unfamiliar. I think there is lots of room for humour and comedy and also that there is a fantastical element–dressing in beautiful clothes, being an aristocrat, and most of all, meeting or falling in love with a handsome chivalrous guy. There is an element of chivalry and romance and also courtship that can unfold in a historical setting that isn't present in the same way in a contemporary context.

Consequences

Jayne: There was one book, A Stitch in Time by Amanda James, where the travel was deliberate and meant to change things – but change them back to the things that needed to have happened but which had somehow got messed up. But beyond a neat premise, everything about it was wobbly including all the rules the author invented. It's been years since I read it but I still remember this annoyed me.
Janine: In one of the most excellent books I've read in recent years, a science fiction thriller called The Gone World by Tom Sweterlitsch, the heroine has to travel to the future to find out more about an event that will annihilate all human life, her own included. She can only go to possible futures, not to the actual future, because by visiting them and bringing back information to the present, she causes the future to alter. She has to be on guard from other people in the future because if they figure out that she is a time traveler they may capture her to keep their timeline intact. All that was innovative and really well-executed.
Sirius: I do not like when time traveler meets themselves in the past, when a time travel paradox is involved so I would like for that not to happen BUT after reading so many stories I think I became convinced / conditioned that if one time travels close enough in time they are very likely to meet themselves / influence themselves / change the timeline and it is just too risky as far as I am concerned.
Janine: I have mixed feelings about the trope about changing the past to change the future. It can be really engaging if but it's also an eye roller. Your parents might not meet if you change things, and then you wouldn't exist. Is the main character really that selfless? It takes some suspension of disbelief, so I need a strong motive.
One of the things I loved about The Time Traveler's Wife is how it deals with the paradoxes of time travel. Henry can encounter himself and he uses that in useful ways, for example, his adult self trains his child self in pickpocketing so that he'll be able to survive as a kid. He remembers the incident from both perspectives. It happens in Chicago's Natural History Museum, which the child Henry loved, and at first it was really magical for him. When he realized what he was actually there to happen and that there was no solution to his involuntary time travel, little Henry was disillusioned. Adult Henry remembers this experience well even as he is disillusioning Henry the boy by teaching him these skills.
Time in the book functions like a mobius strip. Henry can buy a winning lottery ticket or Microsoft stock because his future self tipped him and told him that his profiting from these things will happen, but he can't prevent anything if it is already a fact in any portion of the timeline, even if it lies ahead. The rules are entirely consistent.
Sirius: I recently read an LGBT YA story, Spin Me Right Around by David Valdes, which has its main character traveling to the past and which pays homage to the movie "Back to the Future". When I picked up the story I was actually very afraid that it would be almost a fan fiction of "Back to the Future", but I was pleased with how that aspect was handled. The main character does travel to his parents' school years and his being there influences his parents somewhat, but I really liked that main character being such a fan of time traveling and thinking about different ways in which this could happen and did happen was incorporated to the story. I liked how changing the timeline was incorporated in the story. Basically the author decided that the time traveler would only influence people closest to him not the whole world, which was fine by me BUT I thought the decision itself was totally random that's why I would rather avoid it altogether if possible.
See above, I don't want for time traveler to influence anybody if they travel to the past.

We'd love to hear from you on these topics. Do you like to read about time travel and what makes it successful for you? What is your favorite means of time travel in books? How important to you is it that the rules be consistent and the consequences make sense?