Using Kindle Collections Plugin for Calibre
Introduction
Organizing your books on the Kindle device is one of the greatest struggles (and one of the greatest flaws) of the Kindle devices.  I admit to not being encouraged by Kindle Fire screenshots that user organization will be improved with the new devices.  This screenshot, for example, shows only the standard sorting features.
About a month ago, Kindle did release updated features on its computer apps which allows you to create collections on your laptop or desktop using the computer app and then importing those collections onto the device.  Read more here. There are limitations to this:
The Computer Apps are buggy and take time to load.  To reduce the bugginess, I have downloaded my entire Kindle library and when I open the Kindle 4 Mac program, I wait until the entire library is loaded before I try to do anything with the Kindle 4 Mac program.
The collections are imported onto the device, but not the books in the collections.  Thus a book in a collection on your PC will not show up in the collection on your Kindle device unless the book is downloaded onto the Kindle device.
Synching capabilities often result in multiple versions of the same collections when you are editing on the device itself.
If you are a Calibre user, and if you aren't, you should look into it, a programmer named meme at MobileReads created a Kindle Collections plugin which you can download here.    This post walks you through the install of the plugin and the basic usage of the plugin.
The more books you have on your device, the slower your device works particularly when loading the menu and the collections.
Step 1.  Install Plugin
Gather your Kindle, a kindle cord, download Calibre, and the plugin.  Hook up the Kindle to the computer, open Calibre, and install the plugin according to instructions here.  Once you have installed the plugin, you will need to restart Calibre.  You must have your Kindle connected to your computer to operate the plugin.
Step 2.  Customize Plugin
After Calibre is restarted, go to Preferences -> Plugins.  You will need to find the Kindle Collections plugin which is located under "User Interface Action plugins" or type "Kindle Collections" in the search bar.  Highlight the plugin and then click "customize plugin" button.  Suggested customizations include:
Creation of automatic tags:  I do not advise using this feature if a) you have a ton of books on your device or b) unless your calibre metadata is very clean. If you download tags from Amazon or another source, it is likely that you are going to have thousands of tags with only one book in them.  Plus, if creating collections based on authors is a nice idea if you only have five or six authors. More than that and again, you'll have pages and pages of collections with only one book. Collections are to help you organize, not create more pages on the device to scroll through in order to find your books.
Preserve existing collections. Check this if you have collections on the Kindle device you don't want deleted.  These are collections that you have created on the device and not through Calibre.  Uncheck if you want to control all the collections through Calibre.
Ignore uppercase/lowercase.  This means if you have tags that are paranormal and Paranormal, Kindle Collections will treat these as one tag instead of two different tags.
Read more about the plugin here customization features here.
Step 3  Creating collections
You can create user categories in Calibre and this can be used as the basis for your Kindle Collections.  Your user categories can be simple such as "Read, TBR, Unread".  Or perhaps they are genre specific:  "Paranormal, Contemporary, Romantic Suspense, Historical".   Again, if you become too granular in your user categories, you may end up with dozens of collections.
The Kindle Collections icon shows up in the bottom of your Calibre screen. I have the goodreads plugin installed and it shows up next to the Kindle Collections:


Automatic Collections
You can create collections based on: Author Sort, Authors, Publishes, Read, Series, Tags, Title, and User Categories.  (See my advice in Step 1 re using these automatic collections).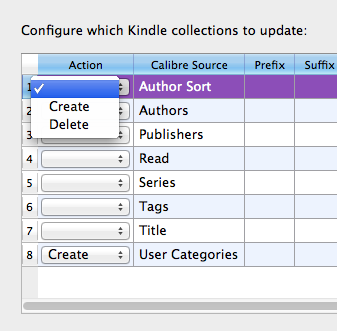 Manual Collections
You can create manual collections.  Create a collection by typing in the name of the collection and pressing the green plus sign.

Then select your newly created collection in the dropdown box on the left, scroll your list of titles, sorted alphabetically, and click the green plus sign to add.

If you have a large library, this can be tremendously time consuming.  Once you hit "Save", the collections will be sent to your Kindle.
Custom Category *Recommended*
Create a custom category for your Kindle Collections.  Right click in the title/author/date menu bar area. Select "Add Your Own Columns" and then add a column for kindle collections.

The bottom button is "Add custom column".  Click that or use the green plus sign on the right.  Click "Tags" from the Quick Create selection.  Then change the lookup name to "kindlecollections" or whatever you like and the Column Heading to "Kindle" (or again, whatever you like).

The column type can be "Comma separated text, like tags / Text, column shown in the tag browser/ Long text, like comments / Yes/No". Comma separated text, like tags is recommended. Save and restart Calibre.
Your column should show up in the menu area.   You can go through your books and tag which book belongs in which collection: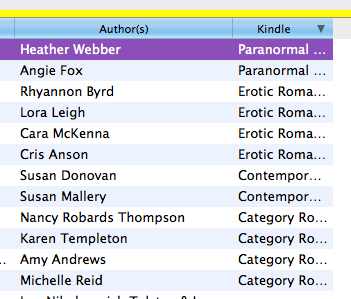 Once you are done, go back to the icon and select "Customize collections to create from Calibre". Look for your customized column (mine is named Kindle), and make sure the drop down box is "create".  Then go to  "Create collections on the Kindle from Calibre".
Import Collections to Calibre from your Kindle  *Recommended*
This is a particularly nice way to create collections for those who have existing collections.  If you have existing collections on your Kindle, you can use the Calibre interface to organize your collections. First, however, create a custom column as you did above.
Go to the plugin icon and select "Import Collections to Calibre from your Kindle". Select your newly created column from the dropdown menu:
From there, you simply go through your Calibre library and select which collection you want the book to appear.
Once you are done, go back to the icon and select "Customize collections to create from Calibre". Look for your customized column (mine is named Kindle), and make sure the drop down box is "create".  Then go to  "Create collections on the Kindle from Calibre".
Step 4: Restart your Kindle
To load the new collections, you'll need to restart your Kindle.  Eject your Kindle.  Unhook your Kindle from the computer.  To restart, you can either hold down your power key until the device restarts or go to Home -> Menu -> Settings -> Menu -> Restart.
Tips:
I prefer to use the User Categories section and create a special category for collections on the device.  It's far easier to scroll from the library view of Calbre and sort your books in this fashion.
This only works for titles that are you in Calibre and on your Kindle. It doesn't work with titles that exist in the Amazon Cloud and you archive.
Kindle Collections will generate an error report and you can use that error report to help you clean up your metadata. It will tell you if there are duplicates or conflict errors in titles, authors, tags, etc.
If you eject your Kindle device and then re attach it to the computer via the USB, sometimes Calibre won't recognize Kindle device.  Simply quit Calibre and restart.
Do you have any kindle collection tips?