REVIEW: One-Night Love Child by Anne McAllister
Dear Ms. McAllister,
Click here to go to eHarlequin.com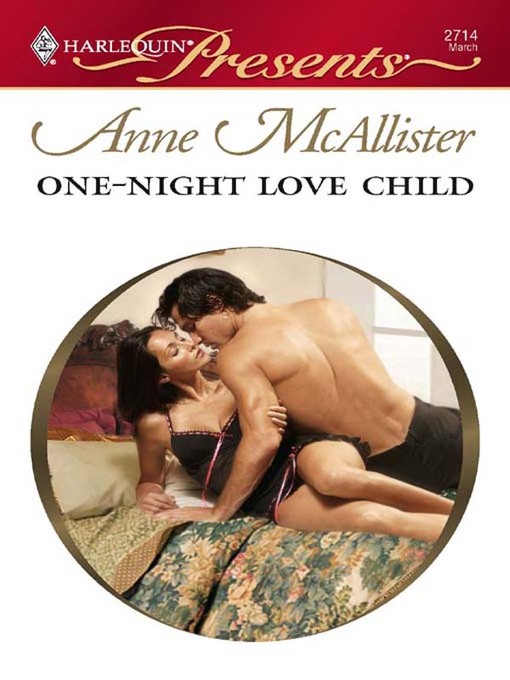 Recently a friend of mine recommended you as a "Presents" author whose heroes aren't assholes. She said something like, "They don't suck." Telling me something is different from the normal is like baiting a juicy worm on a hook for a hungry fish. So yeah, I bit. And guess what? She's right. Flynn doesn't suck.
What Flynn does, actually, is try and take the entire weight of the Earldom of Dunmorey on his shoulders after his disapproving father, the eighth Earl, drops from a heart attack. Flynn was never supposed to be the next in line, that would have been his brother Will who died coming to fetch Flynn at the airport from one of Flynn's many overseas adventures as a journalist.
And one of those adventures was a brief stay in a small town in Montana. Almost six years later, a beat up letter finally catches up with Flynn in Ireland and informs him that the woman he flung with for three days got preggers. Knowing his son is almost six now and frantic for having missed this much of his life, Flynn heads across the pond and back to Elmer, Montana. But can he win back the woman who thinks he turned his back on her all those years ago?
Thank God the book doesn't match up to the typical Presents blurb which makes Flynn seem like a caveman hell-bent on dragging Sara back to his damp, bucket filled Irish castle. No, he's not the millionaire the miniseries description would lead a reader to believe. Instead he is tearing his hair out trying to avoid having to sell off the ancestral pile in order to fund his younger brother, Dev's, hoped for horse stud which both of them hope will turn the Earldom into a paying enterprise. Jane reviewed another of your books and lamented that the hero's family leach off him while giving him no support. Thankfully, that isn't the case here. Dev is almost as delightful as Flynn himself.
Flynn also writes books but those royalties won't be enough to get the bank to loan the kind of moolah needed to refurbish Dunmorey Castle. Frankly, Flynn would be happy to dump the whole thing but his stubborn pride rebels at turning out to be the kind of failure his father always predicted he'd be.
His bad relationship with his father also fuels his desire to be a better father to his own son. Liam is convinced his father loves him but Sara still isn't too sure about this charming man who won then broke her heart. I love that she lets him verbally have it when he shows up on her doorstep.
Flynn's initial proposal makes Sara wonder where his charm went ("We're not indifferent to each other.") But after Flynn beats himself over the head for that lame effort, he sticks with the program, slowly wooing the skeptical Sara. She's almost willing to believe in him and his love when events bring them all back to Ireland. Which Flynn is terrified will send Sara screaming away in horror at the state of the Castle.
Instead, to his utter amazement, she loves it. And she's the wellspring of ideas and plans that gooses the bank into letting them have the renovation money. I love that she takes such an active part at this stage, helping Flynn and Dev to see the potential of the place they've just always considered as home. (But I do wonder if some of her suggestions would actually work in real life.)
Well, not home to Flynn exactly as he never felt as at ease here as he does in Sara's Montana house. That is until he hits on doing the thing which brings him a sense of "home," lets him spend more time with his son and finally proves to Sara how much he loves her.
There's a slight misunderstanding at the end which, thankfully, is quickly cleared up but other than that, I really like this book. So note that the Earth has started spinning backward, the sun is rising in the west, Jayne actually read a modern "Presents" and, glory be!, she likes it. B+
Jayne
PS, bad as this title is, it's still better than "Mother of the Earl's Love Child!" [G]