REVIEW: Carolina's Walking Tour by Lesley-Anne McLeod
Dear Mrs. McLeod,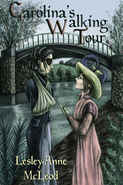 I have a soft spot for the unheralded people of the world finding love. People not as beautiful or dazzling, not as charming or glib as those who easily command the spotlight. Yet at the same time, I don't want authors to pour misery on the head of a lead character thereby making me pity them more than sympathize with them. "Carolina's Walking Tour" handles my concerns nicely.
Miss Carolina Finmere is one of those who hug the edges of a party, who might take a minute to formulate a reply to a comment but who notices much and dares to dream. Lord Alexander Quainton is one she notices but whom she would never have approached except for her commanding grandmother's insistence. Long acquainted with his mother, her grandmother serves as a source of information about Alexander's wartime injuries.
Quiet Carolina is astonished when he asks her to accompany him on a walk through Bath. Thus begins their summer long rambles through and around the resort town. And slowly, almost unperceived by Carolina herself, she begins to blossom into a woman of a little more confidence, a little more presence. And when faced with a future without the man she's gently fallen for, Carolina decides to take the boldest step of her young life.
I like that Carolina's personality doesn't so much change as she gains the courage to show who she really is. She reminds me a little of some of Carla Kelly's reluctant heroines who shine only in the eyes of their beloved. At story's end, Carolina hasn't been transformed into a show stopping femme fatale but her inner happiness does bring a blush to her cheeks and a brighter sparkle to her eyes. Indeed she won't be the aging antidote she feared she'd become.
Alexander is a little more of a martyr than I'd like though thankfully we don't see this much. He has suffered much, both physically and emotionally. He also knows that the people back home don't want to hear the gruesome details of what their soldiers are enduring in Spain and thus must keep his concerns for his still fighting comrades to himself. He wants no pity and must be sure he'll get none from Carolina before he'll reach for the happiness he desires with her.
Ebooks are proving to be the source for the more traditional style regency that Signet once provided to readers. I've not yet tried one of your longer books but both short stories have proved to be delightful. B
~Jayne
available as an ebook from Uncial Press or Fictionwise