REVIEW: Passion, Betrayal, and Killer Highlights by Kyra Davis
Warning: this entire book is a bit of a spoiler for Sex, Murder and a Double Latte. If you intend to read the story, you may want to skip the review. Don't say I didn't warn ya.
Dear Ms. Davis: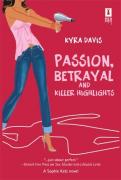 This is the HARDCOVER sequel to Sex, Murder and a Double Latte. Sophie Katz has just extricated herself from one murder investigation only to find her sister, Leah, a main suspect in Leah's husband's death. Leah and Bob had been married for years and while they had their problems, Leah was content being Mrs. Bob Miller. Even when confronted with Bob's infidelity, Leah attempts to win Bob back. Leah's chance to win back her hsuband is thwarted by Bob's murder. Leah is the number one suspect and Sophie undertakes an investigation to absolve Leah.
This book is much more flawed than the first one. Leah is an unlikeable character, Leah's 18 month old son can talk in sentences (not likely), and is the child from hell. There's not as much interaction with Sophie and her fun friends and most of all with Anatoly. I understood that Bob was a horrible person who may have been having an affair with more than one woman, but Leah had no grief over his death, was not sensitive in any way to the fact that her son would not have a father, and takes the first opportunity granted to her to start a new relationship. I had no sympathy for Leah even after one scene in which she shows some maternal instinct.
The mystery is still excellent. You do a very good job at creating alternatives to Bob's death while still making Leah the main suspect. Sophie's interaction with Anatoly is limited in the beginning as Anatoly is admittedly a bit upset over Sophie's attempt to stick him with a murder charge. But his lust for Sophie eventually overcomes his grudge over the minor incident of him being accused of being a serial killer and all.
There is a great sub theme between Sophie and Anatoly that involves Anatoly's appreciation for another female character. I thought it was alot about Anatoly getting some of his own back from Sophie. Besides the mystery, the saving grace for this book is that Sophie still has the same charm and spunk from book 1. She's a character voice that I will want to keep reading long after the nails-on-the-chalkboard narration of Leah fades from my mind. I don't regret that I bought this book but it isn't as good as the first one. I could have waited for the paperback and not been sorry. B-
Best regards
Jane