A few weeks ago Google released their first entry into the increasingly crowded Android tablet arena, the Nexus 7.  The 7-inch Nexus 7 competes with the likes of the Kindle Fire, Nook Tablet, Galaxy Tab 2 and others, as well as older spec'd devices like the Kobo Vox and Nook Color.  Google's Nexus line are generally the first to get updates & new versions of Android and are free of the bloatware many manufacturers pre-load on their devices.
There are two variants of the Nexus 7 available.  A $199 8GB version and a $249 16GB version neither of which have a microSD slot for expanding storage space (which would have been nice).  The tablet is built by Asus to Google's specifications and has a very good build quality.  It sports the newest version of Android yet, version 4.1 'Jelly Bean', and gives a full Android experience as opposed to the modified versions of Android 2.3 'Gingerbread' that the Kindle Fire and Nook Tab & Color use.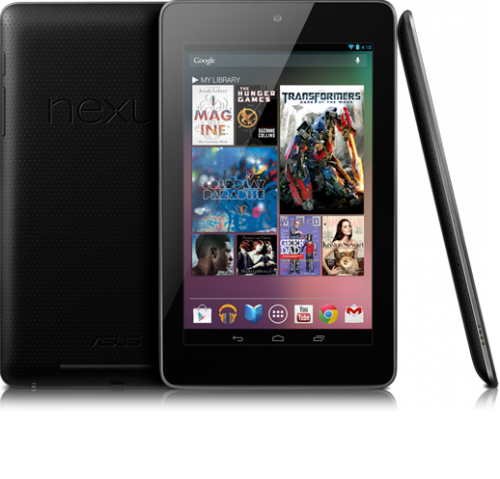 Hardware
The Nexus 7's hardware is the best out there in the $200 tablet arena.  The 1280×800 IPS screen (216ppi) is stunning and while it's not quite as nice as the screen on the iPad 3 it's still quite good and is wonderful for reading. It's nicer than the Fire or Nook's lower resolution screens and those aren't bad by any means.  Text is clear and crisp and a pleasure to read even at small sizes.  The IPS display has very good viewing angles which is nice if more than one person is watching a movie or something. A few people have mentioned having screen separation and light bleed issues as well as screen flickering issues I saw none of these problems with my unit.
The Nexus 7 has a 1.3 GHz quad-core Tegra 3 processor which is a first for a 7-inch device.  The processor is fast and it shows when running apps and even just in basic interaction with the Android OS.  I don't generally play more than casual games on tablets, but the Tegra 3's 12-core GPU ran 3D games quickly and smoothly when I tried some out. Overall device response is very quick and everything flows nicely, I've noticed no lag or stuttering that I sometimes experience on other Android devices.  Some of that is the processor and some of that is the OS as Google has really made it a point to smooth things out in Jelly Bean.
The battery life claimed by Google is "up to 8 hours active use" and I find that claim to be about right.  You might squeeze out a bit more by turning the brightness all the way down and turning off WiFi, Bluetooth and GPS.  I found the battery to hold a charge quite well when the device was in sleep mode, something that can't be said for all Android devices.
The Nexus unfortunately doesn't support USB Host mode out of the box, but it will support it if you're willing to root and use an app like Stickmount.  This is useful in that you can then connect USB memory sticks and hard drives to the micro USB port via a small dongle cable.
There is no 3G/4G version of the device.  It would be nice to see more 7-inch devices with this as an option as they're pretty close to the perfect size when it comes to portability.
At 340g the Nexus is a bit lighter than both the Kindle Fire (413g) and Nook Tab (400g) which doesn't seem like a lot, but I did definitely notice a difference.  Of course all seem a bit heavy when compared to an eInk reader.  While the Nexus is about the same thickness as the Fire it 'seems' thinner due to the beveled edges it sports.  It also as a rubberized back with a dot pattern on it which makes it very comfortable to hold 'naked'.
Software
The Nexus 7 has quite Google 'feel' to it and you of course get the full compliment of Google apps pre-installed.  Out of the box the main home screen has a Google Play widget which takes up the entire screen and shows you your latest purchases and accessed material from Google Books, Music, Movies and Magazines.  If you don't like/want it it can be removed or moved to another screen in seconds (I moved mine). One thing folks may or may not have a problem with is that the home screen of the Nexus is locked in portrait mode (you can use a third party launcher to get around this).  It's no big deal to me, apps switch from portrait to landscape just fine if they're programmed to.
You of course get full access to the Google Play app store as well as the various media items sold there and if you also want the Kindle App Store that's easily added as well.  I did find that there are some apps, such as most of the Audubon guides, that are not yet compatible with Android 4.1 Jelly Bean.  This shouldn't be too big of a deal as many of these apps are only incompatible because the developer set Android 4.0 Ice Cream Sandwich as the top end of supported devices so a simple update should fix things.
A new thing with Jelly Bean is the inclusion of Google Now.  This offers improved voice recognition search and acts like iOS's Siri in ways although I found it to work better and sound more natural than Siri (Siri is said to be much improved in the upcoming iOS 6).
Reading
For reading apps I tried out Kindle, Nook, Kobo, Mantano and Aldiko and all worked great.  As I mentioned above text is very clear and crisp and a pleasure to read even at smaller sizes.  Comics (via ComiXology) and magazines (via Google Play and Zinio) really shine on the Nexus 7 and I enjoyed reading them on it a lot.
Browsing
Web browsing using the stock Chrome browser (which replaces the stock Android browser from other devices) was nice and quick and overall a pleasant experience.  One note is that the Chrome browser doesn't support Flash.  Of course Adobe is dropping moble Flash so 4.1 Jelly Bean doesn't have Flash anyway.  You can sideload Flash if you feel a need for it, but will also need to sideload a browser that supports it (such as an older version of Dolphin HD).
Music
Music streamed great through Google Music and the Amazon MP3 app.  Although I usually listen through ear buds, the built-in speaker if not great is actually not horrible (although a bit quiet maybe).
Video
I streamed video with Netflix, HuluPlus and Google's own movie/TV service.  All played great and were beautiful on the Nexus 7's screen.  If you're a big video person a downside of the Nexus might be that with no microSD slot you'll only be able to store a couple HD quality movies on the device for viewing when away from WiFi.  There are of course other storage solutions such as the portable WiFi connected hard drives from Seagate some of which can store hundreds of movies.  There is also no HDMI port on the Nexus for connecting it to a larger screen.
The Nexus 7 has a very attractive price and is a top device in the increasingly crowded 7-inch tablet market.  However, if you already have a Fire, Nook Tablet or Galaxy Tab 2 it's probably not a must have upgrade for most.  One of the biggest things with the Nexus though is it's not limited to the US like the Fire and Nook's are and can be purchased from just about anywhere.
Of course while it's at the top right now, Amazon and B&N are sure to probably have new devices out before the end of the year and I'll be interested to see what they have to offer.
Full Specs
Screen – 7″ 1280×800 HD display (216ppi), back-lit IPS display, scratch-resistant Corning glass, 1.2MP front-facing camera
Size – 198.5 x 120 x 10.45mm
Weight – 340g
Wireless – WiFi 802.11 b/g/n, Bluetooth
Memory – 8GB or 16 GB internal storage (actual formatted capacity will be less), 1GB RAM
USB – Micro USB
Battery – 4325 mAh (up to 8 hours active use)
OS – Android 4.1 (Jelly Bean)
CPU – Quad-core Tegra 3 processor
Features – Microphone, NFC (Android Beam), Accelerometer, GPS, Magnetometer, Gyroscope