Setting Up a New Library with Calibre: Essential Plugins and Getting to Know Metadata
Introduction
I am a huge fan of the free open source software written by Kovid called Calibre.  It is an organization, management, conversion tool for both print and digital books.  I've had several people email me asking what the best set up is for Calibre along with what plugins that they should download.  The following is what I recommend but I am sure that there are other great organizational minds out there.
1.  Plugins
There are three essential plugins for me and they are all metadata plugins.  (Read here on how to install a plugin)  The newest versions of Calibre allow the download and installation of plugins from directly within Calibre interface.  From the top menu bar, select Preferences and from the drop down menu Get plugins to enhance Calibre: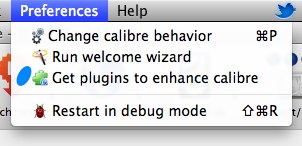 The "Get New Plugins" screen begins with a filter that lets you choose whether you want to see "all, uninstalled, installed, and update".  The following is the list of plugins I have installed:
The BN, Fantastic Fiction, Goodreads plugins are all designed to ensure that the metadata for your book is up to date.  The metadata that Calibre will automatically pull for you includes "Title, author, series, tags, rating, description and ISBN." When you import a book, that digital book will often come with some metadata but the metadata can be inconsistent from publisher to publisher or incomplete or simply wrong. When building your library, you will want consistency.
Other plugins I have installed include:
Count Pages estimates how many pages are in an ePub and Mobi files. In order to get this plugin to work, you need to create a custom column.
Goodreads Sync can synchronize your library with your Goodreads account. This should only be used if you are going to add a few books at a time because, as the plugin author says "Goodreads T&C require a very limited threshold on the number of API calls per minute. Worst case they will block the plugin and that ruins it for everyone. You can use export/import to Goodreads for large volumes if you need it. Refer to the help page within the plugin for the full details."
Find Duplicates, Quality Check are for larger libraries wherein the user didn't do a very good job of setting up front standards and thus her library is filled with all kinds of junk and needs to be cleaned up. (AKA me)
Recently I installed Reading List which helps me organize my ARCS and books for review.  The Reading List plugin allows readings to create an ordered list of books they want to read. "You can have multiple lists (e.g. if keeping track for different users or genres). In addition v1.2 has integrated all the functionality of the Book Sync plugin, allowing you to send your list to a device either manually or automatically when it is connected."
Another plugin that might be worth checking out is Extract ISBN.  The plugin will attempt to extract the ISBN from the digital file.  As the author of the plugins that I use explains  "Secondly, a good ISBN will always give you the best match. The Extract ISBN plugin can help with this, provided the ISBN is in the book for it to find. Note this plugin is not infallible, not all books have an ISBN it can read, or worse sometimes the ISBN it finds is from the publisher advertising some other book within it. However a very high % of the time it gets it right, and will give you the best chance of a quality edition match with most metadata sources."
Another fun plugin is Fan Fiction Downloader.  I'm not a fan fiction reader but I know it is tremendously popular.  This plugin helps to download and then enable for transfer to your reading device fan fiction from these sites: Download FanFiction stories from various sites into ebooks. Currently supported sites are: www.adastrafanfic.com, www.fanfiction.net, www.fictionalley.org, www.fictionpress.com, www.ficwad.com, www.fimfiction.net, www.harrypotterfanfiction.com, www.mediaminer.org, www.potionsandsnitches.net, fanfiction.tenhawkpresents.com, www.thewriterscoffeeshop.com, www.tthfanfic.org, www.twilighted.net, www.twiwrite.net, www.whofic.com.
2. Metadata Organization
I use the Calibre automated metadata download function. You can tell Calibre the metadata you would like to download. By default, all the choices are selected. The configure metadata screen can be accessed via the Edit Metadata screen at the bottom middle:
There are a few features that I like to activate here.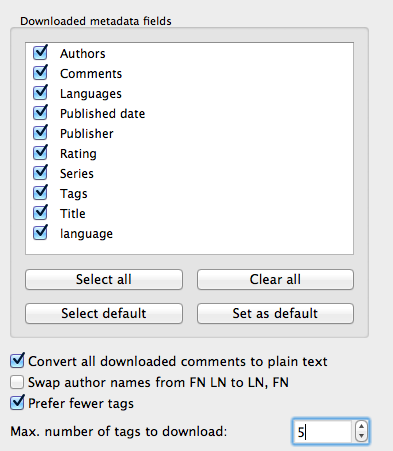 Downloaded comments are essentially the description, blurb or series of reviews that Calibre pulls down automatically from various sites.  Some of the encoding of the various publishers is really poor so I opt for plain text which means no bold or italics. The middle option allows you to switch the way that your author names appear.  I actually prefer First Name, Last Name because you can modify the author sort to be something different.  I also like fewer tags. Some books can have 10, 15 tags and it seems too many.
Obtaining the metadata can be done a couple of different ways.   First, you can run the search by ISBN or other identifier. This will pull up only one specific record. For instance, I purchased The Bride by Julie Garwood in digital form. I can look it up by the ISBN or just by using title and author.  Both will give me a list of books.  As you can see there are really two versions of The Bride.  The original publication or the reprint by Penguin.  The first screenshot shows a search using author, title and Nook ISBN (9781101533116):
This screenshot shows the results from just using the amazon ASIN (B004XFYWNY).  The way to use the identifiers is to preface the identifier with the lookup site.  Therefore in the Id field, type amazon:B004XFYWNY.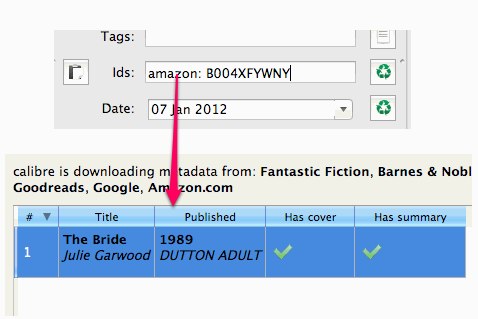 After you double click on the entry that contains the metadata that you want to use, the next screen will load the covers and you can choose which cover you want associated with your file.
I like the original The Bride cover and I double-click the cover to select it.  This is the resulting metadata: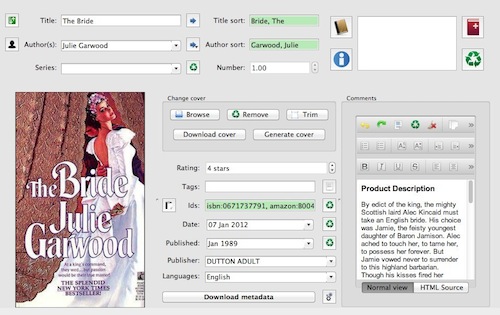 An underused feature of Calibre may be the Author Sort feature.  Calibre will sort your books by FN LN or LN, FN.  Remember when we had the option of how it is displayed in the metadata configuration? I like it display as Julie Garwood, but I want it to sort as Garwood, Julie so I will make sure the author sort is LN, FN

Ordinarily, you will simply need to import your digital book file and press CMD/CTRL + D to start a metadata download based on the information extracted from the ebook file.  Please remember that when you are handling ePub files, ACSM is not the epub file.  The ACSM file is simply the licenses that allows you to download the actual ebook. Your ebooks will likely be in Documents/My Documents folder under "Digital Editions" (Adobe Digital Editions) or "My Books" (Sony) or That's it for today. If you have any questions, let me know.  Next week, we will discuss essential user created columns and saved searches.