REVIEW: Starter Villain by John Scalzi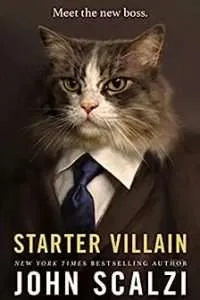 Inheriting your uncle's supervillain business is more complicated than you might think. Particularly when you discover who's running the place.

Charlie's life is going nowhere fast. A divorced substitute teacher living with his cat in a house his siblings want to sell, all he wants is to open a pub downtown, if only the bank will approve his loan.

Then his long-lost uncle Jake dies and leaves his supervillain business (complete with island volcano lair) to Charlie.

But becoming a supervillain isn't all giant laser death rays and lava pits. Jake had enemies, and now they're coming after Charlie. His uncle might have been a stand-up, old-fashioned kind of villain, but these are the real thing: rich, soulless predators backed by multinational corporations and venture capital.

It's up to Charlie to win the war his uncle started against a league of supervillains. But with unionized dolphins, hyper-intelligent talking spy cats, and a terrifying henchperson at his side, going bad is starting to look pretty good.

In a dog-eat-dog world…be a cat.
Dear Mr. Scalzi, 
My last attempt at reading one of your books didn't end so well. But I did fess up and accepted partial blame for that. Wrong book for the wrong person, blah, blah, blah. But this one promised me cats! I know cats. Unlike Kaiju, I live with cats (the little darling, demanding creatures). I've also seen a James Bond film or two so I figured I was all set. And yes, this one did work much better for me. 
Charlie Fitzer is not living the dream. In short order, his wife left him, his job fired him, his dad got sick and then passed away. Now Charlie is living in his childhood home, rent free, but he is required, by the trust his father set up, to pay all the bills. His half-siblings want him to agree to sell the house and he wants them to agree to put it up as collateral for a local pub he's trying to buy as being a substitute teacher isn't living his best life. Things are not looking good but when a stray fluffball (aka kitten) approaches him as he walks home, Charlie picks it up. "When a kitten walks up to you and makes demands, what are you going to do? Say no?" Luckily his cat, Hera, approves of the newcomer. 
Carlie isn't sure of what to make of the woman (Matilda Morrison) he discovers sitting on the front porch. She claims to have worked for Charlie's Uncle Jake who wasn't not a figure in Charlie's life but who recently passed away. Will Charlie attend Uncle Jake's memorial service? If he does, there will be a nice financial reward. To his credit, Charlie balks a bit but does agree after it's rephrased as doing a good deed for someone who has no one else. The memorial includes some floral arrangements with "heartfelt" messages from Uncle Jake's associates and is …  "one of the more memorable visitations" the funeral director can recall. 
As he approaches his house afterwards, the shit gets real. Luckily the cats were outside. Charlie soon discovers that his Uncle Jake wasn't just a parking lot tycoon. Nope, Uncle Jake was a supervillain complete with a lair (cool!), minions (but very intelligent ones), and enemies (oops). As Charlie tiptoes through the minefield of his new job and desperately tries to get up to speed, will he be able to negotiate with a new worker's union, stay ahead of his fellow villains, and not feel inferior to his cats?
As in "The Kaiju Preservation Society," a lot of the backstory and world building are carried out via exposition but this time it's Charlie asking questions of his Uncle's workers. As Charlie can't be expected to know jack shit about any of this and the snark is toned down a bit, I enjoyed this part more. Yes Charlie's initial view of supervillain-ing is "Blofeld with lasers in the villain lair" but as it's pointed out to him, destroying things gets the government after you while supplying services (sometimes to those same governments) can earn you tons of money. But liquidity is important.
Charlie tries to take all this in and when faced with a villain convocation he realizes what they are up to and quickly stifles it after which "the shit gets real" again. I will admit to applauding Charlie for standing up for himself after figuring things out. He also negotiates well with some of his workers who feel like the oppressed proletariat (and think the fucking cats are fucking C suite management). I had no idea how this was going to end (which I like in a book) and am pleased with the way things went.
Humor abounds – some of which appeared to be gently parodying the villain genre. There is also more than a little scalding social commentary about the 1% (Boomers and Gen X), bro culture (even if they're wearing expensive suits), and as mentioned earlier worker oppression. Some people also die. Charlie asks a lot of questions but when needed, handwaving and ignoring certain things is employed to bypass some questions that might occur to readers. Yeah, okay it's not really necessary to know how the most amazing things were accomplished. It was amusing enough to just have them in the book. B  
~Jayne