REVIEW: Common Goal by Rachel Reid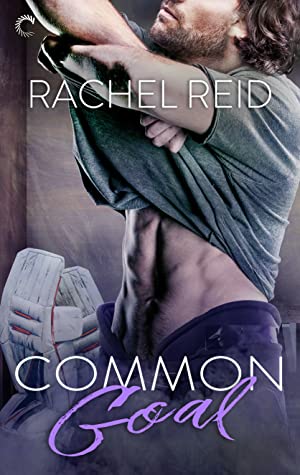 Dear Rachel Reid,

I've been meaning to try your books for a while now, having heard good things about them and I am a fan of hockey romance (notwithstanding that I've never watched a game and know very little about the sport, but you know… details), so I snapped up Common Goal when I saw it at NetGalley a little while back. While it is book four in your Game Changers series, it stands alone well. I didn't feel lost at all. I suppose it does contain some mild spoilers for book one but that's not the sort of thing which bothers me much.
Eric Bennett is the veteran goalie for the New York Admirals and is just about to turn 41. He hasn't told anybody yet but he's planning to retire at the end of the season before age catches up with him or injury forces him out of the game he loves. He's not sure yet what will be next for him and it's a scary time. He's also about a year post-divorce from his wife of 20 years, Holly. Their marriage was not contentious and neither was their divorce. Things kind of fizzled due to mutual lack of interest over the years. Eric feels lonely and a little lost but he is also interested in exploring his attraction to men – something that has been present since attraction to anyone was a thing for him but which he has never before acted upon. If I have the right of it, Eric and Holly were high school sweethearts and he did not really date anyone before her. They were married for a long time and he's not a cheater so there was never an opportunity for him to explore his bisexuality. I did appreciate that Eric always knew he was bi.
Eric's best friend is Scott Hunter, one of the leads in the first book, Game Changer. Scott is now happily engaged to Kip Grady. Kip works in a gay bar, the Kingfisher, along with Kyle Swift, a 25-year-old grad student and bartender with an interest in mixology. Because of their friendship group, Eric and Kyle are thrown into each other's orbit and the attraction is mutual and deep. However at first, because Eric has yet to remove his wedding ring, Kyle is under the impression that Eric is a married man who may only be interested in a walk on the wild side and Kyle will not go there after a bad experience in his teens.
Kyle is gay and out and proud and, once the initial married/divorced mixup is ironed out, he finds himself being the first person to whom Eric confides his bisexuality. I really liked the way the book validated Eric's sexuality, notwithstanding his lack of hands-on experience (so to speak).
Eric seemed to consider this. "I want to see what it's like, being with a man. I know it's probably ridiculous to say, but I feel like something will click into place when I do it."

Kyle understood what Eric was trying to say, but he wanted to make something clear. "You know you're not any less bisexual if you never hook up with a man, right? Your sexuality is still completely valid and real, whether you have sex with one gender, multiple genders, or no one at all."

Eric was silent a long time before answering, "I know. But it still feels…theoretical."

"It's not. You know who you are and who you're attracted to. You don't have to act on it to make it real." He glanced over to see Eric's furrowed brow, and decided to add, "But wanting to act on it is valid too. If doing this is important to you, then you should do it."
Eric is kind of shy and not used to speaking openly about sex so Kyle's forthright sexiness is both a little intimidating and intoxicating to him.
Kyle perked up. Here was an interesting conversation topic. "You haven't been dating since… I mean, since…"

"My divorce?" Eric offered helpfully. "Nope. Not a single date. Or hookup, or whatever people are calling it now."

"Wait. You haven't had sex since, um…"

"My wife left me? No."

Kyle knew it was none of his business, but he couldn't help himself. "And that was…"

"Over a year ago."

"Wow. That's, um…are you okay?"

Eric chuckled. "I'm okay."

"How are you not, like, vibrating with pent-up arousal?"

Eric stared at him with that sexy bemused smile on his face. "Vibrating with pent-up arousal?"

"Yeah! I'd be… I mean, it's been a couple of weeks for me and I basically want to fuck this yogurt."
It was never made explicit but it seemed to me that Eric was probably demisexual, feeling sexual attraction only when he was emotionally involved. He may also be somewhere on the ace spectrum too but I'm a little less confident with saying that. Eric had a fairly lacklustre sex life with his wife. It started off interesting enough if I understood things correctly but over time their sexual chemistry dwindled and Eric's libido didn't push him to change that. His solo sexual experiences have been more pedestrian and goal-focused – more about physical release and relaxation than sex drive. Or at least, that's how I understood it. However, with Kyle, Eric finds that his engine is revved in a way that it has never been before. I interpreted this to be more about Kyle being the perfect person for Eric rather than related to Kyle's gender.
The conflict in the story is all around Eric's belief that he's too old for Kyle and Kyle's belief that Eric wants nothing more than sexual instruction from him before he moves on to someone more "age appropriate". Of course, the reader knows how each man really feels. I found myself a little frustrated with both of them because some open conversation about this could have resolved things much earlier – or at least, clarified the issues between them. It does not bode well for a relationship where difficult conversations can't happen because the characters don't feel comfortable revealing their true feelings to one another. However, by the end of the book they had found ways to be open and honest and I was convinced of their longevity as a couple and their HEA when I finished reading. That said, misunderstanding – either big or numerous – is far from my favourite trope and I spent the middle section of the book impatient with both main characters.
It's become a bit of a thing with me over time that I dislike when the sexual progression of a relationship feels a bit like rounding the bases rather than organic. By that I mean, that there's a particular order that gradually escalates to the sexual grand finale and it can seem like a bit of a tick-a-box rather than what works for the characters. In Common Goal, the narrative seemed to be leading up to the grand finale for Eric being the receptive partner in anal sex and I was all prepared to get frowny about it. However, the story didn't quite go where I was expecting and I was so happy about it I can hardly tell you. I won't spoil exactly what did happen but I can confirm that Eric and Kyle's sexual escapades were no tick-a-box, base-rounding exercise.
I enjoyed the writing and the characters, the friendships and found family in the various social and professional circles the characters inhabited. I liked that Holly was never demonised and I also liked that the issue of children was never a thing. There was just no mention of it in the history of Eric's marriage and I liked that just fine. I did wonder how Eric's family and ex-wife would react to him coming out – this was pretty much glossed over but as it wasn't the focus of the novel I'm not going to complain about it too much. The age gap didn't bother me. I'm not sure if it would have in other circumstances or not but here, the power dynamic between the two men was fairly even. Besides, they're both adults and there was no problematic relationship (such as intern and manager for instance) to hamper things. I liked that Kyle took the lead in the bedroom and Eric was A-ok with that.
Common Goal was an entertaining read with likeable characters and, even though I do not love misunderstanding being the main conflict, the rest of it worked well for me. I'll definitely be picking up the other books in the series and looking for more from you.
Grade; B

Regards,
Kaetrin