REVIEW: Under the Same Sky by Genevieve Graham
Dear Ms. Graham,
I've been trying to read more historical romance lately, so when I was offered your book and I saw that it was a departure from the usual England as Regencylandia fare, I was happy to accept. The unusual premise (Outlander meets Last of the Mohicans) sounded promising and it looked like a modern incarnation of the epic romances that some of us really miss from the olden days. Unfortunately, there were a number of issues that made this a less than satisfying read. It straddles the romance/fiction boundary, but not always in a way that works.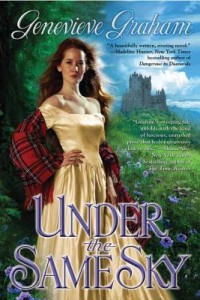 The novels opens in the 1730s, when our narrator, Maggie is a child. Maggie has vivid dreams in which she sees the future, and she forms empathic connections with other people, most notably with Andrew McDonnell, a young teenage boy who lives in the Highlands of Scotland. She feels a strong bond with him, but at that point she knows nothing about him.
When Maggie is seventeen, her life of terrible experiences begins. First, her abusive, alcoholic father dies, leaving her mother and three sisters to scratch out a living on their farm. Then, when she is seventeen, white men come to their farm, shoot her mother dead and kidnap Maggie and her fifteen- and ten-year-old sisters and gang-rape them. Her youngest sister, Ruth, dies from the assault and fifteen-year-old Adelaide is severely traumatized. Maggie and Adelaide are able to escape with the psychic help of Andrew and the real-world help of some sympathetic Cherokee men, who take the girls to their village. As Maggie and Adelaide are nursed back to physical health, Maggie is befriended by Waw-Li, an old woman who also has psychic abilities, and she and her sister are incorporated into the Cherokee community. Things are relatively not-horrible for a while, but the reader should not get too comfortable.
Meanwhile, Andrew and his father and brothers are, as McDonnells, loyal to the Stuart cause and wind up at Culloden on the losing side. Andrew is separated from the others in the battle and assumes they have been killed; he is saved only because Maggie psychically assists him. He makes his way back to the family property, only to find that the English have burned the buildings and killed his mother. Andrew leaves his home and hikes through the Highlands for two months before he meets a fellow Scot, Iain McKenzie, who was also at Culloden and whose wife and children were also killed in the aftermath. Iain and Andrew join forces, walking past abandoned houses, until they find the McLeod property, untouched, where they are welcomed by the family. Andrew has decided to leave Scotland, and Iain joins him. The McLeod's seventeen-year-old daughter, Janet, wants Andrew to marry her and take her with him, but he is committed to his vision of Maggie.
All this happens before the reader is halfway through the book.
The grimness of the stories is almost unremitting. Children are brutally assaulted and killed, as are women. White men in the Colonies and the English in Scotland are uniformly evil (although the English inexplicably fail to ransack every home they come across, leaving food and even honey in the cupboards of some Scots they kill). The Cherokee are uniformly good. Unfortunately, we don't really get to know the Cherokee except through Maggie's perspective. They aren't quite ciphers, but they're far from rounded characters, considering we spend a fair amount of time with them, and there's a lot of exposition about Cherokee ways and beliefs. And oh yes, the one Irish character plays the fiddle.
There is a strong sense of historical place in the novel. The Scottish countryside is well described, as are the scenes in colonial America. There is a lot of Gaelic and brogue, but it didn't bother me as much as it has in many historical romances (The "dinna fash" count is 2). Inexplicably, however, the historical verisimilitude falls apart in the last quarter of the book. Andrew, Iain, and the others accompanying them make their way to the Scottish coast, where they easily gain passage on a ship bound for Virginia. They have plenty of money to pay the fare for five people, and Andrew even gets paid for working on board the ship on the journey. Then, once they reach Virginia, they make their way to Cross Creek, North Carolina without difficulty, and from there to Charleston. Which in this book is in North Carolina. And Andrew, Iain, and Seamus (the Irish fiddler) are able to gain title to 100 acres of land in the "province of North Carolina" on the same day they arrive in Charleston (the biggest town in the South at that point) because:
the magistrate was going over petitions and, being in a cheerful mood, was handing them out like candy. The royal officials granted the land free, subject only to a small surveying and transfer fee: four shillings proclamation money per hundred acres.
And the group soon runs into Maggie, even though she has been in South Carolina for the entire book and not moved from that area.
No, no, no. North and South Carolina were different colonies (not provinces) in 1747. Charleston is in South Carolina. And even "free" land cost a lot more than four shillings in conveyance and other fees. I felt as if I'd been dumped into another book. It was so disappointing, because the historical context was the best thing about the novel up to that point.
Maggie is the most interesting character, perhaps because we spend a lot of time in her head and she is written in first person POV. Andrew is next, written in third person POV. The rest of the characters are kind of stock. The writing is serviceable but there is a lot of exposition and the dialogue is predictable. Here's an example:
"Your dreams, your magic, your gift from the spirit world. Pah! You can make them say whatever you want. You do not want me, you blame the dreams. You are wrong about something, and you blame them, too. If you do not want to marry me, Ma-kee, you should be strong enough to say it. And if that is so, why do you kiss me and hold my hand? Why do you look at me the way you do?"

"I—" I said in a tiny voice, but stopped, having no idea where to start.

"This is what I mean," he fumed. "You cannot answer a question without consulting your dreams. You do not know what you want. I waited for you, Ma-kee. I trusted your eyes. Do not tell me some story about your dreams. Do not treat me like an idiot. The others may listen to every word you say, but I know you."

He disappeared into the trees, crackling twigs under his feet. I didn't watch him go, but stared at the dead tree beside me, feeling wretched.

He was right and he was wrong. To be fair, I did listen to my dreams, and paid close attention to them. But they didn't rule my every decision. I thought for myself and always had. The dreams only provided insight and guidance. What hurt was when he had said I didn't know what I wanted. It hurt because in many ways he was right. I didn't know why I allowed myself to grow close to Soquili when my heart already belonged to Wolf. I liked being with Soquili, doing what we'd been doing. Before he came along, I had never felt protected or cared for by anyone other than Wolf. I had never expected to want to touch a man after what had happened to me in the woods. I hated that I had hurt him. That he'd felt the need to strike out the way he did. I liked Soquili very much. But he had to understand I was never going to be his wife.
Maggie has been snogging poor Soquili, so it's not surprising he's confused. But after a while he comes around and becomes Just A Friend, indeed, such a good friend that he saves Maggie later in the story.
I'm really not sure who the audience is for this book. The hero and heroine do not meet in person until the very end, and the HEA is a given, so romance readers are likely to feel unsatisfied. If the audience is readers of historical fiction, the Carolina problems are pretty glaring, the immigration journey is something out of a pirate romance, and I'm not altogether sure about some of the bits set in Scotland (Andrew walks for months without seeing a soul, which seems unlikely to me, but I could be wrong). While the writing is perfectly adequate, it's not a book you read for the lyrical prose. And finally, the storyline is grim, grim, grim, I'm all for gritty, but this goes way past that. Grade: C
~ Sunita