REVIEW: The Secrets We Keep by Trisha Leaver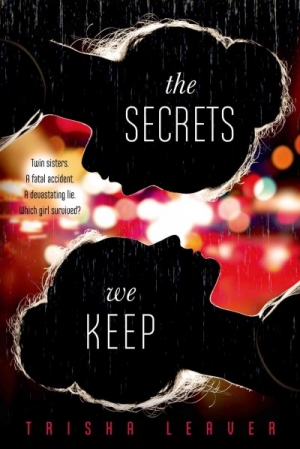 Dear Ms. Leaver,
I just can't seem to get enough of stories about twin sisters. I wouldn't go so far as to say it's a bulletproof kink, but if someone says their book is about twins, I'm probably going to give it a try. Your novel, The Secrets We Keep, covers all the requisite tropes surrounding twins: polar opposites, contentious relationships, and switching places. It also adds one more: death.
Once upon a time, twin sisters Ella and Maddy were inseparable. That all changed when they started high school. There, Maddy joins the popular crowd and abandons her less-than-cool sister. Now Ella lives in her twin's shadow and is generally all right with that…for the most part.
Then one night, an upset Maddy calls Ella and asks her to pick her up from a party. Unable to leave her sister in the lurch, Ella does but on the way home, they get into a terrible argument. Not the best thing to do since it was late at night and raining. Ella loses control of the car and gets into an accident. Ella survives; Maddy does not.
That's just the beginning of the nightmare. When Ella wakes up in the hospital, everyone thinks she's Maddy. Now she has a choice to make: tell everyone the truth and live with the fact everyone wanted her sister to survive instead of her or assume Maddy's identity and live the life her twin could not.
This was an interesting novel to read. Based on the title and cover, I expected more of a twisted thriller plot where Ella unravels what went wrong in her sister's life. There is some of that, but it only makes up a small part. It's actually a story about survivor's guilt and grief.
What happened is terrible. Ella lost control of the car while having an argument with Maddy, and the ensuing accident killed her sister. That's awful. The scene where a disoriented Ella opens her eyes to see her dead sister made me cringe a little. I found the case of mistaken identity very believable. Ella was confused because of the injuries she sustained and had holes in her memory due to trauma. Because of the circumstances under which they were pulled out of the wreckage (Ella driving Maddy's car; Maddy wearing Ella's clothes), it made sense for people to assume Ella was Maddy. By the time Ella regained her memories, it was a little too late to correct everyone without it being awkward.
This isn't to say she couldn't have. But I understood why she made the choice to go along with it. I bet it's demoralizing to wake up in a world where everyone thinks you're your twin sister and exclaiming how they're so glad you're alive. If you already have a complex about everyone loving your sister more than you, that only feeds into it.
While I found Ella's behavior to be believable, if misguided, I had a harder time getting a handle on Maddy. She ditches her sister when they start high school and yet she tells Ella that she can be popular if she wants to? How does that work? She shut Ella out from the popular crowd. She lets her friends make fun of Maddy. She was pretty crappy to her sister and yet we're supposed to believe she admired Ella? Their interactions, while Maddy was alive, didn't make a lot of sense to me. I get that teenagers can be inconsistent, but there wasn't any logic to Maddy's inconsistency, if that makes sense.
The secrets that Maddy were keeping and that Ella had to unravel were a little frustrating. While reading the novel, it felt like that plotline should have played a bigger part of the book but it was relegated to a subplot. In some ways, it read like an afterthought. It's true the book delves into Ella's mental space but for her to make peace with Maddy's memory, that aspect should have taken up more page time.
This is a fast read. It's one of those books you read compulsively and can't stop until you're finished. But when you're done, the holes are pretty apparent and can't be ignored. A C for me.
My regards,
Jia