REVIEW: The Lost Library by Rebecca Stead and Wendy Mass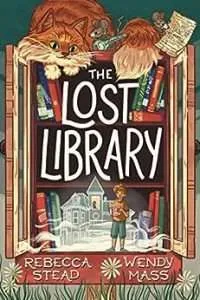 A classic middle-grade novel about a little free library guarded by a cat and a boy who takes on the mystery it keeps by New York Times–bestselling authors Rebecca Stead and Wendy Mass.
When a mysterious little free library (guarded by a large orange cat) appears overnight, eleven-year-old Evan plucks two books from its shelves, never suspecting that his life is about to change. Evan and his best friend Rafe discover a link between one of the books and a long-ago event. The two boys start asking questions whose answers will transform not only their own futures, but the town itself.

Told in turn by a ghost librarian named Al, an aging (but beautiful) cat named Mortimer, and Evan himself, The Lost Library is a timeless story from award-winning authors Rebecca Stead and Wendy Mass. It's about owning your truth, choosing the life you want, and the power of a good book (and, of course, the librarian who gave it to you).
Dear Ladies, 
I've said it before but I'll repeat that if there's a cat on the cover, especially a gigantic fluffy cat, I will pay attention to a novel. Mortimer dre me into this one. A cat, a library, books, and a slight mystery – I should have been in heaven. Instead I was a bit confused for far too long.
Mortimer used to be a library cat. His heart aches at the memory of what was lost and his feeling of guilt. But why does he feel guilty? Evan is both happy and sad that he's finishing up the last week of fifth grade. He has liked his teacher and enjoys walking to school but the thought of starting at a new school next year makes him nervous. AL has made the decision to start a library in Martinville after a long absence of one. The actions of the three of them coming together will indeed change the town and each of them.
With three narrators and a lot of stuff going on, it takes a long time for this book to finally come together. First this happens, and then this person – or cat – tells this information, then another small clue is dropped, and then … I knew it all had to come together somehow but I wasn't seeing the forest for the trees. Frankly I got a little bored waiting for it all to make sense. I was more than willing to believe in a cat who could understand people and ghosts but there's one revelation at the end that just made me say "What?!" in disbelief. 
I did enjoy the town rediscovering the delight in a library and the contributions each made. The friendship between Evan and his bestie Rafe was great. I wanted Mortimer's guilt to be eased and what he was told at the end of the book was fantastic. But AL? Really? Come on! As an adult, this book didn't quite work for me as a whole and I wonder if middle graders would have the patience to wait for all the answers. C
~Jayne