REVIEW: The Escort by Gina Robinson
Dear Ms. Robinson,
It's like there was a big neon sign on the blurb for this book that flashed "I wrote this just for Kelly."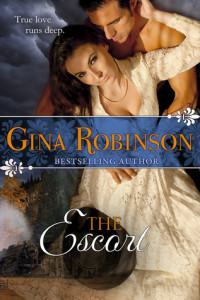 Young, beautiful Italian mail-order bride Angelina D'Alessandro is married by proxy to an older man she's never met-her only chance to escape the poverty of Italy for the hope of a new life in America. But to join him in the wilderness of Idaho in 1899 she's not allowed to travel alone. Now she's torn between duty and desire as she fights her growing attraction to her handsome and enigmatic escort.
Mine owner and explosives expert Tonio Domani prefers to travel alone. In his line of work he can't afford distractions. Against his better judgment he's coerced into playing chaperone to a beautiful and tempting bride. The dangers he faces daily in his mine are real and the increasingly volatile powder keg of North Idaho's mining country makes his return there even more dangerous. But what scares him most is the rising passion he feels for Angelina and the danger of losing his heart to her.
Or maybe it was subversive subliminal messaging. Either way, it worked, because The Escort scaled Mount TBR in record time.
Throughout the first half of the story, I was wallowing in the goodness: fantastic setting, compelling main characters and a bit of a twist on the mail-order bride trope. I was enjoying the ride, cruising along happily on the train ride west. But when Angelina and Tonio disembarked in Idaho, the story fell apart.
The good stuff first…. I am a sucker for immigrant stories, and both the hero and heroine have believable backstories that set up their prickly banter and relationship-building perfectly.
"You must have left Italy a long time ago. And my guess is that you've never been to the South. There are no men. The crop failures have sent them all away. Nearly all the able-bodied men have emigrated to find work. Or they've been killed in the wars. Southern women without dowries remain unmarried. And how can they get them when their fathers can't work?"
"There is always the convent," he said. "A wise and pristine choice."
"Filled to capacity."
Angelina's transition from Sheltered Italian Virgin to a Confident American Woman in the early chapters was a highlight; I loved that she makes her choices deliberately. The freedom in America both frightens and thrills Angelina, and it's fascinating to see her struggle with what kind of woman she wants to be. I had issues with some of those choices in the latter part of the story, but by that point, I had bought into her character enough to get annoyed. Which is a good thing. No, really.
The trope twist — Angelina is already married by proxy to a friend of her father's — is a much-needed extra edge of conflict and angst. That impediment gives the relationship enough tension to prevent it from devolving into a predictable mail-order bride formula.
As a history geek, I'm all about the historical world-building, and the turn-of-the-century New York-to-Idaho journey was spot-on. Tonio and Angelina take advantage of the "Italian Immigrant Network" to make their way across the country, and their shared background and language provides a sense of intimacy even when they're "chumming" with dozens of other passengers on the train.
And oh lordy, the Total Drama Moment, with rescue-by-explosion and the swoon-worthy aftermath:
He spoke. "I'm alive—"
She couldn't hear the rest clearly. It muffled as he pressed his lips between her breasts. She thought he said, "For the first time in years."
I was really looking forward to even more drama when the happy couple reached their destination in the mountainous mining communities of northern Idaho. Unfortunately, this is where the story started caving in on itself. [That was an attempt at a mining metaphor.]
Instead of relevant tidbits that advance the plot and build characters, we get info-dumping. A LOT of info-dumping. Long paragraphs and lengthy dialogues between rarely-seen secondary characters about the politics of violent unionizing. At the 85% mark, when the tension should be at the "omg holy sh*t" level, we get nearly four pages of post-strike details that add nothing to the story.
We also get several extended episodes of unnecessary and intrusive fashion porn, along with some random architectural detail (Hipped roof. Second story bay window above an inset porch. Gabled ells at front and side…) that I seriously doubt the daughter of an impoverished Italian peasant farmer would know.
And that segues into my biggest frustration with the downward slide of the second half.
Early in their journey, Angelina observes her first dice game as Tonio attempts to win enough money to upgrade to first-class accommodations. She instinctively calculates the odds of each throw, and winds up spiking the game by spotting and staring down the cheater sitting across the table. The next evening, she's whispering betting instructions in Italian in Tonio's ear. And I'm thinking, "oh, hell yes, I love this woman."
But then…our strong and capable heroine steps off the train and suddenly becomes a simpering idiot.
"I'll put on my Italian accent and smile just so. I'll flirt but only in an innocent, friendly way. The men love that. We'll sell all the more cookies."
And later….
"She used her foreign accent on them to such effect that they were overwhelmed by her charm. After a few days, she suspected that they bought cookies almost more for her smiles and small flirtations than for her culinary talents. That fact didn't bother her at all. She brought a small bit of sunshine to their day, she reasoned."
I'm sorry, but – oh, BARF. It's great that Angelina finds a way to use her experience as a cook to make her own way in a foreign land. But she decides, because she's a "natural flirt," to use her feminine wiles and her exoticness to tease the rough and dirty miners into buying her profiteroles (which are "…exactly like a woman's bosom – soft, creamy and ever so inviting.") Yes, she chooses that approach deliberately, but I really really really wanted to see more of her steel-trap brain and not her batting eyelashes.
And one final hissy fit: They let the bad guy go. They had him at gunpoint AND knifepoint, and instead of tying him up and clobbering him with a shovel, they LET HIM GO. And then they whined in the next chapter that he's "on the loose." Oy. Uff da. WTF.
At the risk of instigating yet another flail over self-publishing, I think The Escort is an example of both good and bad. It stood out above thousands of other historical romances, it kept me reading, the copyediting and ebook formatting were flawless, and I am definitely going to consider reading upcoming titles. However, it is in dire need of a hard-ass editor to (1) address the pacing and character arc problems, (2) kill clichés like "not a classic beauty" and purple prose like the fir tree that "emitted its life's essence," and (3) bring out the authorial "voice" that I sense is in there somewhere.
After dithering quite angstily over the letter grade, I settled on a C — I can't really recommend this title, but going by the overuse of italics in this review, I obviously felt strongly about it.
~ Kelly